Cooking greens isn't as exciting as it seems. The sole purpose of greens in my cooking is basically the health factor that they offer. Most of the times I get over excited by the piles of green leafy vegetables in the vegetable market and end up buying all of them. Because they are so pretty with vibrant color and look so humble that I go crazy. Later when I actually set forth to cook, I have to brainstorm thinking how can I turn them in a delicious way. In such a scenario, bunch of palak leaves turned in to unique and genuine recipe of Udupi => Palak Patrode this week.
If you are following me since some time, you would be knowing what the word "patrode" means. Though it sounds like some deep fried snack, it isn't so.  Patrode is a kind of dumpling cooked using colocasia leaves as main ingredient. Since these leaves are plentiful in Monsoon, it's cooked maximum number of times then. But can we discard the patrode cravings during other seasons? Nope.. It's much beyond reality of foodie life. You guys would agree this, right? So we all foodie people came up with a solution through this palak patrode which primarily uses palak leaves. Because palak happens to be year-round green leafy thing, lets thumbs up patrode lovers.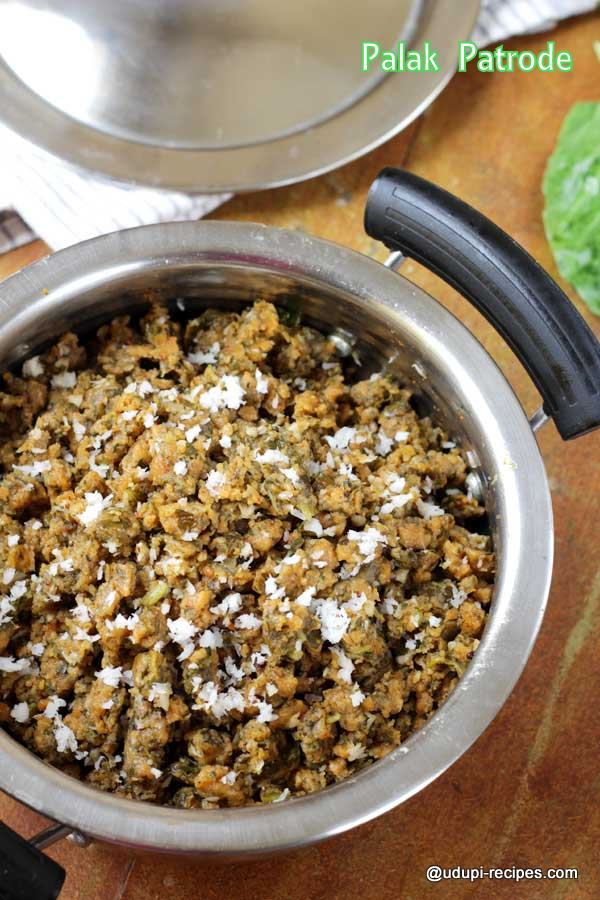 Big bunches of palak which is pretty green and vibrant can become perfect substitute to colocasia. On top of that, palak never turns itchy like colocasia which is best part of this patrode. The process, the spices that get in to patrode remains just same as original recipe. So you need almost all the spices that sit in your grocery counter in optimum quantity. And relish the awesome breakfast or snack or lunch or dinner all round the year.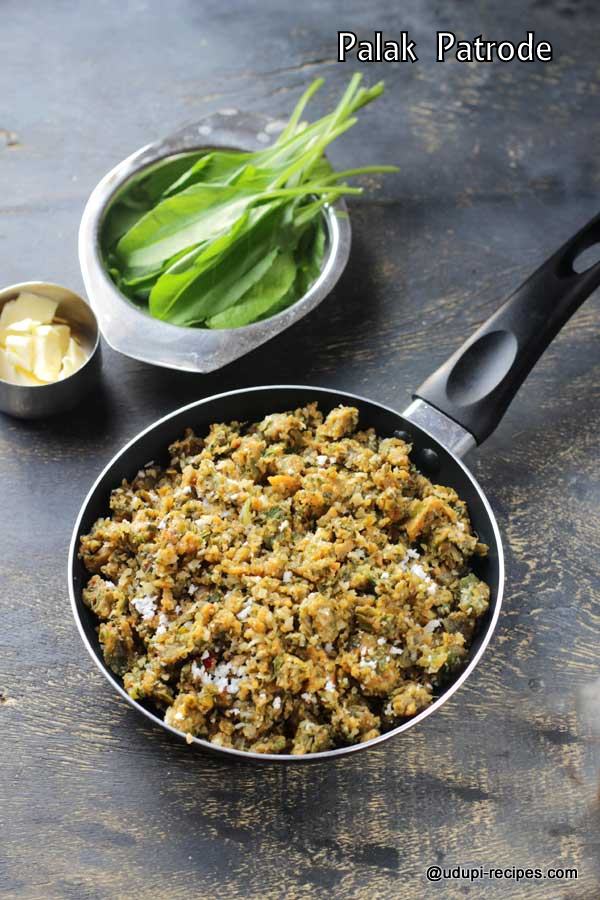 Palak Patrode | Palak Patrode Oggarane
Ingredients
Palak leaves - 1 big bunch
Raw rice- 1/2 cup

To grind:

Fresh grated coconut- 1/2 cup
Tamarind - Lemon sized
Jaggery- 1/8 + 1/8 cup
Salt- 1 tsp
Coriander seeds- 3 tsp
Cumin seeds- 1.5 tsp
Fenugreek seeds- 1/4 tsp
Split black gram lentil(urad dal)- 1 tsp
Red chillies(Byadagi)- 2 no.
Ginger- 1/2" piece

To temper:

Coconut oil- 2 tsp
Mustard seeds- 1 tsp
Curry leaves- Few
Fresh grated coconut- 1/2 cup
Instructions
Preparation

Wash and soak rice in enough water for about 2 hours. Rinse the palak leaves under running water and chop them roughly and keep aside till use.

Method

In a seasoning pan add split black gram lentil(urad dal) and fenugreek seeds, roast them together till they turn slightly brown. Now in a mixer jar add fresh grated coconut, coriander seeds, cumin seeds, red chillies, ginger, roasted black gram lentils and fenugreek seeds. Grind them together coarsely.
Next include salt, tamarind, 1/8 cup of jaggery with little water and grind again to fine puree.
Now include drained raw rice in to the same mixer jar and grind together to dosa batter consistency. Patrode batter is ready now. Transfer it to a wide bowl.
Add chopped palak leaves to this batter and mix well such that the batter coats over the leaves. Make 4 equal portions from this and shape each one as a ball.
In a steamer or idli cooker, steam these balls for about 10-15 minutes or till done. Insert a toothpick, if it comes out clean, they are cooked to perfection. Break them roughly and keep aside.
Next step is tempering. Heat a cooking pan adding oil, mustard seeds, curry leaves. When the mustard seeds splutter, add fresh grated coconut and reserved jaggery. Saute for few seconds and then include broken palak patrode pieces. Give a quick mix and switch off.
Most delicious and unique tasting palak patrode oggarane is ready. Serve it as snack or breakfast, wins either way.

Note

Tamarind and jaggery has to be added in generous quantity. Even the spices needed are more than usual for this recipe.
For ease of grinding you can soak tamarind for few minutes before grinding.
After grinding, the batter should be of dosa batter consistency.
I have shown jaggery as 1/4 cup, used half of this while grinding and half for tempering.
https://udupi-recipes.com/2017/12/palak-patrode-palak-patrode-oggarane.html
All the content in this website are © Copyrighted to – Udupi-Recipes