Reusing and recycling the materialistic stuff has been in the trend since quite a few years.  In order to keep the environment safe and clean for our future generations the recycling concept is in uptrend. Which is absolutely the need of the day. Right? But how about applying the similar concept in food department friends? Can we use the vegetables that we buy efficiently with zero wastage? Most of veggies have the peel and seeds that are edible either directly or indirectly. So well planned usage of  such vegetables in our kitchen can keep our body and wallet both healthy. And today I intend to show you such an amazing recipe, bottlegourd peel chutney.
In the growing phase of any vegetable, it's the peel which is exposed to SUN.  So the goodness of SUN energy have to be high in the peel itself. If you can create a magical recipe using the peel of any vegetable, then no doubt it's nutrients rich. I can give a long list of veggies where you can easily make use of seeds plus skin like ashgourd, ridgegourd, bottlegourd, vellary(Mangalore cucumber) and pumpkin. I have posted few recipes too seeds rasam, ridgegourd peel chutney.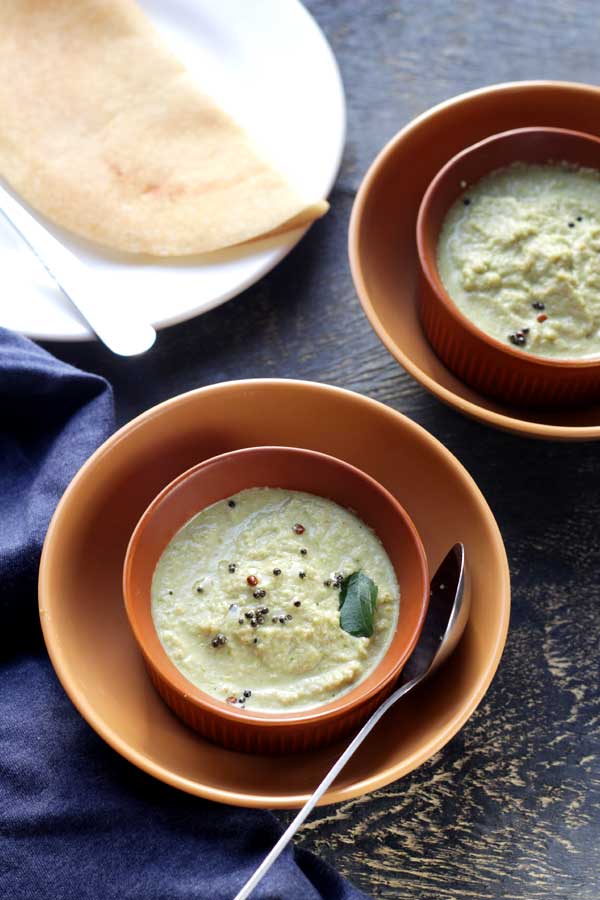 And this bottlegourd peel chutney is a perfect pair to dosa. Yesterday I planned to use bottlegourd in a curry and the reserved the peels for chutney today. This icy-cold weather of December month has brought in kind of more organized and well prepared version of myself.  So, I made a nice and flavorful chutney to pair with my regular breakfast i.e. dosa. The chutney has the flavors of lentils and goodness of peel. Which I thoroughly enjoyed with warm dosa and a cup of tea.  It was a treat to myself on a breezy cold day. See you also on the other side with your version of peel chutney!!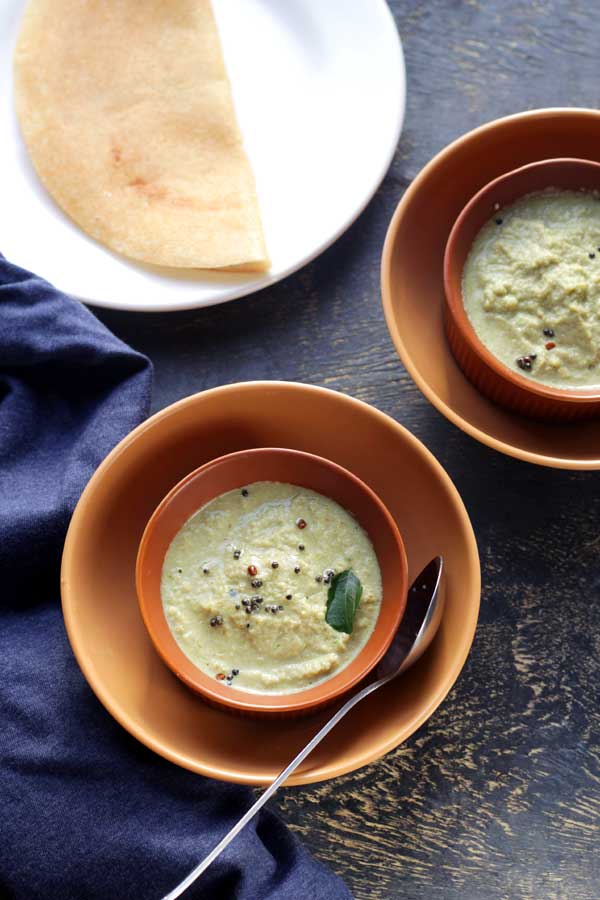 Bottlegourd Peel Chutney | Tasty and Healthy
Ingredients
Bottlegourd peel- 1 cup
Grated coconut- 2 tbsp
Split chickpea lentils- 1 tsp
Split blackgram lentils- 1 tsp
Coriander seeds- 1 tsp
Green chillies- 2 nos.
Tamarind- A small piecce
Jaggery powder- 1/2 tsp
Salt- 3/4 tsp or to taste
Asafoetida- A pinch
Cooking oil- 2 tsp

To temper

Cooking oil- 1 tsp
Mustard seeds- 1/2 tsp
Split black gram lentils- 1/2 tsp
Instructions
Preparation

Wash the bottlegourd well and peel it off. Chop the peels in to bite sized pieces, measure and keep it aside.

Method

Heat pan adding oil and bottlegourd peel. In medium flame roast the peels until they wilt and shrink. Transfer them to a plate. Next to the same pan add rest of the oil, chickpea lentils, blackgram lentils, coriander seeds and curry leaves.
Stirring constantly roast the lentils till they turn little brown. Next throw in grated coconut and green chillies also to the pan. Continue roasting for few more seconds.
Next transfer all the roasted ingredients in to a mixer jar. Add tamarind, jaggery, asafoetida, salt and some water. Grind them all together to fine paste.
Heat a tempering pan and add all the ingredients under "To temper" list, when mustard seeds crackle pour it over the chutney. Bottle gourd peel chutney is ready.

Notes

You can replace green chillies by red chillies also. In this case color would be bright red.
Peels should be roasted well till they shrink otherwise raw smell would ruin the taste.
https://udupi-recipes.com/2017/12/bottlegourd-peel-chutney-tasty-healthy.html
All the content in this website are © Copyrighted to – Udupi-Recipes