I would like to take this moment to introduce you to my new favorite weekend meal. And it happens to be simple, straight forward jeera rice along with dhal. Since it is winter now, I pair it with methi dhal which is green and healthy. After the hustle and bustle full of weekend cooking, I sometimes choose to be free from kitchen or very little of cooking on weekends. It's a kind of treat for myself or kind of self gift to spend some quality time with family. But this case doesn't happen often in my life. Because you know me right!! I am a core foodie by heart and soul. So weekend is the time to crave for my personal tastes. And my appetite reaches high for such favorites. Like this jolada rotti!!
When I am already in topic of favorites and weekends, we normally relish a feast that includes menu from many regions during these days. But I never feel over stressed or hard pressed because love-for-food is so killing. When you love your job like a passion, it never felt as hardship. Isn't it? all foodies and passionate cooks would agree to this.
Jeera rice is absolutely easy and fool-proof recipe for any naive cook around here. This rice can exist with only pantry ingredients. Even when you have ALMOST NOTHING in kitchen, I bet you can find what you need to cook Jeera rice. Because it's that basic. I really mean it.
The deliciousness of this rice is highly dependent on the side dish with which you pair it. My favorite pair with this is dhal or methi dhal which takes the taste to next higher level. So how do you plan your weekend meal? Is it simpler than regular or more complex? Let me know friends.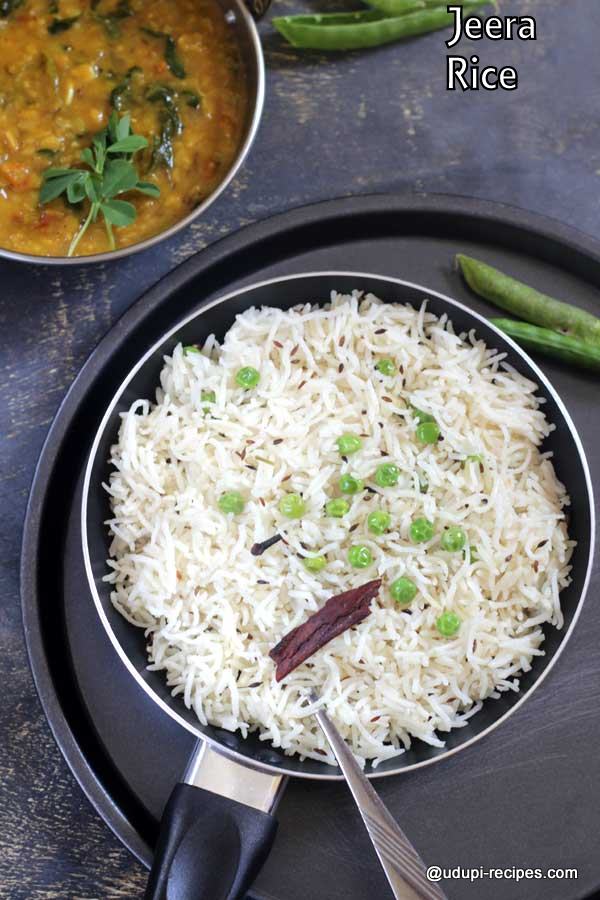 Jeera Rice Recipe | Easy one pot meal
Ingredients
Basmati rice- 1 cup
Ghee- 1 tbsp
Cumin seeds- 1 tsp
Cinnamon stick- 1" long
Cloves- 2 nos.
Crushed pepper- 3/4 tsp
Salt- 1 tsp
Fresh peas- Handful (optional)
Instructions
Preparation

Soak basmati rice for 15 to minutes.

Method

Heat a cooking pan adding ghee, cumin seeds, cinnamon followed by cloves. Saute for a while till the cumin seeds sizzle. Then add crushed pepper.
Continue sauteing and then add 1.5 cup of water and salt. Bring this to boil.
Next rinse the soaked rice and drain the water completely. Add this rice to boiling water. Stir once and let it cook in simmer.
Next add fresh peas and close the lid till rice gets cooked soft and fluffy. When done the water would have absorbed completely. Turn off the stove.
Fluffy jeera rice is ready to serve with spicy dhal. Serve hot.

Notes

Soaking basmati rice helps to cook the rice fluffy and the grains turn soft too.
You can skip adding green peas or you can even add finely chopped carrot.
I have cooked jeera rice on stove top, you can use pressure cooker also.
While pressure cooking use same amount of water i.e. 1:1.5 provided you soak the rice prior to cooking.
https://udupi-recipes.com/2017/12/jeera-rice-recipe-easy-one-pot-meal.html
All the content in this website are © Copyrighted to – Udupi-Recipes