This post is full of bright saffron color today. Because I made a bowl of orange rava kesari where the winter fruit orange tastes exceptionally good. The traditional rava kesari all by itself has the most delectable taste and orange enriches it to the max. So the glossy orange colored rava kesari with lots of nuts and ghee makes your lunch a kind of feast. My dear friends, you just take a minute right now and drink in those virtual smells. Are you ready? The orange-y flavor from the zest. The ghee oozing glossy texture. The sugary sweetness plus tang of orange chunks and bits of cashews and raisins. Oh my gosh, it's absolutely overwhelming!!
Something about this humble dessert is always soul touching. As you work on the grey day of winter month till evening, on the way back you naturally find yourself craving for  a cozy dessert. Like this orange rava kesari? Isn't it? In my case it was 99% true. My hunger pangs used to roar for some delicious, heart filling sweet. Because winter season is like that. The appetite for delectable food races to the top but co-incidentally the weather doesn't help in cooking such food awesomeness.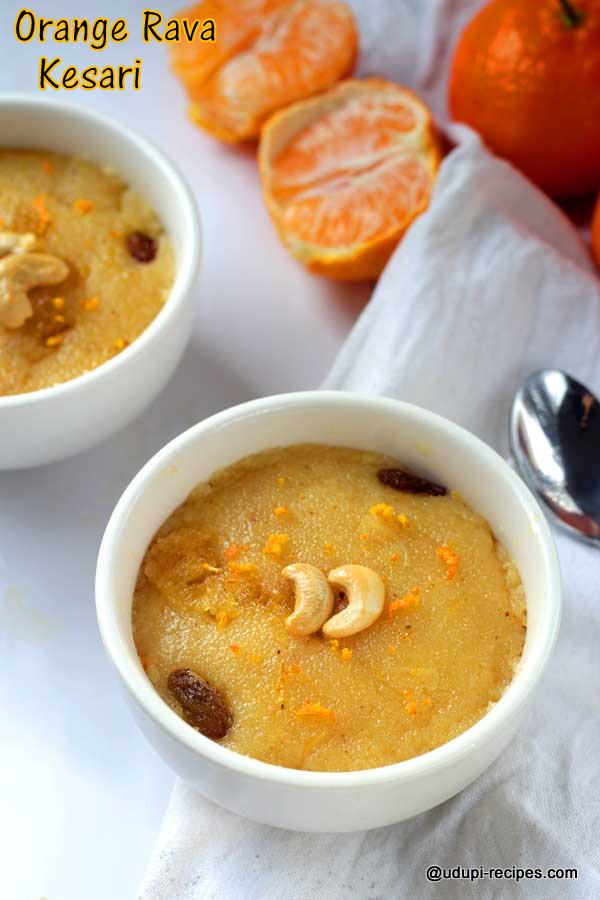 The best part of this orange sheera is it's less time demanding. It hardly needs 30 minutes of time from assembling ingredients till garnishing. The orange which I bought was seeds-free. Meaning time to remove the seeds from pods before juicing it is saved. I didn't even strain the juice to make it chunks free. Because I love the orange chunks in my rava kesari. The sugar and ghee which makes this dessert glossy, shiny and mouth-watering has to be appropriate. Otherwise it greatly impacts on the texture department.
So since the season of Orange is ON, before it disappears from market, try to create this magic in your kitchen. And when you do, remember me for a fraction of second!!!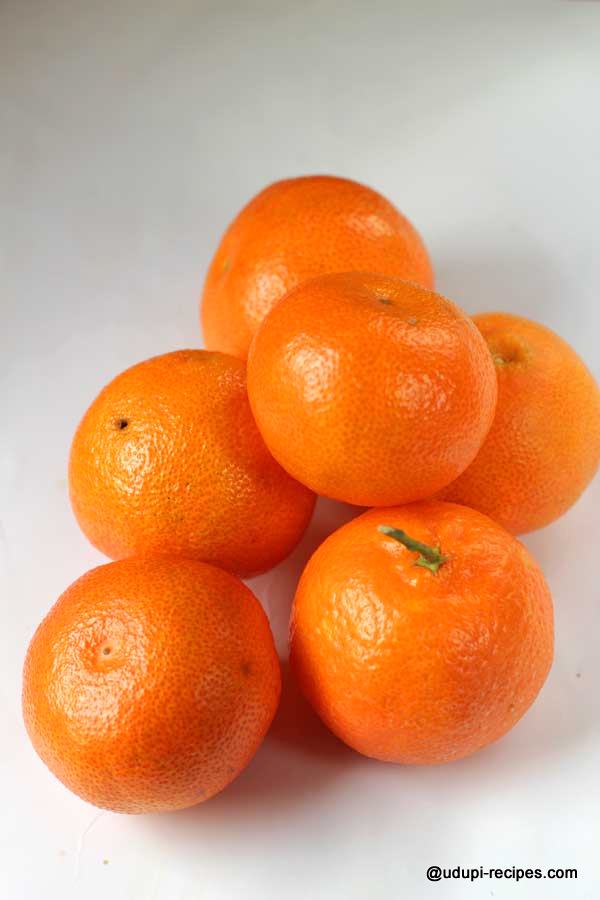 Orange Rava Kesari | Orange Sheera Recipe
Ingredients
Orange- 1 no.
Orange zest- 1/4 tsp
Medium rava- 1/2 cup
Sugar- 1/2 cup
Cashews+raisins- Handful
Ghee- 1/8 cup
Saffron strands- Few
Water- 1 cup
Cardamom powder- 1/4 tsp
Instructions
Preparation

Peel off the orange and put all the pods in to a mixer/blender and puree it to get the juice. You can strain it also to remove the pulp but I have retained the chunky pulp.
Soak saffron strands in little water for 10 minutes.

Method

In a pan add a tsp of ghee and roast the cashews followed by raisins. The cashews turn little brown and raisins puff up. Transfer them to a plate.
Next add in a tbsp of ghee and rava in to the same pan. Stirring constantly roast the rava till it is fragrant. Take care not to burn the rava. This step may take 5 to 7 minutes. Next add a cup of boiling hot water to rava.
Let the rava get cooked absorbing all the water. Next add in orange juice prepared earlier and continue cooking.
Rava thickens absorbing the orange juice and then add sugar. Sugar makes it thin again giving nice glossy look to the rava. Pour all the ghee and coninue cooking in medium flame.
Next grate the orange peel to get 1/4 of zest. Add this orange zest, soaked saffron strands, cardamom powder and roasted cashews plus raisin. Give a mix and switch off.
Delicious orange rava kesari is ready to serve as a dessert in a jiffy.

Notes

Before preparing fresh orange juice, ensure there are no seeds in the Orange. In such case you need to remove them.
If you don't like chunks of orange in the Kesari, you can strain the juice too.
The quantity of rava and sugar here is 1:1. You can even increase sugar to 1:2 in that case you'll get nice glossy texture too.
I don't like overly sweetness, so I used equal quantity of sugar.
Adding orange zest is optional but it enriches the orange flavor. So I recommend adding it.
https://udupi-recipes.com/2017/11/orange-rava-kesari-orange-sheera-recipe.html
All the content in this website are © Copyrighted to – Udupi-Recipes