The golden beauty in the form of curry is right showing up here in your browser window. Yes, the curry form known as kootu has been fascinating me in these cold days. (Remember drumstick leaves kootu?) It's ashgourd kootu on this busy Monday of November. When it's mandatory for me to post recipes consistently in order to sustain and grow the blog, some times I feel lazy and slow down for a while. It's acceptable to take a break or downshift till you feel the original strength and energy to resume because it's your own job. This is the perk of self employment.  Meaning you can work honoring your mood, sometimes more and sometimes less with no boundaries of time.
The cold breezy weather of winter is highly likely to push me in to slow mode. On top of that the low sunlight and clouds not even inspire me towards photography. The potential list of recipes for the month get ready like the way they have to, but the picture doesn't. Good recipe picture is highly the gift of sun rays and light that dramatically glitter the food. In the absence of it, I find myself hiding behind furry blanket.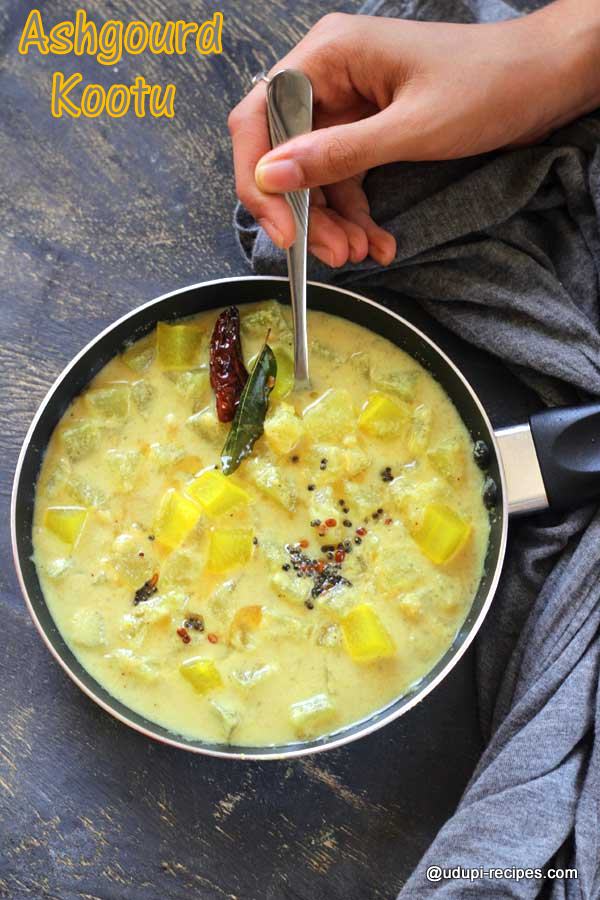 Ashgourd kootu is mild and creamy rice side dish that has both lentils and coconut. I made this curry in a jiffy because I had to shoot the picture before the cloud hides SUN. Kootu is such a wonderful side dish that takes less time and less ingredients. Peeling off the ashgourd and cubing it into squares is what demands time. Otherwise cooking process is quite fast and quick. Since the veggie is basically little bland you may have to compensate that with green chillies. Like, I used two of them instead of just one. So next time think about this humble kootu when you buy ashgourd.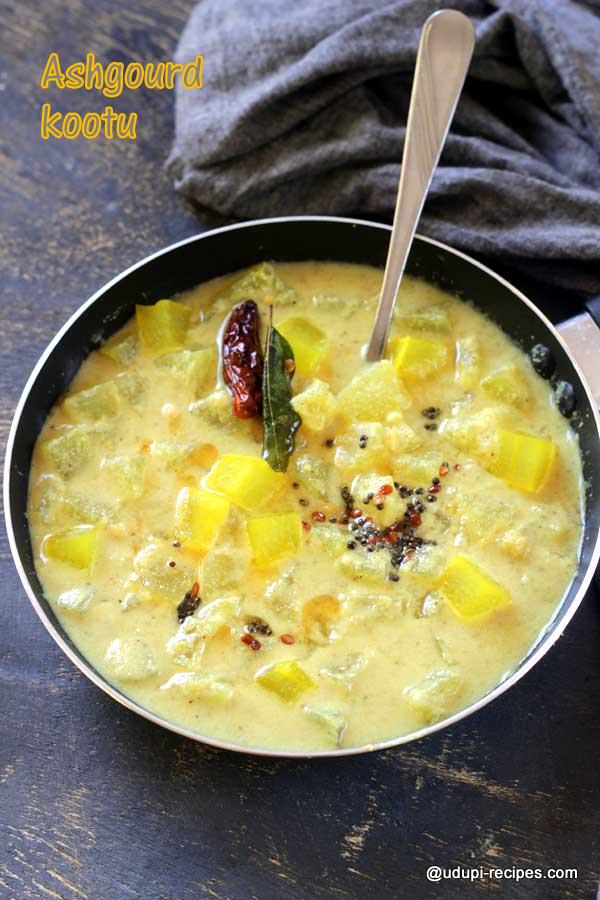 Ingredients
Ashgourd small sized - Half
Pigeon pea lentils- 1/4 cup
Fresh grated coconut- 1/2 cup
Green chillies- 2 nos.
Cumin seeds- 1/2 tsp
Salt- 1 tsp
Tamarind- Small marble sized
Turmeric powder- 1/4 tsp

To temper

Cooking oil- 2 tsp
Mustard seeds- 1 tsp
Split blackgram lentils- 1 tsp
Broken red chillies- 1 no.
Curry leaves- Few
Instructions
Preparation

Peel off the ashgourd, scoop out all the seeds and cube the kernel in to medium cubes. Measure 2 cups of pieces and keep aside.
Pressure cook the pigeon pea lentils with enough water till it turns soft. Keep aside once done.

Method

In a cooking pan add the ashgourd cubes, 1 cup of water, turmeric powder and cook in medium flame. The ashgourd cubes will turn soft and tender in 5-10 minutes.
Meanwhile take the grated coconut, tamarind, green chillies and cumin seeds in a blender/mixer and grind to fine puree. Include water as required for grinding.
Next include the ground coconut puree and cooked lentils to the cooked ashgourd cubes. Add salt and water if required. Bring it to boil and switch off.
Heat a tempering pan and add all the ingredients under "To temper" list. When the mustard seeds sizzle, pour it over the kootu. Ashgourd kootu is ready to serve with rice.

Notes

The ashgourd shouldn't cooked till mushy. Instead the cubes should be soft holding their shape.
You can use tamarind while grinding or use it's water to cook the ashgourd cubes. Either way it's same.
As green chilly is the only source of spice here, use it in bit more quantity. Otherwise kootu tastes bland.
https://udupi-recipes.com/2017/11/ashgourd-kootu-recipe.html
All the content in this website are © Copyrighted to – Udupi-Recipes