This cute, healthy cereal broken wheat or cracked wheat hadn't appeared in the space since a while. Because I was taken over by the so called millet vibe and most of my culinary skills acted upon millets. It's been a trend to use healthy cereals like millets in all delicious food possibilities now. So I was kind of forgotten about the existence of yet another feel-good cereal, delicate and light broken wheat. There were days when I used to store this cracked wheat only for the sake of dessert like kheer or payasam. But my culinary skills too have grown along with the blog and now broken wheat is kind of substitute. Meaning from bisi bele bhath to this broken wheat upma, I can use it for breakfast as well as lunch/dinner.
Whenever your usual upma made out of rava feels unexciting or if you love to feel the bite and crunch then broken wheat upma is the best alternative. Broken wheat isn't as fine as rava and in every bite you can feel the flavorful wheat in the mouth. On top of that all the veggies like carrot, peas and beans make your mouth full. The vegetables always get more delicious with upma flavors.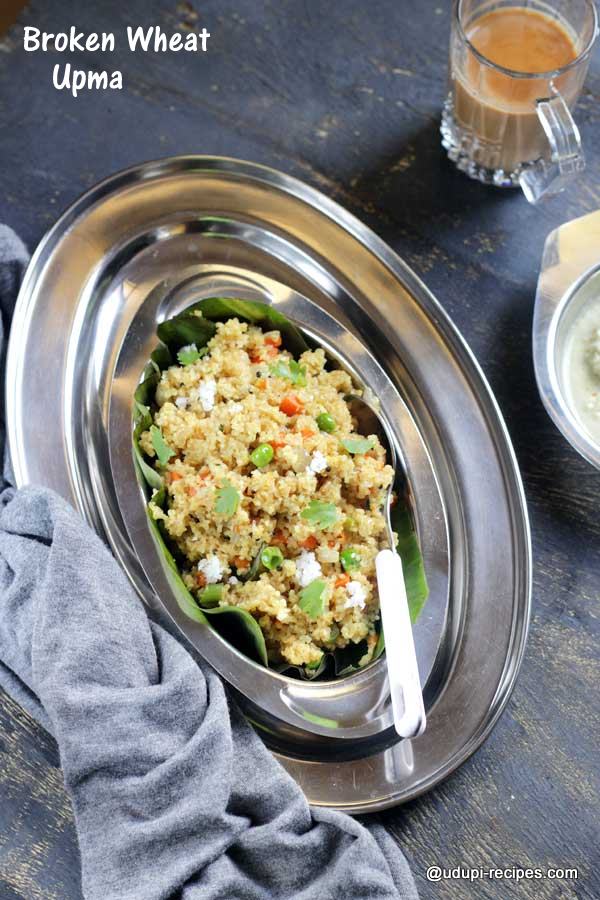 I know many people for whom upma isn't favorite at all. It actually falls beyond their food for hungry curve. Meaning people don't even taste upma though they feel hungry to the core. This is one such food which tastes overwhelmingly delicious when eaten hot. I love it that way, so I never pack upma for kids lunch box. By the time they open the box, it would have been lost it's hot flavors and deliciousness. Hence, I prepared broken wheat upma all for myself today and relished it along with a cup of hot tea sitting on my couch. Because breakfasting alone while watching a TV show is good some times.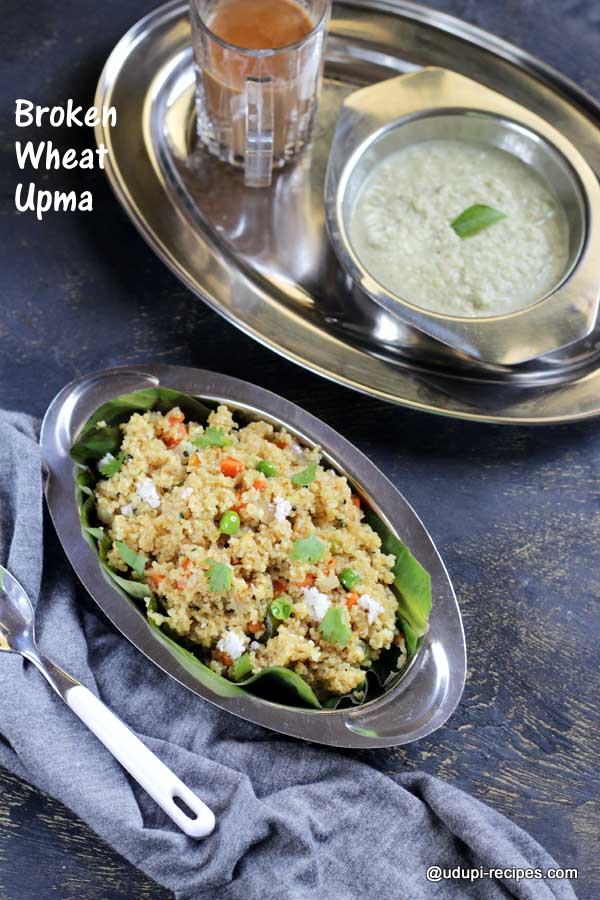 Broken Wheat Upma | Diabetic friendly breakfast
Ingredients
Broken wheat- 1/2 cup
Chopped vegetables- 1/4 cup(optional)
Onion- 1 no.
Green chillies- 2 nos.
Chopped ginger- 1 tsp
Salt- 1 tsp
Sugar- 1/2 tsp
Lemon- half
Chopped coriander leaves- Handful
Fresh grated coconut- 2 tbsp (optional)
Water- 1.5 cup
Turmeric powder- 1/4 tsp

To temper

Cooking oil- 1 tbsp
Mustard seeds- 1/2 tsp
Split blackgram lentils- 1/2 tsp
Chickpea lentils- 1/2 tsp
Curry leaves- Few
Instructions
Preparation

Peel off the onion and chop it finely. Chop the vegetables finely and keep 1/4 cup ready. I have used beans, carrot and fresh peas.

Method

Heat oil in a pan adding mustard seeds, lentils followed by curry leaves. As the mustard seeds sizzle, add onion, silt green chillies and saute till they turn translucent. Include vegetables, ginger and broken wheat too. Roast the broken wheat for few minutes.
Next add the salt, turmeric powder and sugar. Continue sauteing. Meanwhile heat water in a separate vessel and bring it to boil. As it boils, carefully pour over sauteed broken wheat.
Cook covered till the wheat is soft and cooked completely. Let the water evaporate and finally squeeze the lemon and give a quick mix. Garnish with grated coconut and coriander leaves.
Healthy broken wheat upma is ready to serve. It is a healthy breakfast to kick-start your day.

Notes

Broken wheat to water ratio is 1:3. So if you use 1 cup broken wheat then it requires 3 cup of water to cook.
You can use tomatoes also, in that case you need little less lemon juice.
For rich taste you can even add cashews while tempering.
https://udupi-recipes.com/2017/11/broken-wheat-upma-diabetic-friendly.html
All the content in this website are © Copyrighted to – Udupi-Recipes