Spectacular rice side dish in which all the tastes like bitterness, tang, sweet and salty-ness are in balance. One in which none of the flavors are overwhelming. The spices used are just minimum but they all enhance the natural flavor and deliciousness to the maximum. This is what I have in store for you today. Bitter gourd gojju or Menaskai which happen to be one of the fantastic rice side dish of Udupi -Mangalore region. Bitter gourd, though a boring veggie for most of us tastes way too delicious in this form of side dish. Surprisingly, my little kindergartner son loved the gojju so much and licked clean a plate-ful of rice. Happy me!!!
Are you a person who at times feel COOKING is just hard? Such feelings are quite normal because after  a trip or vacation we all feel such hindrance. Here HARD doesn't mean it is difficult. At times, we feel easy ordering the food rather than going through the process of planning recipes, grocery shopping and cooking the food. The bitter gourd gojju can come very handy at such situations because it can stay fresh for a long than our usual curries. So you can plan this ahead of time when you are likely to feel cooking as HARD.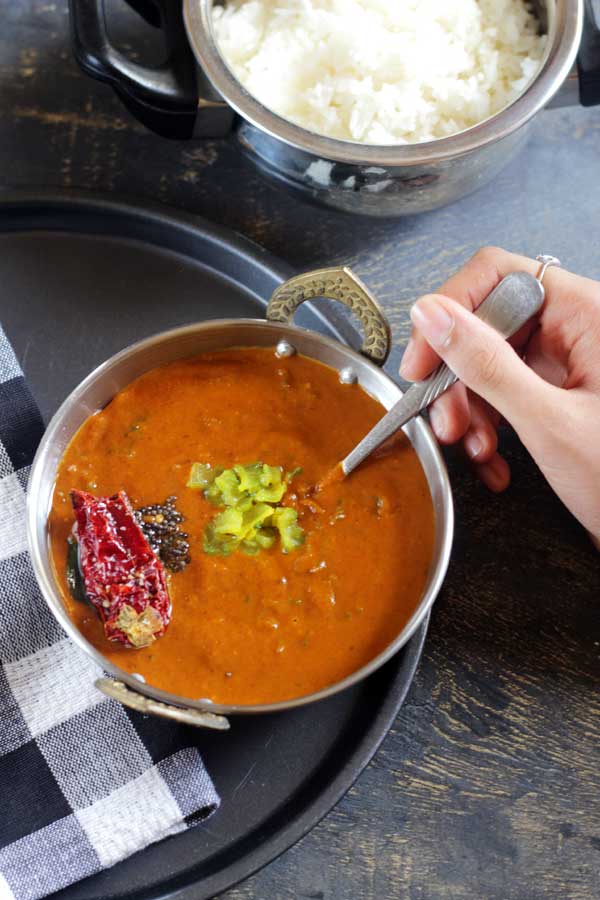 There are only few spices that go in bitter gourd gojju. Black sesame seeds is dominating spice among all which is a must for this recipe. Apart from that, chick pea lentils, split black gram lentils and fenugreek seeds would be roasted and blended with coconut.  The thin bitter gourd slices roasted in pan and cooked with tamarind plus jaggery that leads to perfect blend of three major taste sources. Addition of spice puree gives a wonderful creamy texture to the curry.
I can see you heading towards kitchen right now with a bitter gourd in your hand!!
Bitter Gourd Gojju | Hagalakayi Gojju
Ingredients
Bittergourd- 1 medium sized
Salt- 1 tsp + 1 tsp
Turmeric powder- 1 tsp
Tamarind- Lemon sized
Jaggery- Lemon sized
Oil-2 tsp

To roast and grind

Split blackgram lentils- 2 tsp
Chickpea lentils- 2 tsp
Black sesame seeds- 3 tsp
Red chillies- 2 nos.
Fenugreek seeds- 1/4 tsp
Fresh grated coconut- 1/4 cup
Oil- 1 tsp

To temper

Oil- 2 tsp
Mustard seeds- 1/2 tsp
Broken red chillies- 1 nos
Instructions
Preparation

Wash the bitter gourd under running water and cut it vertically in to half. Next chop it as very thin slices of 1/4" length. Marinate these slices in turmeric powder and salt for at least 20 minutes.
Soak tamarind in warm water for about 10 minutes.

Method

After the marination the bittergourd would have oozed out water. Rinse the pieces well with enough water and drain completely. Next heat oil and roast the drained slices till they turn crisp. It may take around 10 minutes.
When the bitter gourd is getting roasted, heat a pan adding sesame seeds. Dry roast them till they splutter and transfer the seeds to a plate. Next add oil, lentils, red chilly, fenugreek seeds followed by curry leaves to the pan. Roast them together till the lentils turn brown. Switch off once done.
Add grated coconut to the same pan. Coconut gets warmed up with the heat of pan. Grind all the roasted ingredients along with sesame seeds to fine paste. Add water as needed.
Next squeeze tamarind water and add it to the roasted bitter gourd slices from step 1. Add jaggery followed by salt and let the bitter gourd cook.
As the bittergourd gets cooked, the jaggery makes syrup like consistency. Next add ground paste and water, bring this to boil. Switch off as it's done.
Bittergourd gojju/menaskai is ready to serve. With all the tastes blended harmoniously, it is amazingly delicious.

Notes

The bitter gourd should be chopped as thin slice like pieces. Otherwise it will not get roasted properly.
The amount of jaggery tends to be more for this curry to balance bitterness.
You can use white sesame seeds also substituting black one, but color would be lighter.
https://udupi-recipes.com/2017/11/bitter-gourd-gojju-manaskai.html
All the content in this website are © Copyrighted to – Udupi-Recipes