This food of Karnataka is from the Mysore region where people adore and love to eat finger millet. The people form this place cook this tiny cereal in various forms in order to make it appropriate to consume. I adore their cuisine a lot just because of the simplicity and earthy flavors that make it up. Finger millet as a cereal doesn't fascinate me but over the years I have learnt to cook palatable food out of it. Those of you who follow me since a while would know my love towards pancakes. Just remember way back I made this ragi rotti which is patted over palm. Patting through the palm over a flat surface does make thin pan cakes but it isn't thin like chapati. Though it's truly amazing and delicious, I aimed to fine tune the recipe such that the rotti (pan cake) looks similar to jolada rotti. So this ragi ubbu rotti is here in front of you.
It's absolutely soft, mellow and easily roll-able. Just notice I mentioned EASILY ROLL-ABLE. Meaning you can simply roll it over a flat surface using a rolling pin as thin as you want. Which is just awesome. Isn't it? Because rolling really speeds up the process than patting. A big high-five to all the awesome women who prefer rolling over patting. We are friends forever.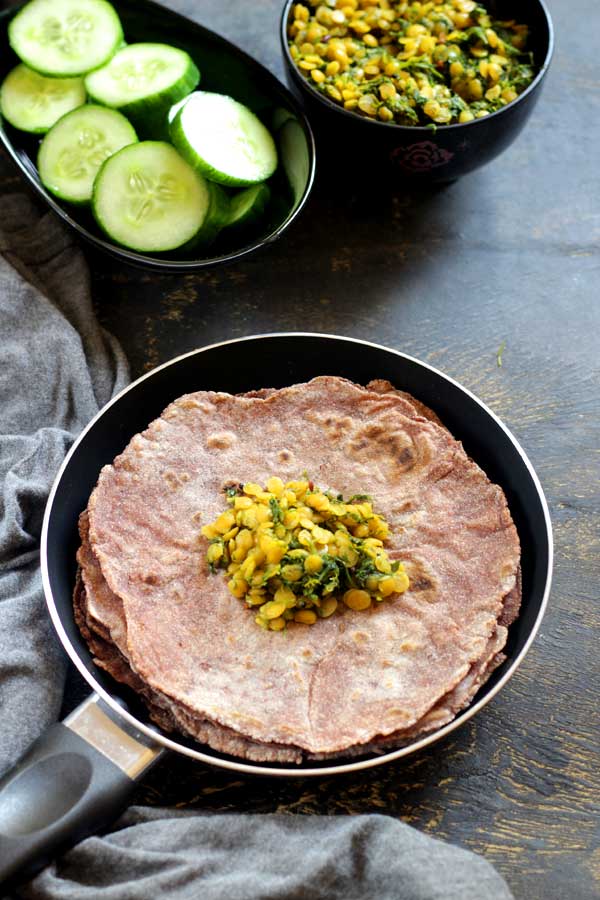 I used a little food hack here in this ragi ubbu rotti recipe i.e use of little wheat flour. Because finger millet flour doesn't have the gluten needed for rolling. So wheat flour addition gives it the necessary gluten. When you mix up both flours in hot boiling water, the dough turns nice and soft. As you roll it to thin pan cake and cook over a skillet, it nicely puffs up like poori. Which can separate like two thin layers. Pairing it with a spicy stirfry, it tastes like heaven on earth.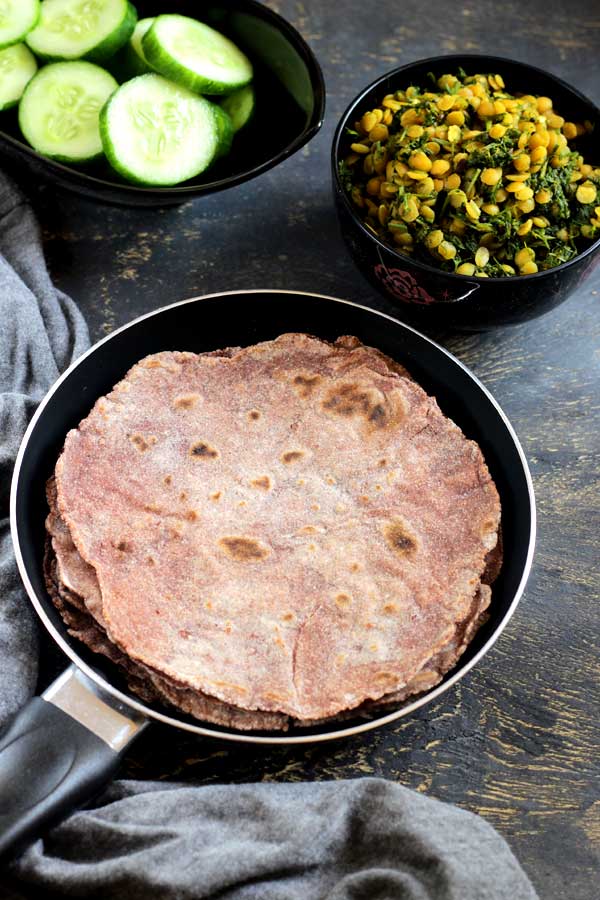 Ragi Ubbu Rotti | Fingermillet puffed Rotti
Ingredients
Finger millet flour (Ragi hittu)- 3/4 cup
Wheat flour- 1/4 cup + 1/4 cup (for dusting)
Water- 1 cup
Salt- 1/2 tsp
Instructions
Preparation

Sieve both the flours and keep it ready.

Method

In a pan, heat a cup of water along with salt. Bring it to rolling boil.
When the water is boiling, add a tsp of finger millet flour and mix well so that there are no lumps left. When it is still boiling, include all the finger millet flour and switch off.
Next include wheat flour too. Combine well such that dough is formed without any lumps. When the dough is hand bear-able warm, divide it in to 8 equal parts. Shape each of them as ball.
Next take a ball and roll it evenly over a board using rolling pin. Use enough flour to dust and roll as thin as possible.
Next heat a roti skillet(tawa) and transfer the rolled rotti over it. Turn over to cook the other side after few seconds. And it nicely puffs up like poori. Remove and continue the process with rest of the dough.
Healthy and soft ragi ubbu rotti is ready to serve with any of the spicy side dish or coconut chutney.

Notes

Wheat flour is used to give some gluten to finger millet flour so that we can easily roll it.
It is important to add the finger millet flour to boiling hot water. Otherwise the rotti tends to be hard.
Unlike the normal ragi rotti, it is very soft and easily roll-able.
Spicy stirfry or side dish pairs well with it.
https://udupi-recipes.com/2017/11/ragi-ubbu-rotti-fingermillet-puffed-rotti.html
All the content in this website are © Copyrighted to – Udupi-Recipes