Sweet corn in a snack!! You guys, trust me it tastes too good and yummy on these days when weather is transforming from hot to cold. Because cold breeze, windy evenings and chilly weather is what we likely find soon here in UAE. We are almost halfway through November month and excited much about weather transformation. When such weather tempts us towards crunchy sweet corn pakoda, it's quite natural and genuine feeling. Isn't it?  Usually this weather brings in the joy of coziness and warmth of food. But it also has the tendency of making us sick like kids coughing and sneezing back to back. Sometimes in such scenario, I wouldn't dare enough to make deep fried snacks though the weather insists me on. So I made this batch of pakoda in advance of peak winter weather. Sounds crazy though!!
Sweet corn seems to be a best choice for me to make kids favorite snack. Because my kids love sweet corn in it's simplest form too. Cooked corn with some salt and pepper sprinkled tastes too awesome for them to munch on as a snack. So I reserve a pack full of this cute, golden corn in the freezer all the time. It's such a time saver and handy for ongoing appetite of food in between the meals. When I thought of making sweet corn pakoda, I was all sure of it being the kids latest favorite. And it didn't let me down!!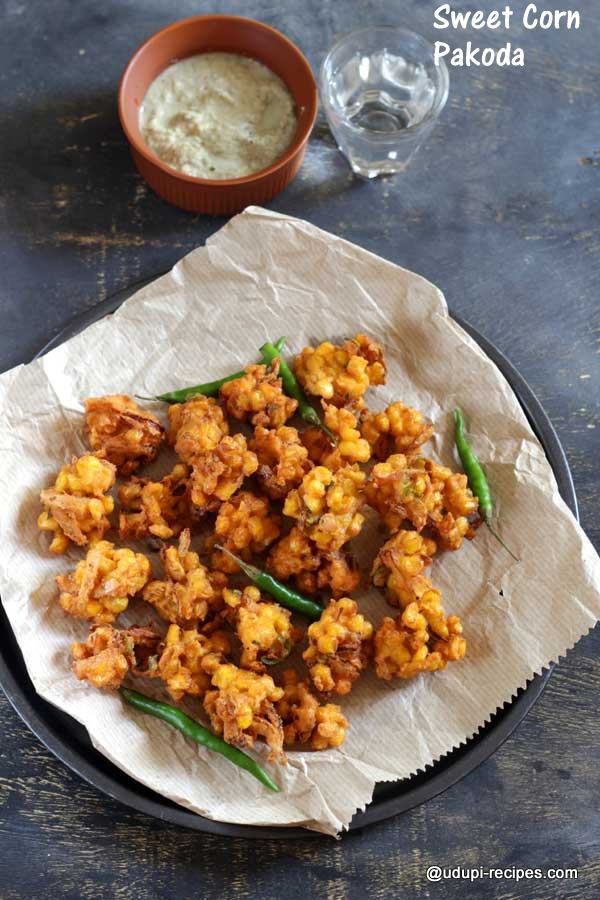 Like palak pakoda, all it takes is just 30 minutes of your kitchen time. The sweet corn cooks in hot, boiling water within few minutes. Say 5 minutes flat. Then the rice flour and gram flour is added to get it in dough form. Otherwise the corns  would easily fall apart. Next the basic spices, green chilly and coriander leaves make it all perfect pakoda dough.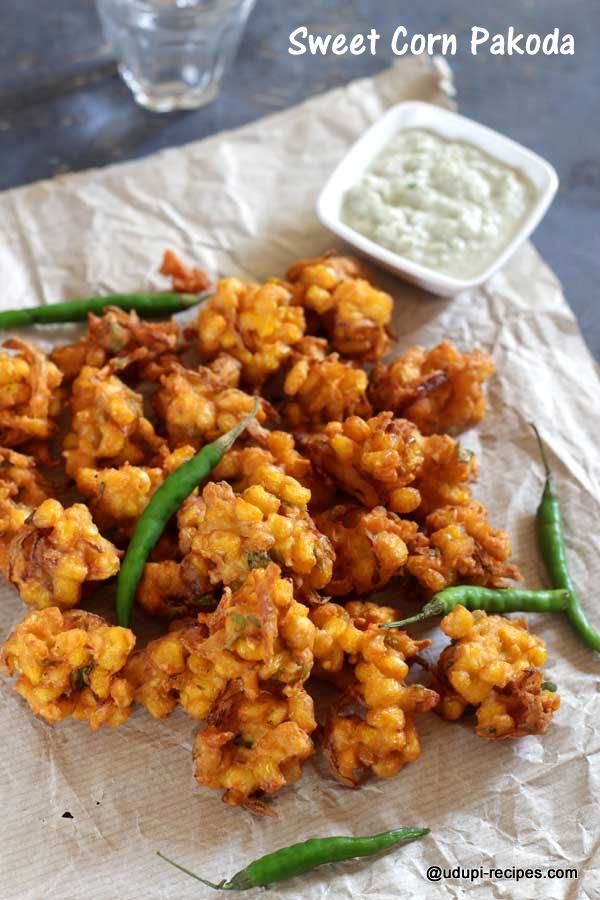 Sweet Corn Pakoda | Sweet Corn Fritters
Ingredients
Sweet corn- 1 cup
Onion- 1 no.
Gram flour- 1/2 cup
Rice flour- 1/8 cup
Coriander leaves- Handful
Curry leaves- Handful
Green chillies- 2 nos.
Salt- 1 tsp
Turmeric powder- 1/2 tsp
Red chilly powder- 1 tsp
Cooking oil- Enough to deep fry
Instructions
Preparation

Chop the coriander leaves, curry leaves and green chillies very finely. Peel off the onion and chop it as very thin slices. Keep them aside.

Method

Take the sweet corn in a vessel adding around 1.5 cups of water. Bring it to rolling boil and switch off. Using a fine strainer, strain the corn and let it cool down.
In a wide bowl add the slightly cooked sweet corn, gram flour, rice flour, salt, red chilly powder, chopped onion, coriander leaves, curry leaves and green chillies. Mix everything together using your fingers. Do not add water. The moisture present in corn and onion is enough to give dough consistency.
Next, heat oil in a heavey bottom wok, when it heats up drop pakoda sized dough in to oil. And deep fry them till they turn golden brown. Remove using a slotted ladle and drain over a kitchen tissue.
Crispy sweet corn pakoda is ready to relish with evening tea/coffee.

Notes

The moisture in onion and corn is enough make the dough. If you find the dough as loose, add some more gram flour and mix.
Let the dough be of stiff consistency otherwise it will drink lots of oil.
To check the oil temperature, drop a pinch of dough in to oil. If it raises to top immediately, then the oil temperature is perfect.
Adjust the spice according to your preference.
https://udupi-recipes.com/2017/11/sweet-corn-pakoda-sweet-corn-fritters.html
All the content in this website are © Copyrighted to – Udupi-Recipes