This little and tiny cooking thing, finger millet has reappeared in this space after a little while. Though finger millet is not a cereal of my origin, I happen to use it in many forms  like this ragi dosa and idli. But the authentic finger millet recipe suppose to be ragi mudde and ragi rotti among which I have been successful making ragi rotti till date.  This pancake is wonderful, whole some and filling one but unless you take extra care while making the dough, ragi rotti can turn hard and chewy some times.
So let's break this down to less scary and more awesome, healthy and delicious sort of situation. The magical ingredient rice flake which when soaked down can amazingly turn hard and chewy things to soft and tender. Let me give an example, if you include soaked rice flakes in dosa batter, you end up with spongy plus cushiony dosa which just melt in your mouth. Same trick is used in ragi rotti too.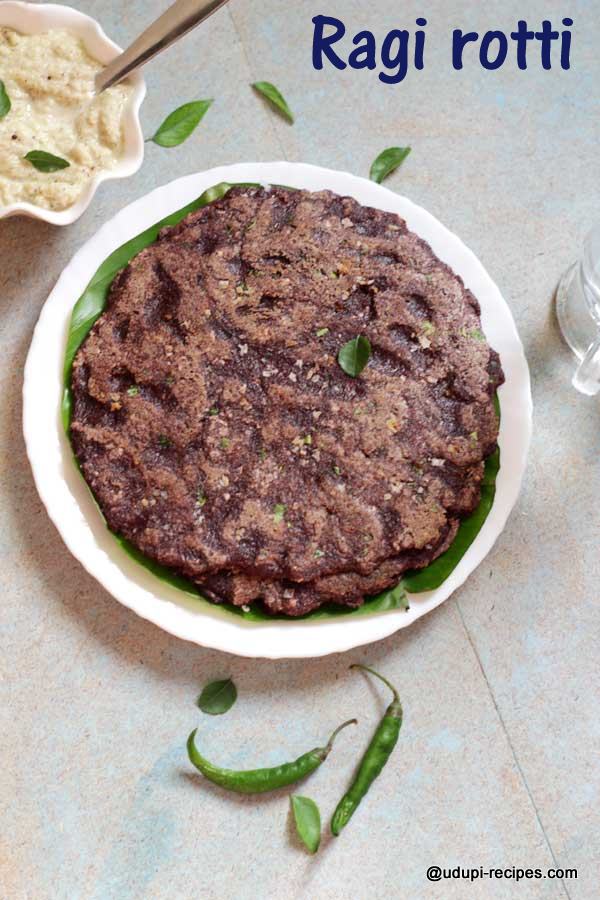 While making the ragi rotti dough, handful of soaked rice flakes can infuse lot of sponginess in the end product. On top of that warm water plays well in boosting the softness of pancake.
Essentially ragi rotti can have lot of vegetables like onion, grated carrot and more of greens like fenugreek leaves and dill leaves. You can add all this up to make a truly delicious and kick-starting breakfast of your day. I have given the basic version without these add-ons but you can take the liberty to take the pancake to the next level.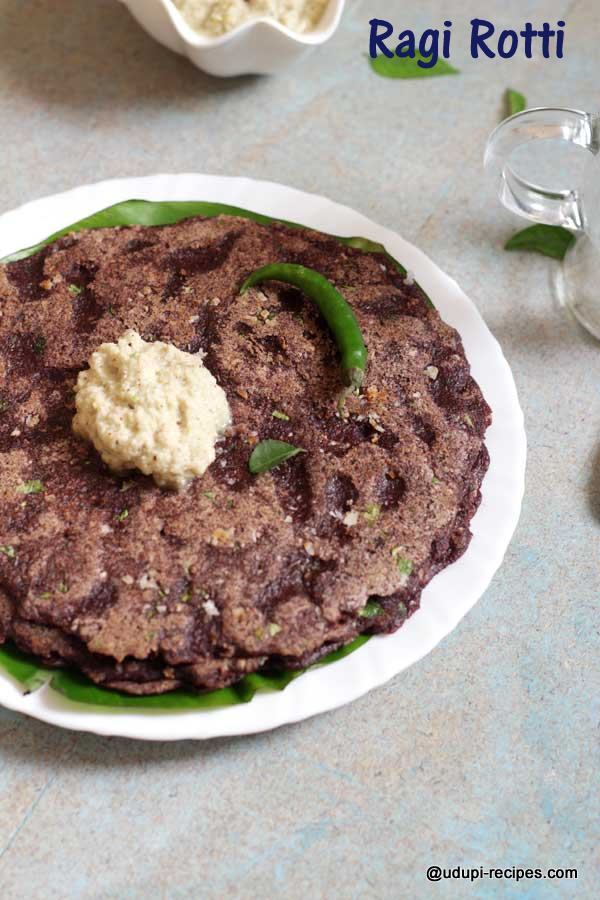 Ragi Rotti | Fingermillet Flour Pancake Recipe
Ingredients
Ragi flour ( finger millet flour)- 1 cup
Rice flakes- 1/4 cup
Fresh grated coconut- 1/4 cup
Chopped coriander leaves- 1/4 cup
Salt- 1 tsp
Chopped curry leaves- 1 tsp
Chopped green chillies- 1 tsp
Instructions
Preparation

Soak rice flakes in 1/4 cup of water for about 10 minutes.

Method

In a wide bowl add finger millet flour, coriander leaves, curry leaves, green chillies, salt and grated coconut.
Mix all of them together and next add soaked rice flakes and combine it too. You would get flour in crumbled form.
Next, adding 1/4 cup of warm water little by little prepare soft and little loose dough. Divide the dough in to 3 equal parts and form ball by rolling each of them between your palms.
Next take a damp cotton cloth and place a finger millet flour ball on it. Wet your hands and pat the dough like a circular shaped disc as thin as possible.
Heat a griddle smearing enough oil and transfer the patted ragi rotti upside down over it. Let it be for a second, then carefully remove cloth. Let it cook and then flip to cook the other side.
Healthy breakfast ragi rotti is ready to serve with spicy coconut chutney.

Notes

Warm water and rice flakes helps the rotti to be soft and tender. So do not skip them.
You can use an alluminuim foil or cotton cloth or banana leaf to pat the rotti.
You can add finely chopped onion and grated carrot also to make the rotti delicious.
As finger millet is bland in taste, spicy side dish pairs well with it.
https://udupi-recipes.com/2016/12/ragi-rotti-fingermillet-flour-pancake.html
All the content in this website are © Copyrighted to – Udupi-Recipes