I am just recollecting is there any single food which keeps me insanely hungry at any point? Actually there is no single one, there is a looong list of such food which never end probably. Red parboiled rice shavige is one such wonderful and magically delicious breakfast or lunch or dinner for us. Like, we happily and proudly relish even the last morsel of parboiled rice shavige for all 3 meals of a day.
In Udupi region shavige has the badge of ROYAL food because lots of time and insane amount of work involved in it. I truly agree with the fact that ottu shavige happens to be labour-intensive food but it can be made simple too. Answer lies in parboiled rice shavige. Use of this rice completely masks of one of the tedious tasks which is cooking the batter till it solidifies.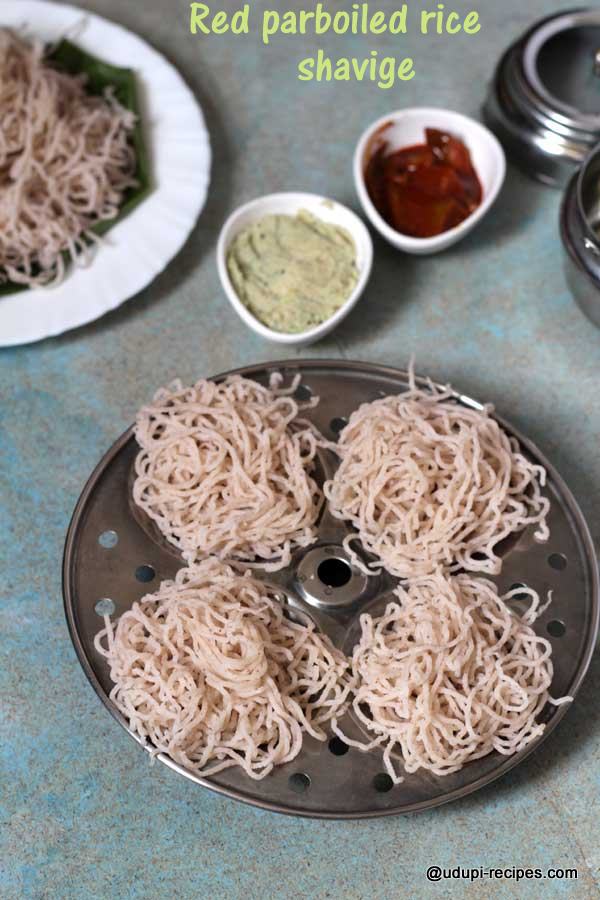 Let me explain how can we cut short the process. The parboiled rice which when ground with coconut and water wouldn't be of pouring or flowing consistency. You can easily make balls out of that batter which saves you from cooking the batter to get that consistency.  So you can directly shape the parboiled rice batter in to balls and steam to perfection. These cooked balls then get in to shavige press and come out as spirals or noodles.  Sounds so simple right??
It was yesterday when my kitchen had a big vessel full of red parboiled rice shavige that filled our hungry selves for all 3 meals, today I am craving for the same again. Shavige or rice noodles have been such a addicting food to me and my family that we even enjoy the leftovers.  I doubt, if any one can hate such an awesome, homemade rice noodles ever?? Both sweet and savory version of this delicacy taste super-duper.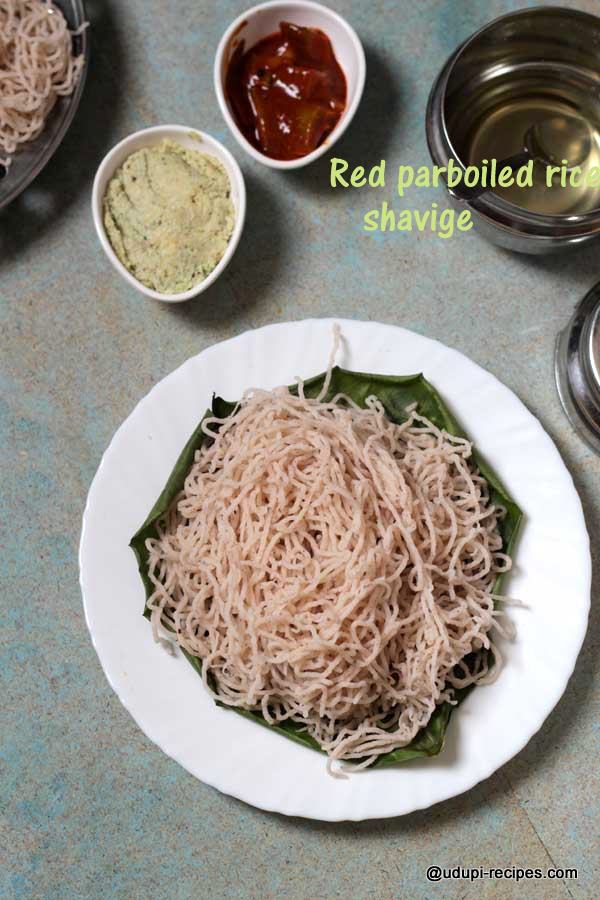 Red Parboiled Rice Shavige | Parboiled Rice Noodles
Ingredients
Red parboiled rice- 2 cups
Fresh grated coconut- 1 cup
Salt- 2 tsp
Water - 2 cups
Instructions
Preparation

Soak parboiled rice in enough water for about 8 to 10 hours or overnight. The rice grains would have puffed up now.

Method

Drain water from rice and transfer it to mixer jar. Include grated coconut and salt too. Grind them together to fine batter adding water just enough to ease the process. The consistency of the batter should be non-pouring and thick.
I used up around 2 cups of water to get thick batter like the one shown below. Next take a big lump of batter and shape it like cylinderical ball. Repeat the process with remaining batter and arrange them in idli stand or steamer.
Steam cook them for about 15 to 20 minutes in medium flame. You can check for doneness by piercing a toothpick, if it comes out clean then the dumplings are cooked perfect. Take the shavige press and fill it with cooked dumpling. I used my murukku press.
On a plate press the dumpling as layered swirls. Do not press more than 2 to 3 swirls one over the other.
Delicious and filling breakfast parboiled rice shavige is ready to serve with coconut chuntey, curry or coconut milk.

Notes

Do not use more water to grind the rice that may make the batter runny. Just use enough water for ease of grinding.
In any case if you find the consistency of batter too runny, mix some medium rava to troubleshoot.
Wet grinder is the best one to grind parboiled rice, if you have one, use it.
You can use idiyappam press for making this rice noodles, I used my murukku press itself.
https://udupi-recipes.com/2016/12/red-parboiled-rice-shavige-rice-noodles.html
All the content in this website are © Copyrighted to – Udupi-Recipes