Monsoons in India always have their own story to narrate. And it's no secret that I am living a wonderful Monsoon life here in India since a week.
The pitter-patter of raindrops in tune with the sound of my favorite song, the chilly breeze and a cup of piping hot tea act as appetizers and leave my taste buds craving for some hot and spicy snacks. And that stright up inspired me to cook mirchi bajji and you guys know it's no surprise that same is getting posted here.
'Mirchi' literally means 'chilly' sounds so hot and spicy, and when you make a bajji out of it doesn't it taste too hot??? Well I have a practical tip to reduce the spiciness so that anyone including kids can devour this while enjoying rain and chilly breeze at the same time.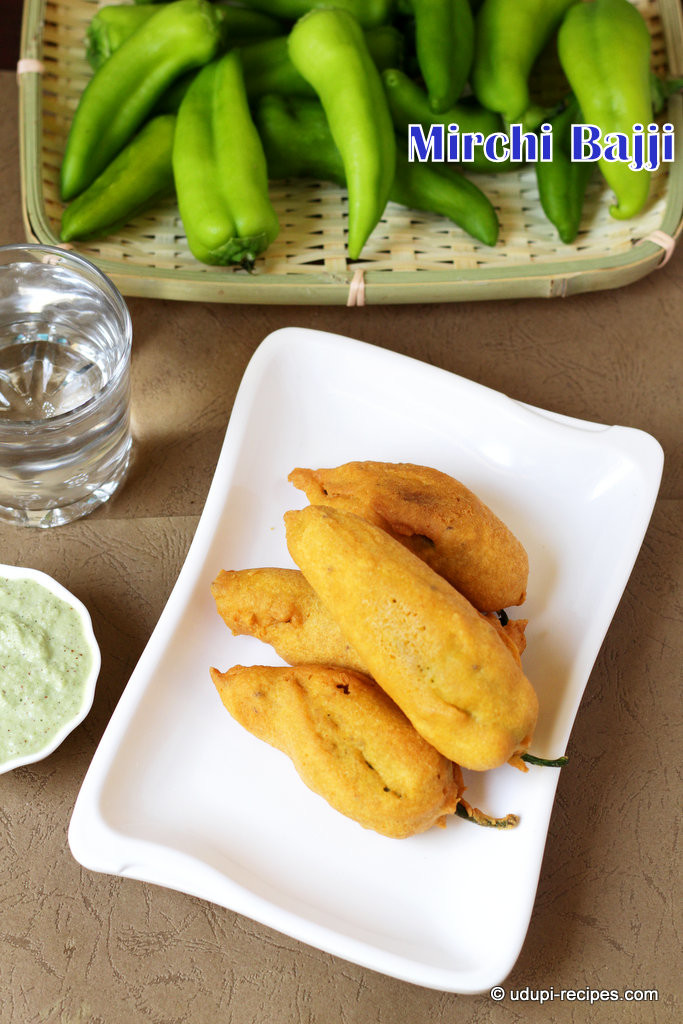 In supermarkets you get a kind of chillies that are specific to make such fritters. They look big, bulgy and hollow inside. The hot and burning taste of chilly is mostly because of the seeds and membrane that is inside them.
While making this mirchi bajji, I tried to slit the chilly and scoop out the seeds from it. I could do it without breaking the chilly in to two which is why the bajji turned less spicy, less hot and more delicious.
Though the bajji seems so simple, it can be surprisingly hard some times just because the batter doesn't coat well on the chilly. Specifically for mirchi bajji the chickpea flour batter should be little thick and semi-solid. Ensure you make the batter adding water incrementally little by little.
Holding the chilly stem in hand and rotating it in batter forms a thick layer over it. Then all you need is to carefully drop it in hot oil and watch it frying to golden brown perfection. I can foresee mirchi bajji straight from hot oil to appetizing mouth. That is what happened with me 🙂 .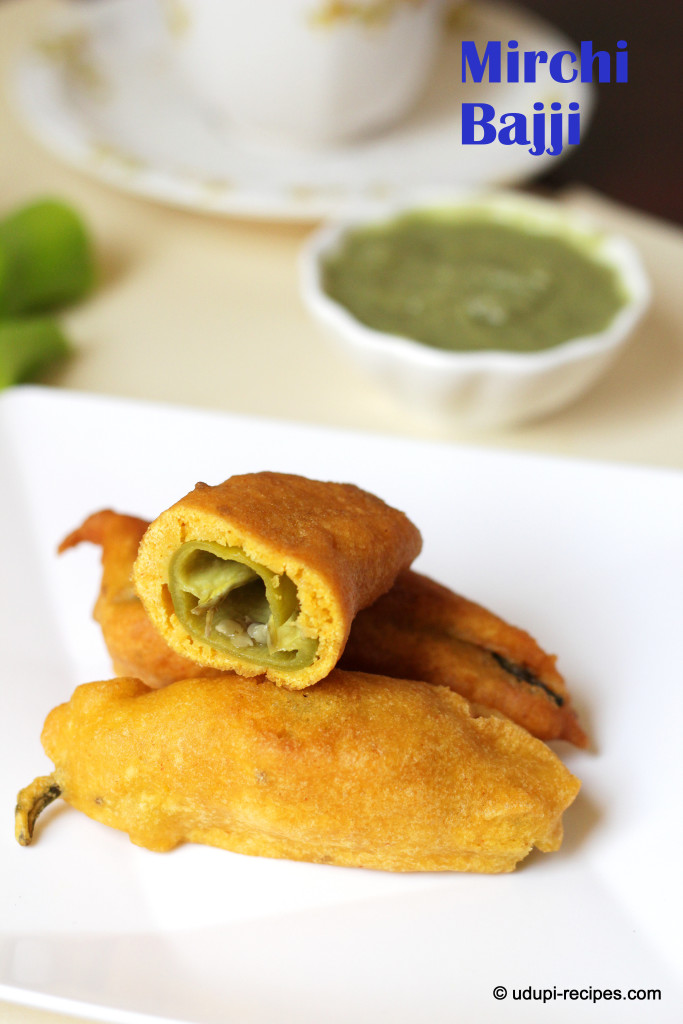 Mirchi Bajji | Green Chilly Fritters
Ingredients
Chickpea flour (Besan)- 1 cup
Rice flour- 1/2 cup
Bajji green chillies- 8 to 10
Salt- 1 tsp
Red chilly powder- 1 tsp
Carom seeds- 1/2 tsp
Turmeric powder- 1/2 tsp
Cooking soda (Sodium bi carbonate)- A pinch(optional)
Cooking oil- Enough for deep frying
Instructions
Preparation

Wash the green chillies with enough water and pat dry them with a dry cloth. Make a vertical slit on single layer of chilly from tip to end. Carefully scoop the seeds from them without breaking it up. Keep them ready.

Method

In a wide bowl add chickpea flour, salt, red chilly powder, carom seeds and turmeric powder.Give a quick mix so that spices combine with chickpea flour. Next add water little by little and make moderate thick batter. Also add cooking soda now (if adding) and mix. The consistency of batter should be such that thick layer should get coated on chillies.
Heat cooking oil in a wide wok and when it's rightly heated proceed to next step. Check the oil by dropping a drop of batter in to it, if it raises to the top immediately the oil has reached right temperature.
Now dip the slit bajji chillies in the batter. Holding the stem of the chilly, rotate it in batter so that thick layer of batter coats over it. Carefully drop the chillies in to hot oil batch-wise. When the bajji cooks to golden brown in all the sides, using slotted ladle remove and drain on kitchen tissue paper.
Hot hot mirchy bajji is ready to serve as tea time snack.

Notes

Removing seeds from chillies is optional. Some times the chillies are too hot to eat, so I make it a practice to scoop the seeds from them.
The batter consistency is very important. If it is thin, doesn't coat well on chillies. In that case add some more flour to make it thick.
Stuffing the chillies with potato mix also enhances the taste of bajji.
https://udupi-recipes.com/2015/07/mirchi-bajji-green-chilly-fritters.html
All the content in this website are © Copyrighted to – Udupi-Recipes