Lemon Rasam. It's my heart.
And you guys, I pinkie promise: This is easiest ever. I mean, nothing deserves the Easiest ever badge of honor like a recipe that can be made in a kitchen in just 5 minutes. And it's a complete bonus for all the people around the dinner table when easiest ever also means extremely tasty, right?
The water like textured lemon rasam with lots of coriander and curry leaves topping may not seem so appetizing but it is guys IT IS. When you have no side dish left for the dinner and you are looking for some quick fix which is not elaborate with tons of vegetable chopping then you are inline with me. I would certainly whip up this simple so called lemon rasam.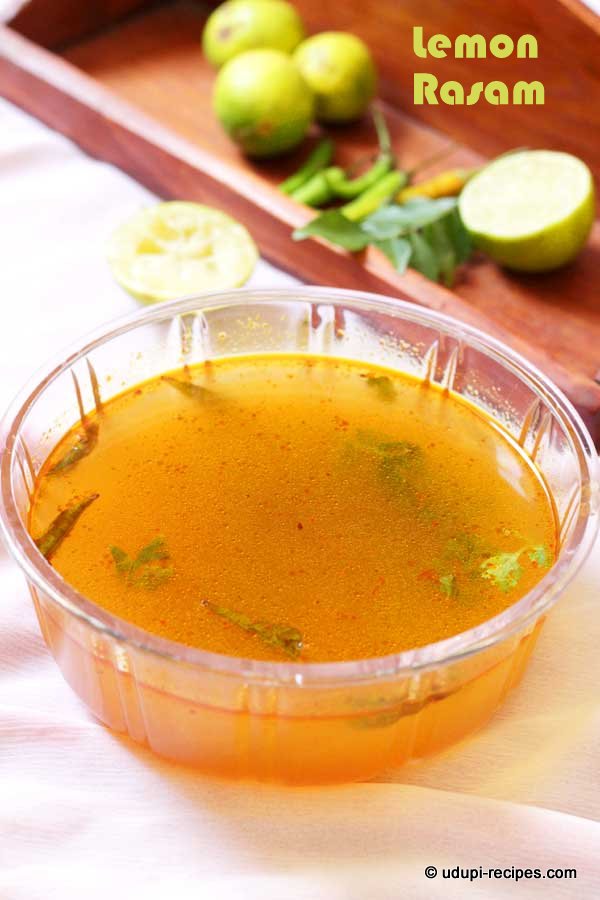 If you are right here staring at above picture and tempting with the idea of sipping it like a soup, then you are like me. I too love this lemon rasam to sip like a real soup. It has a bit of spice, dash of lemon and appropriately salted with flavorful seasoning. More than relishing it like a rasam my kids slurped it in a beautiful bowl with spoon.
Note: Use of rasam powder in the lemon rasam is completely optional. If you ask me I would rather recommend no-rasam-powder version. It's super delicious even as plain, colorless, like water look. I have included here only for the sake of some colors in the photograph.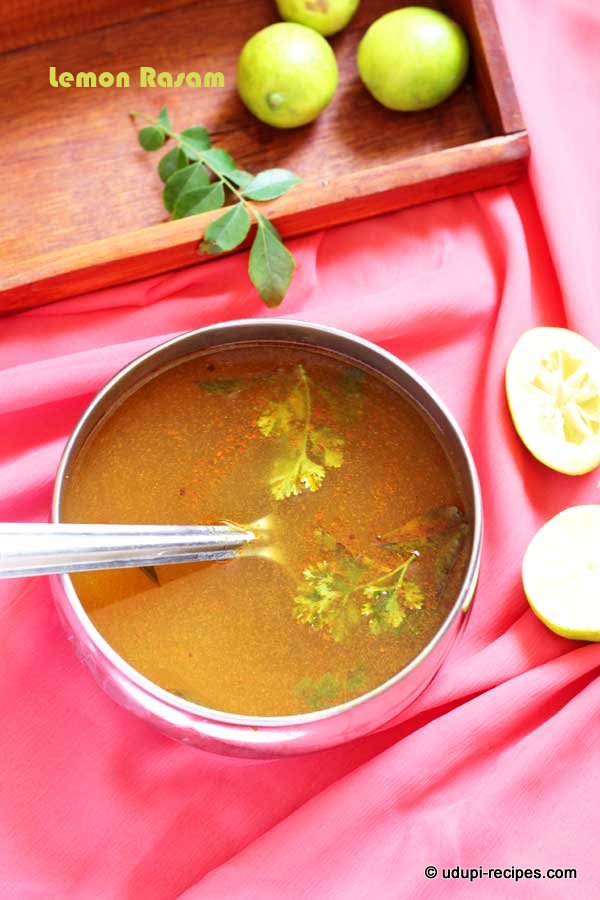 Ingredients
Lemon- 2 nos.
Green chillies- 2 nos.
Salt- 1 tsp
Turmeric powder- 1/4 tsp
Rasam Powder- 1 tsp (Optional)
Powdered jaggery- 1 tsp

Seasoning ingredients

Cooking oil- 1 tsp
Mustard seeds- 1/2 tsp
Split black gram lentils- 1/2 tsp
Curry leaves- Few
Instructions
Preparation

Slit the green chillies lengthwise and cut the lemons in to half. Keep them side till use.

Method

Heat a pan adding all the seasoning ingredients in the order mentioned, as the mustard seeds crackle add 2.5 cups of water, jaggery, turmeric powder, slit green chillies and salt. Let it boil.
Next include rasam powder and continue boiling for a while. Then switch off. Finally squeeze the lemon juice from 2 lemons.
You can serve it as rice side dish or as soup.

Notes

Adding rasam powder is optional. Without rasam powder also it tastes too good.
If using, you can either use home made udupi rasam powder or the regular branded ones that you prefer.
Do not add lemon juice when the rasam is still boiling. It may taste bitter. At the end when you switch off stove, it is right time to add lemon juice.
When you are sick and down with fever, lemon rasam helps to awaken the taste buds.
https://udupi-recipes.com/2015/07/lemon-rasam-recipe.html
All the content in this website are © Copyrighted to – Udupi-Recipes