I have had this idea written up in my blog calendar for at least three weeks now.  The name 'rava halbai' sat next to all my random ideas, most of which have already got prepared in the kitchen and saved as scheduled post safely in my blog server. But for whatever reason this little, cute sweet thing idea lingered. Whenever I open the calendar to mark the food ideas that are already up for posting, this 'rava halbai' would stare at me begging it's turn to be on the blog. Many times I thought to erase this from the list because I was just three days away from my vacation trip to India. And packing for the journey had not yet begun, some last minute shopping was still pending but I didn't give up.
Because rava halbai is so very easy, quick and simple like that. You can't give up so easily. Finally the easiest ever recipe for halbai got whipped up the day before my flight and kids enjoyed this lovely sweet thing and the plate is licked clean in just one day.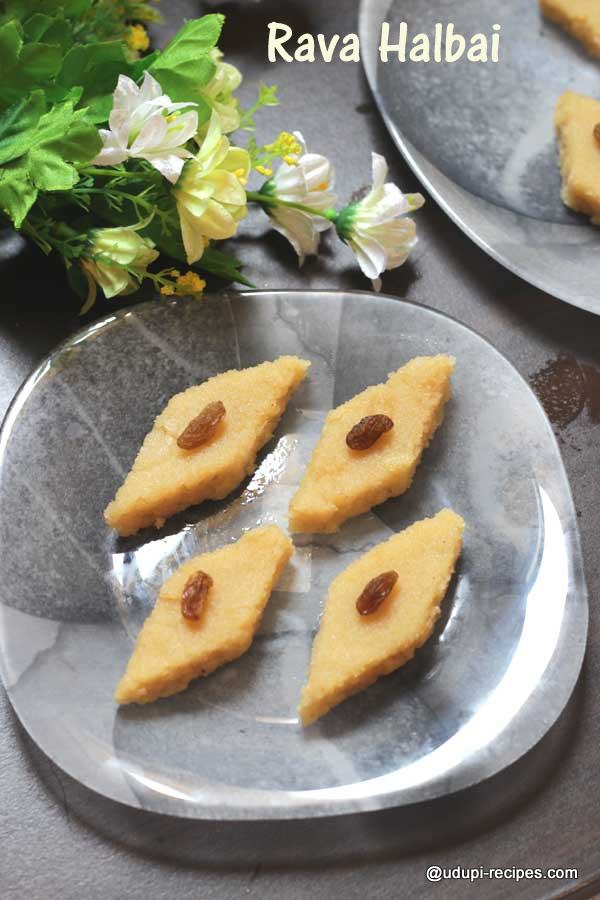 The festival of serpents i.e "Nagarapanchami" is just three days away and I thought this rava halbai can be a easy substitute for rice halbai or wheat halbai which appeared in this space in previous years. Both of those were authentic recipes in which the procedure seems to be quite elaborate and time consuming. And I would say they are tricky too requiring bit of cooking expertise. So this year, fancy, surprisingly easy recipe of halbai using semolina is just in front of you that has same basic ingredients like coconut, jaggery and cardamom. It is absolutely delicious with the flavors of coconut milk and cardamom powder while being luscious because of jaggery. This easy sweet thing is surely going to be recreated in my kitchen for the same festival which happen to be in 2017.
Rava Halbai | Semolina Halbai Recipe
Ingredients
Medium rava (Fine semolina)- 1/2 cup
Powdered jaggery- 1 cup
Fresh grated coconut- 1 cup
Ghee- 1/8 cup
Cardamom powder- 1/2 tsp
Instructions
Preparation

Take grated coconut and a cup of water in a mixer and grind to fine puree. Pour this over strainer and squeeze to extract coconut milk. Measure 1 and 1/2 cups of milk and keep it aside.

Method

In a pan add half of the ghee and semolina. In medium flame roast the rava with constant stirring. It may take few seconds and then transfer it to a plate.
Next add powdered jaggery and little water to the same pan and cook it under medium flame. The jaggery gets dissolved and as it bubbles up include 1.5 cup of coconut milk.
When coconut milk starts boiling carefully add roasted semolina. Meanwhile keep stirring so that lumps are not formed.
Continue cooking the mixture till it thickens. Add remaining ghee and cardamom powder. Combine everything well, when the mixture comes together and leaves the pan, switch off flame. Transfer the mixture over ghee greased plate.
Let it cool down to room temperature. Mark pieces using sahrp knife and relish this rava halbai on Nagarapanchami.

Notes

I added 3/4 cup of jaggery and the halbai was medium sweet. So you can increase it to 1 cup.
Filter the jaggery syrup if it has impurities which float on top and then re-cook it till bubbles.
The coconut milk is primary flavor factor, so do not reduce it's quantity.
https://udupi-recipes.com/2016/08/rava-halbai-semolina-halbai-recipe.html
All the content in this website are © Copyrighted to – Udupi-Recipes