Loving the caramelized onion flavors in this deep fried goody maddur vada!! It's amazingly yummy and crispy.
I find few deep fried snacks that are closely associated with the name of a particular place. Between Mysore and Bangalore there lies a small town named maddur which happen to identify this awesome deep fried goody. This single snack is probably the most sold one in that town and all travelers between Mysore-Bangalore must have tasted this deliciousness during their journey.
I tried to recreate the same magic in my kitchen that turned to be super hit and I am already loving it. Snack foods have always been my favorite things which accompany my everyday meals, so I do lots of them with fancy touch and tweaks.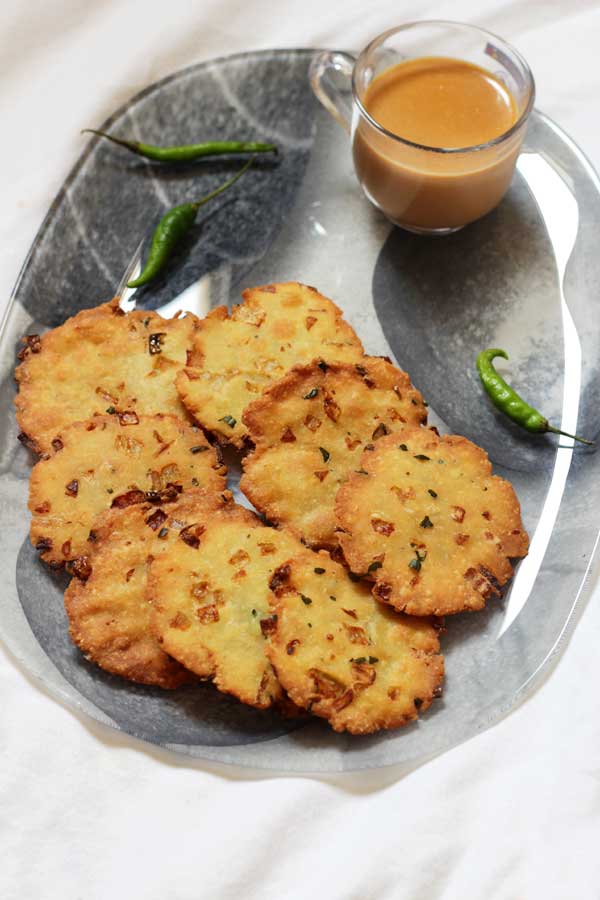 Maddur vada has semolina, rice flour and all purpose flour in adequate quantities, I mean it because if they are not used in proportions then vada can turn too hard or brittle or soggy. While making the dough, pouring in some hot oil definitely adds to overall crunchiness. The superstar ingredient of this recipe i.e onion is used in bit more quantity which when deep fried gets perfectly caramelized and just makes the snack rich taste-wise.
We have already rolled over to August month of 2016 and it is good to know that Monsoon is still ON. Rain and crispy deep fried goodies are made for each other. Right now if your hungry self crave for such a snack, head towards the kitchen and as the golden brown discs float in oil it'll surely RAIN!!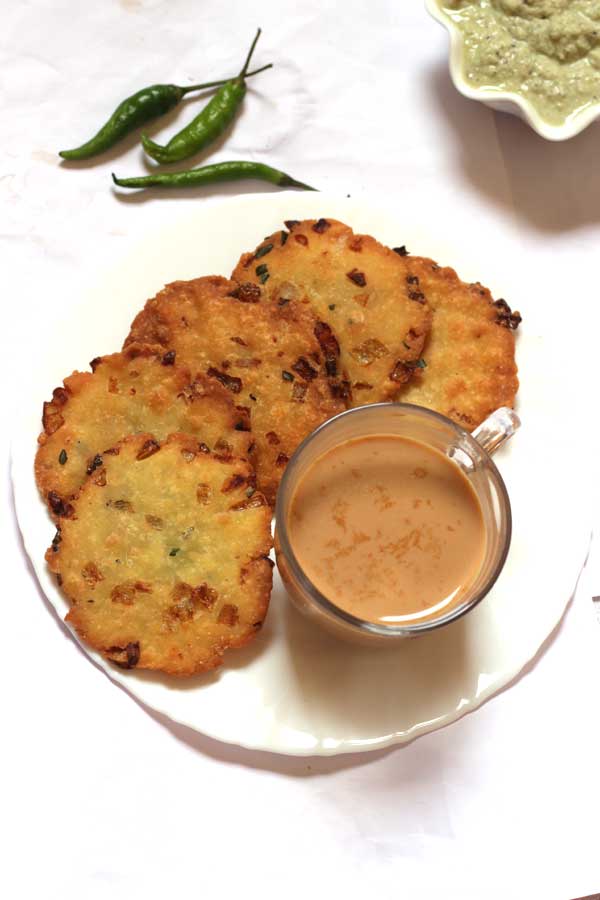 Maddur Vada | Maddur Vade Recipe
Ingredients
Rice flour- 1 cup
Chiroti rava-1/2 cup
Maida(All purpose flour)- 1/4 cup
Onion(medium sized)- 3 nos.
Green chillies- 3 nos.
Curry leaves- Handful
Salt- 1 tsp
Cooking oil- 4 tsp + 2 cups
Instructions
Preparation

Peel off the onions and chop them very finely. Chop green chillies and curry leaves too.

Method

In a wide bowl add rice flour, rava, maida and salt. Give a quick mix. Warm up 4 tea spoon of oil and add to the bowl. Again mix to crumble form.
Next add chopped onion, curry leaves and green chillies. Combine everything well, then adding water in steps make thick dough.
Pinch lemon sized dough and pat over damp cloth in to 1.5" disc. Meanwhile heat oil in a wok and carefully drop the patted vada in to oil. Fry till they turn brown and drain oil over the kitchen tissue.
Continue this process to make all vadas. Crispy snack maddur vada is ready to serve as tea time snack.

Notes

Adding hot oil to flour helps to turn the vada crisp. Do not skip this step.
The dough shouldn't be thin, so add water incrementally in steps.
I have used damp cloth to pat the vada, you can use food-grade plastic sheet too.
To check oil temperature, drop a pinch of dough in to oil, if it raises to top immediately, it is the right temperature. Turn the flame to medium low and fry the vada.
As per the size of your wok, you can fry vada in batches.
Store it in airtight container and it last for a week too.
https://udupi-recipes.com/2016/08/maddur-vada-maddur-vade-recipe.html
All the content in this website are © Copyrighted to – Udupi-Recipes