Fenugreek leaves paratha: an incredible travel food which flies with me every time when I travel to India.
The crown jewel of this recipe is fenugreek leaves which makes the simple wheat flour flatbread a flavor explosion. It is this flavor of green goodness which insists me to use it up in one or the other recipe. The wonderfulness of fenugreek is: it binds very well with it's co-ingredients but retains or to be specifically dominates it's own flavor enriching taste all together. This fact was assured to me when I cooked carrot fenugreek leaves stirfry.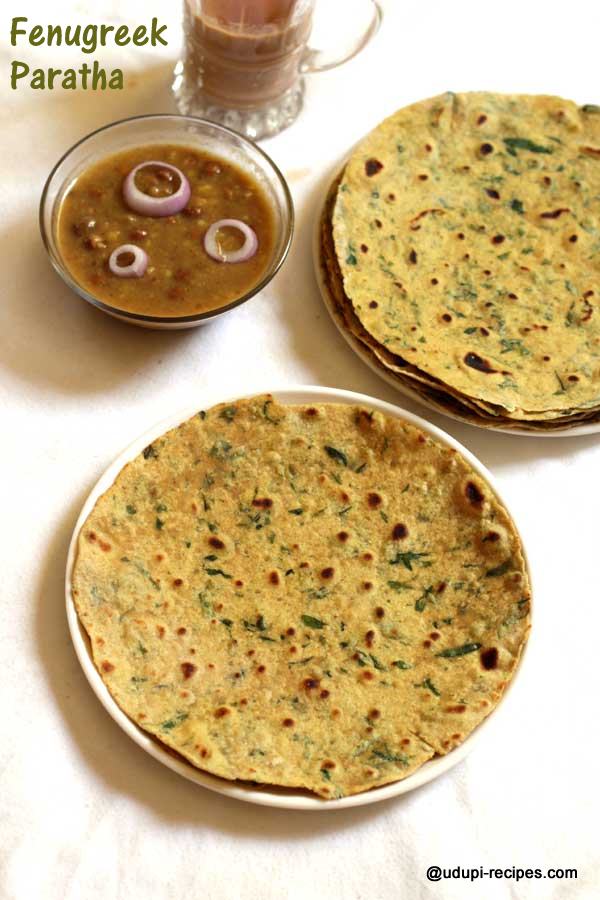 Well, much has been talked about flavor part of the fenugreek leaves, but from the taste perspective, it is BITTER. 🙁  🙁 . And the best part of this greens is, as it gets cooked or sauteed, the bitterness reduces extensively which makes me a Happy Cook. While making fenugreek leaves paratha, before kneading the dough with greens, I sauteed them well over stove top. With this little trick, the flatbread, the paratha tasted utterly delicious.
You all good cooks of the world know how a wheat flour flat bread I mean chapati is whipped up. You must be doing it on daily basis but lets take it one level up, health-wise and taste-wise by just throwing in some greens like fenugreek leaves. You can also throw up some spices little this and little that which makes the paratha a nutrient-rich affair.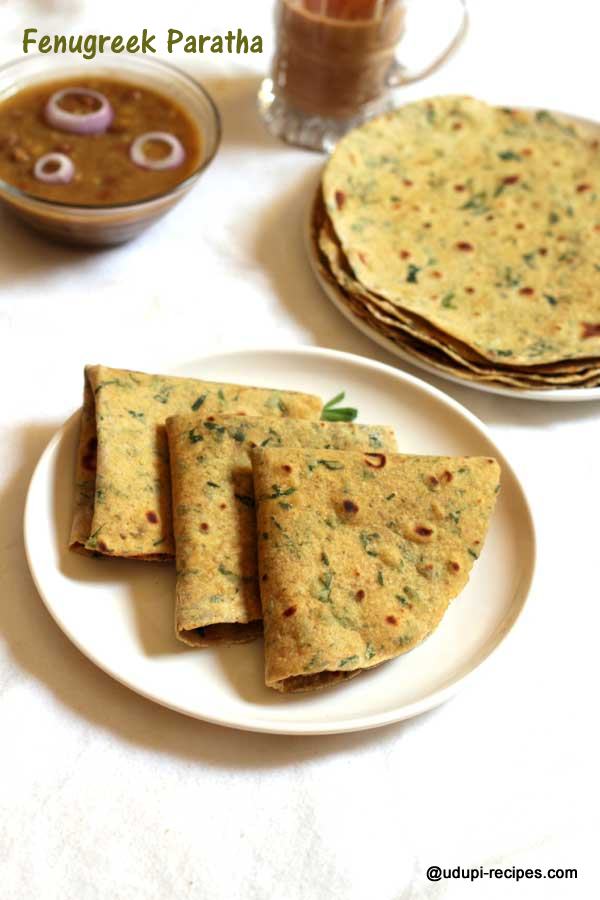 Fenugreek Flatbread | Methi ki Paratha
Ingredients
Wheat flour- 2 cups
Fresh fenugreek leaves- 1 cup
Gram flour (besan)- 1/4 cup
Salt- 1.5 tsp
Red chilly powder- 1 tsp
Coriander powder- 1 tsp
Turmeric powder- 1/4 tsp
Cumin powder- 1/2 tsp
Instructions
Preparation

Rinse and wash the fenugreek leaves and separate the leaves from stem. Keep this ready.

Method

Heat a pan and dry roast the gram flour till the raw smell ceases and fragrance wafts out. Transfer it to a container.
Keep the pan back on heat and roast the fenugreek leaves till they wilt and shrink. In a wide bowl add wheat flour, coriander powder, red chilly powder, turmeric powder, salt and cumin powder. Give a quick mix and add wilted fenugreek leaves. Mix them too.
Adding water little by little in steps knead a pliable dough which should be neither too thick nor too thin. Keep the dough covered in damp cloth for about 15 minutes. Pinch equal sized balls and roll a ball in to thin circular disc using rolling pin. Dust enough flour while rolling.
Heat a chapati griddle and carefully transfer the rolled paratha. Over medium flame cook it till bubbles appear, then flip it over and cook till you notice some brown spots.
Continue the process with all the dough. Very healthy fenugreek paratha is ready to serve with yogurt, pickle or any side dish.

Notes

Roasting fenugreek leaves helps to reduce it's bitterness. So don't skip the step.
You can make the paratha more spicy with some more red chilly powder and garam masala.
The dough conistency is very important, if it is too thick paratha breaks at the edges.
You can carry these parathas as travel food too.
https://udupi-recipes.com/2016/08/fenugreek-leaves-paratha-methi-ki-paratha.html
All the content in this website are © Copyrighted to – Udupi-Recipes