Roasted gram ladoo which is also known as "tambittu unde" in Karnataka is what I have for you on the glorious birthday of Lord Krishna.
We have officially made half way in August and it was yesterday that we proudly observed flag hoisting ceremonies, cultural events and  parades at every nook and corner of the country. This most lovely time of the year means a lot to me like festivals, celebrations, gala time and deliciously delicious food for the soul. Yeah, when I am on vacation I couldn't even think more than food thoughts which is what I do mostly. But what the hell I do when I am at work ?? Think FOOD, click FOOD and eat FOOD is my profession guys..Can't help.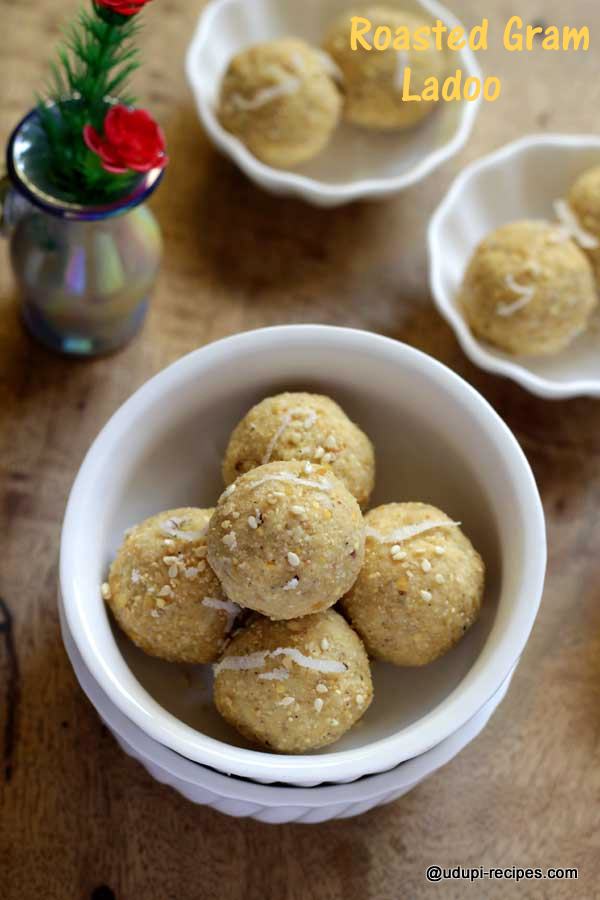 Here are my thoughts for the month of August: You come home from work, you've had a long day and you are Hungry with capital H. You open the big jar of roasted gram ladoo for the instant energy and sit on a couch eating one ladoo followed by another. When your mouth demands something hot or crisp after the sweets, you end up opening another huge jar of chakkuli (murukku). This is the scenario that happens each and everyday followed by Shree Krishna Janmashtami.
Roasted gram ladoo can help some novice cook who wants to offer ladoo to Lord Krishna but lacking in knowledge of ladoo making. You don't have to be a jaggery syrup expert to whip up these balls. These are simple, no mess ones  and you can never go wrong so easily. This ladoo is more popular as "tambittina unde" in other parts of Karnataka and is delicious with nutty flavors of sesame and desiccated coconut. You can enrich the ladoo with your own favorite nuts like cashew, almond and raisin for the true ENERGY bites.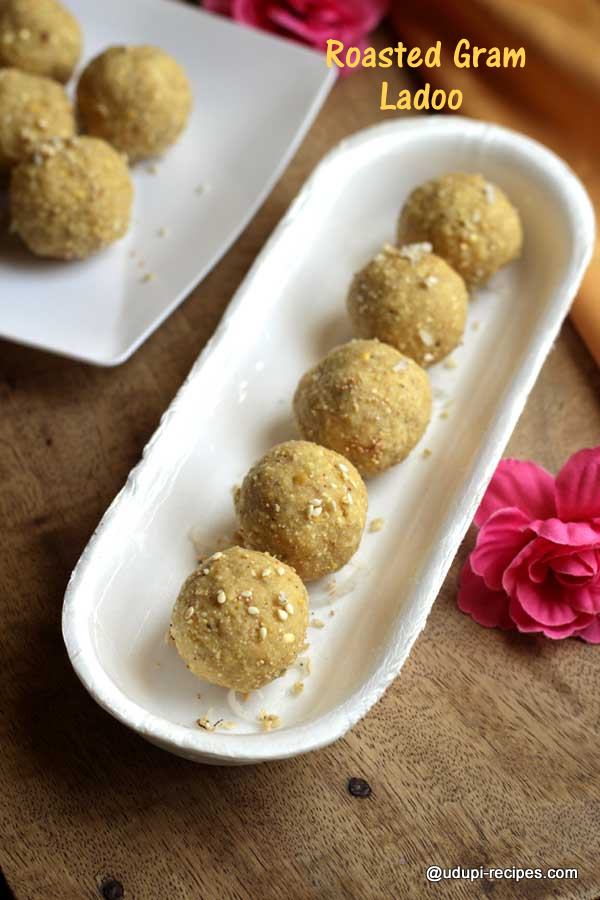 Roasted gram ladoo | Janmashtami Recipes
Ingredients
Roasted gram- 1 cup
Jaggery- 1/2 cup
Desiccated coconut- 1/3 cup
Ghee-1/4 cup
White sesame seeds- 1 tsp
Poppy seeds- 1 tsp
Cardamom powder- 1/4 tsp
Instructions
Method

Heat a pan adding roasted gram. Stirring constantly roast them till they warm up. Transfer to a plate and roast white sesame seeds and poppy seeds one after the other till they turn little brown.
Next grind the desiccated coconut coarsely. Empty it in a bowl. In the same mixer add roasted gram, sesame and poppy seeds. Grind them together to fine powder.
Take jaggery and ghee in a pan and heat it up. Add 2 tsp of water too. As the jaggery dissolves, put off the flame and include powdered gram, desiccated coconut and cardamom powder.
Combine everything well and shape a handful of mix as ladoo. Continue shaping ladoo with all the laddo mix.
This auspicious ladoo is ready to offer as naivedyam to Lord Krishna.

Notes

Do not roast the gram till they change color, let they warm up that is enough.
Jaggery just has to dissolve in ghee and water, consistency check is not necessary.
This ladoo keeps well for more than a week.
https://udupi-recipes.com/2016/08/roasted-gram-ladoo-janmashtami-recipes.html
All the content in this website are © Copyrighted to – Udupi-Recipes