Today's post is dedicated to all those super women of the world who want to cook delicious breakfast for the family while keeping the monthly expenses reasonably low. We are in such a era where lentils, vegetables and fruits' price are highly varying and unstable. For a housewife juggling between delicious food and monthly expenses would be quite hard.  No worries..Friends. Let's try to figure out delicious alternatives while keeping an eye on cost as well.
Ash gourd dosa, though not sounding so delicious but it is equally tasty like your regular plain dosa. Let me convince you how a dosa can even taste good and soft, without those black gram lentils?? Of course it can, as good as it's counterpart. Because we are using this humble veggie ash gourd which takes the risk of replacing the lentils. Yes. You can substitute the plain black gram lentils with a cup of ash gourd kernel cubes which works magically wonder. Seriously.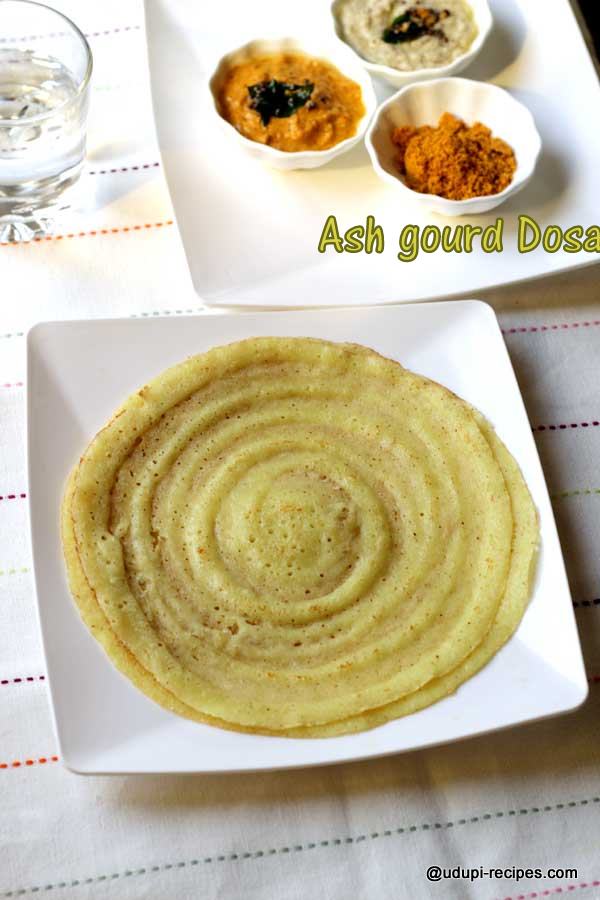 You can be back to your regular dosa, where in you soak up raw rice and lentils and then grind to smooth batter. In this case lentils add a sort of fluffiness to the batter which in turn make dosa texture very soft and melt in mouth kind. But in ash gourd dosa, it is the ash gourd and rice flakes that make the batter fluffy and thick which after fermentation turn the dosa absolutely soft.
I was bit skeptical as it would turn hard in the absence of lentils or would it ever loosen from the griddle. But the dosa proved me completely wrong, I could so easily loosen the edges and remove it from the griddle and it tasted equally wonderful as regular dosa. You can either make it very thin like masala dosa or thick like uttappam. It wins either way.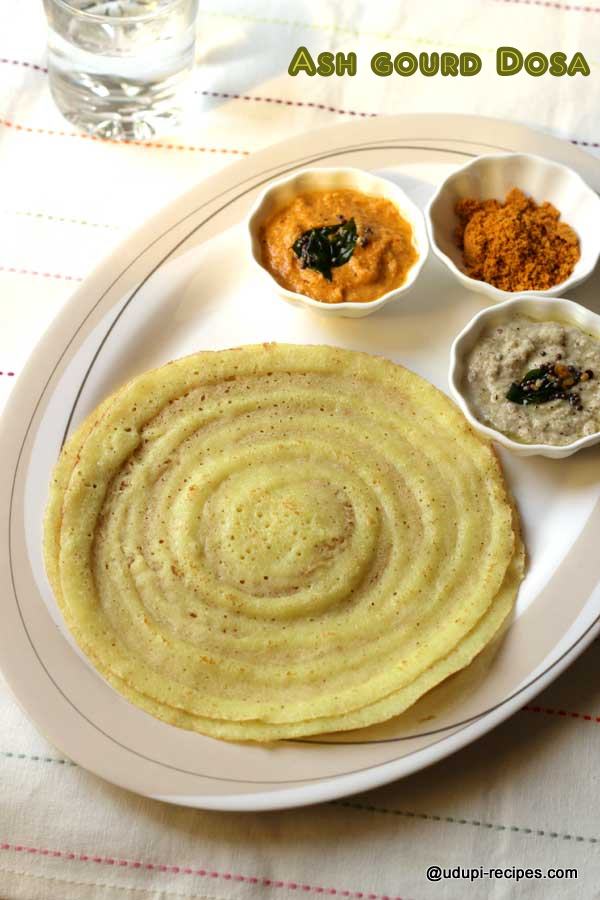 Ash gourd Dosa | Boodukumbala Dose Recipe
Ingredients
Dosa rice- 1.5 cup
Ashgourd kernel- 1 cup
Thin rice flakes- 1/2 cup
Grated coconut- 1/4 cup
Salt- 1 tsp
Turmeric powder- 1/4 tsp
Cooking oil- Enough to cook the dosa
Instructions
Preparation

Peel the ash gourd skin, scoop out all seeds and chop it in to fine pieces. Measure one cup of kernel and keep it aside. Soak dosa rice and rice flakes separately for 3 hours and 10 minutes respectively.

Method

In a mixer take ash gourd pieces and coconut. Grind them together to fine puree. Do not add water at this stage.
Rinse soaked rice twice with enough water and drain it off. Include this rice and rice flakes also to the mixer and grind finely to obtain dosa batter. Transfer the batter to a container, add turmeric powder and mix well. Ferment the batter for about 8 to 10 hours.
The fermented batter would have raised, check the consistency. If required add little water to bring it to dosa batter consistency. Add salt and mix. Heat a dosa griddle, smear some oil and pour a ladle full of batter on it. Using back of ladle, spread it in dosa form.
Drizzle some oil over the dosa, cook it covered for about a minute. Flip to cook other side and remove from the griddle.
Very healthy and lentil-less ash gourd dosa is ready to devour with chutney of your choice.

Notes

The ash gourd oozes lots of water, so additional water is not required while grinding.
After fermentation, if the batter is not of pouring consistency, then use some water.
Batter needs to be fermented for good 8 to 10 hours for really soft and tasty dosa.
Adding turmeric powder is optional, I used it for nice color.
https://udupi-recipes.com/2016/08/ash-gourd-dosa-recipe.html
All the content in this website are © Copyrighted to – Udupi-Recipes