Gorgeously purple beetroot rasam guys…I am not talking just about any old rasam, I am talking about this kind of rasam that hits perfect spot between silky-creaminess and fire-breathing flavor all in one bite.
You know those recipes which you make once, and then you make twice and then suddenly a week has gone by and you've really only made that same recipe? Beetroot rasam falls in this category. What I really mean here is, you don't get bored eating this rasam for many days in a row.  Most importantly the leftover rasam tastes even better which makes my heart sing a song of JOY. Because when there are few servings of rasam which is left after the lunch, I win big at leftover dinner.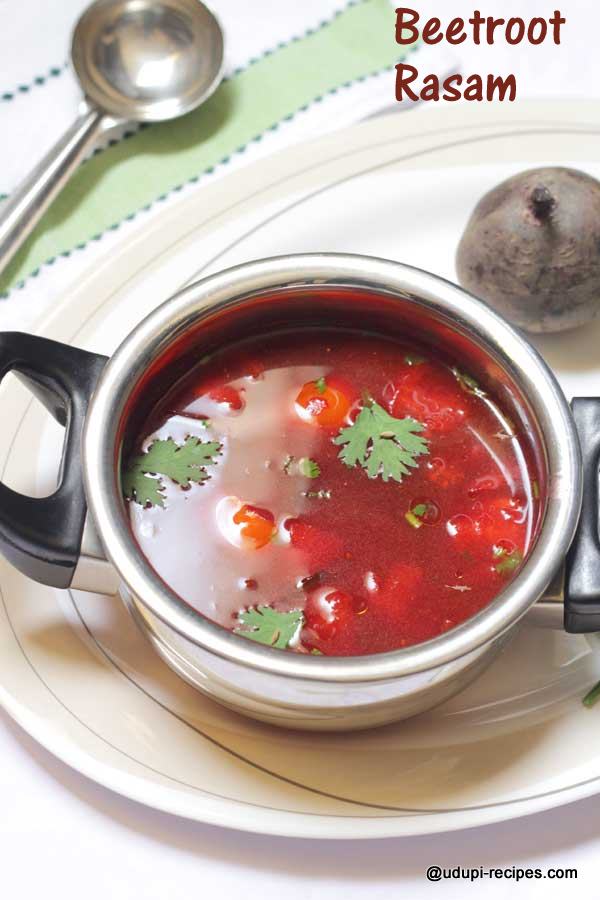 Until I made this colorful beetroot rasam, probably I didn't know which is that beetroot recipe that can win my taste buds so much. Hmm. I remember No-lentils-No coconut- beetroot curry  of which I was too crazy about some time back and I am still crazy about it. This rasam is equally wonderful to the extent that both share same place in the favorites list.
The rasam powder, pepper and cumin are super spices that blast flavor factor in this rasam. Basic demand of any rasam, the authentic tangy-ness is fulfilled using both tomato and tamarind. And the hero of the food, beetroot is cooked and ground to fine puree which shoots up color factor. So color, flavor and deliciousness, in all these three departments beetroot rasam wins your heart.
Ingredients
Beetroot- 1 small sized
Tomato- 1 no.
Tamarind- Small lemon sized
Green chilly- 1 no.
Cumin seeds- 1 tsp
Salt- 1 tsp
Black pepper- 1/4 tsp
Rasam powder- 1 tsp
Coriander leaves- Handful

Seasoning ingredients

Cooking oil- 1 tsp
Cumin seeds- 1/2 tsp
Curry leaves- Few
Instructions
Preparation

Peel off the beetroot and chop it in to big chunks. Wash and chop tomato too in to medium sized pieces. Soak tamarind in warm water for about 10 minutes, squeeze to extract it's juice and discard the residue.

Method

Pressure cook chunks of beetroot with water to the immersing level for about 3 whistles or till it is soft. Let the pressure subside naturally. Next grind them in to fine puree.
Next heat a pan with oil, cumin and curry leaves. As the cumin sizzle, add chopped tomatoes and saute for a while. Pour tamarind extract and little water and let it cook till the raw smell of tamarind ceases. Then pour beetroot puree and a cup of water.
When it is cooking, powder black pepper, cumin and green chilly together coarsely using mortar and pestle or mixer. Add this to the rasam and continue cooking.
Finally add salt, rasam powder and water as per the consistency required. Bring it to boil and switch off. Garnish with some coriander leaves.
Gorgeous beetroot rasam is ready to consume with steamed rice.

Notes

You can even cook the beetroot on stove stop. Ensure it is completely soft.
Adjust spice as per your taste buds as we are using both green chilly and pepper.
It's the cumin and pepper which gives unique taste to rasam, so do not skip.
The tartness of tamarind is balanced by the sweetness of beetroot, hence we don't need jaggery for this rasam.
I loved having leftover rasam too, it was that delicious.
https://udupi-recipes.com/2016/07/beetroot-rasam-recipe.html
All the content in this website are © Copyrighted to – Udupi-Recipes