Hello!…saying this from India.  I am on my yearly vacation dear friends, feeling and breathing the earthy air of my native.  I am on the other side of sultry hot weather of U.A.E to heavy downpours of my motherland. The rain drenched trees, blooming flowers, crawling centipedes, over ripe jackfruit and everything related to RAIN is so adorable. I am loving every bit of this weather right now and in line with this climate my cravings for deep fried delight have gone up a notch. Crispy vermicelli pakoda with a cup of hot tea would be heaven on earth feeling, right guys??
This is the time when cooking is just HARD, not hard like it's difficult- more hard like I would eat a plateful of  vermicelli pakoda, than go through the process of recipe planning, grocery shopping and cooking the food in the downpours. I mean, what it really comes down to is eating. I just want to do the eating part. You know, the part where I load my plate up with light and crispy pakodas, hold a mug of hot tea and watch the pitter-patter rain. This is the kind of excuse I usually get when I am at my mom's place and I do only EATING part here with no COOKING.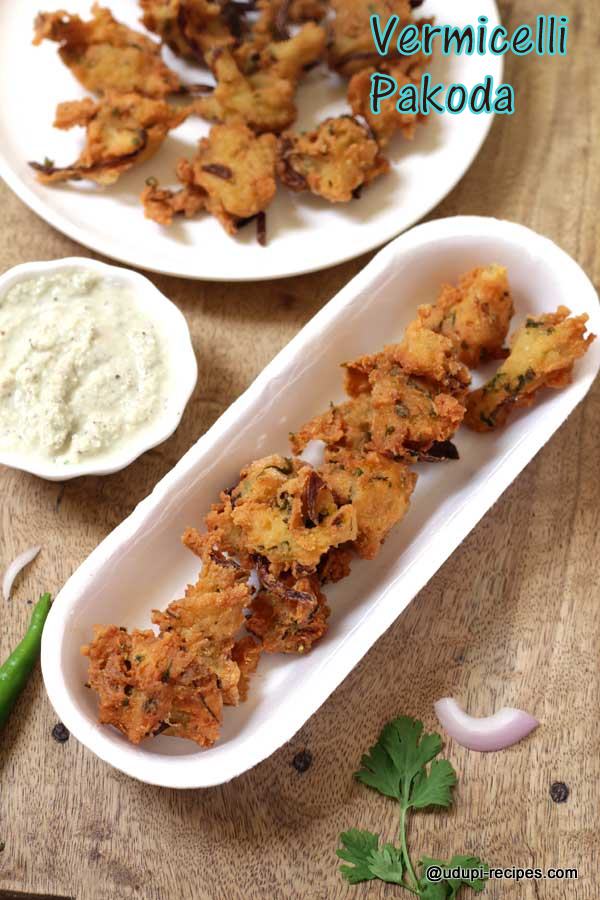 The best part in pakoda is they are shapeless. You don't have to work on it's look, shape to make it pretty for the photo. But taste-wise it has to be crispity crisp and not soggy. It's the rice flour that keeps pakoda crisp for long and binds well with vermicelli. The spices that go in this recipe are very flexible, like you  can add some coriander powder, red chilly powder to boost up the flavors and heat. But you need to take care while making dough which should be stiff, thick not loose. I haven't used a bit of water, the onions and vermicelli compensated the same.
In an upcoming rainy day I and you would sit with a plateful of vermicelli pakoda and a mug of tea while RAIN being friend of we both.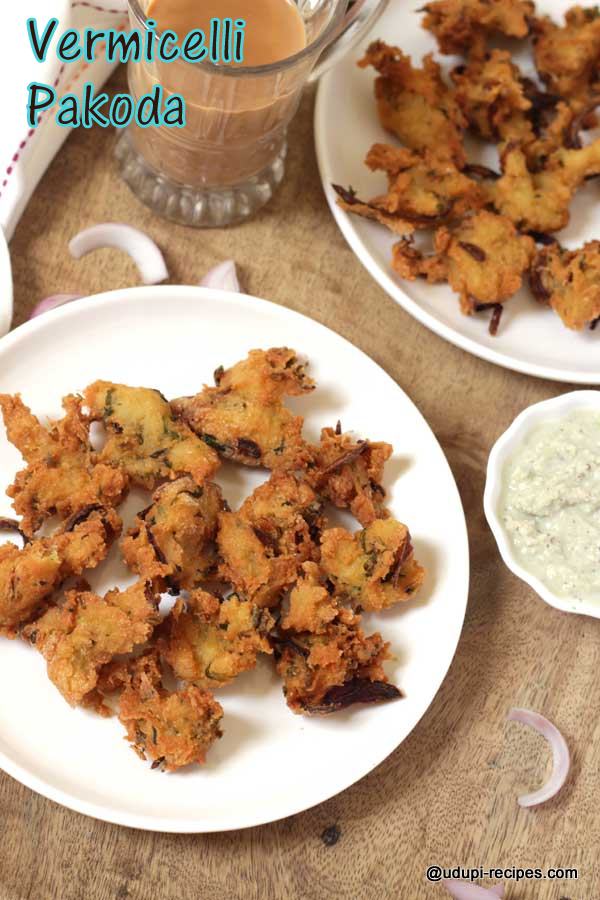 Vermicelli Pakoda | Semiya Pakora Recipe
Ingredients
Vermicelli - 1 cup
Chickpea flour(gram flour)- 1/4 cup
Rice flour- 1/4 cup
Onion- 1 no.
Finely chopped ginger- 1 tsp
Coriander leaves- Handful
Green chillies- 2 no.
Salt- 1 tsp
Cooking oil- Enough deep fry + 1 tsp
Instructions
Method

Boil water in a pan with a tea spoon of oil, then include vermicelli and let it cook till soft which may take 2 to 3 minute.
Strain water from vermicelli and let it cool down to room temperature. Next peel off the onion and slice it thin, chop green chillies and coriander leaves finely and keep it aside.
In a bowl take sliced onion, chopped green chillies, ginger, coriander leaves and salt. Mix well, squeezing the onion to ooze out water. Next include gram flour, rice flour and vermicelli. Combine well to form dough.
Heat enough oil in a heavy bottom wok, when it heats up drop pakoda sized dough in to oil. Deep fry them till they turn golden brown in color. Remove from oil and drain over kitchen tissue paper.
Continue this process with rest of the dough and enjoy hot hot pakoda with a cup of tea.

Notes

While cooking vermicelli in water, do not forget to add a tsp of oil. It helps in keeping the vermicelli non-sticky.
Onion and salt together ooze some water which helps in binding flours and vermicelli, do not add additional water.
The dough should be thick otherwise pakoda becomes soggy.
A pinch of turmeric powder and a tsp of coriander powder would add up color and taste. So include them in the ingredients list which I forgot totally.
You can spice it up by adding little red chilly powder. I have used only green chilly for spice.
Rice powder helps in keeping the pakoda crisp for long.
https://udupi-recipes.com/2016/07/vermicelli-pakoda-semiya-pakora-recipe.html
All the content in this website are © Copyrighted to – Udupi-Recipes