It's a new year!!
And it's not so cold outside (though winter!!) which is best part to talk about in my food photography life. Back in 2012 when I started blogging, little did I know about photography and lighting, and in those days I never even bothered about SUN light when I set to cook blog food. Now, in my 4th year of food blog as I get up in the morning, I normally stand next to the window to check potential light and it's clarity. If I predict it to be cloudy and possibility of SUN being hidden is more, in such case I straight away drop the idea of cooking for blog. These beautiful, golden yellow sweet ball's magic happened on a day when SUN was pretty good and bright though it was winter.
Moong dal laddu is a super easy sweet thing that can be after-school snack for your children, a tasty sweet in your lunch or any time, feel good edible when lazying around. My 4 year old son was craving for some sweet things and he was constantly demanding the same. But I was sort of looking for dual role sweet thing like it should attain his demand while being able to find it's place here in the blog. Thus super delicious moong dal laddu have become my world of food in true sense.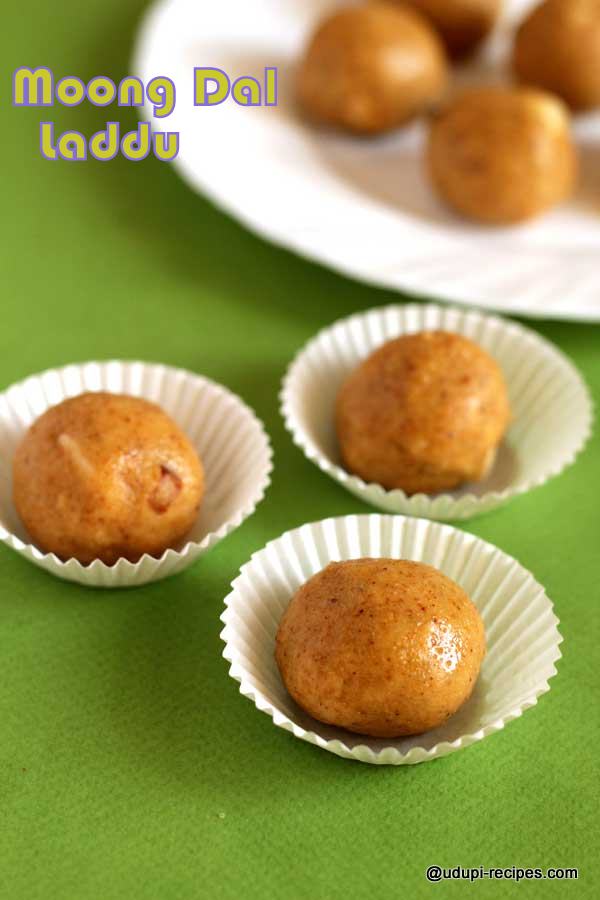 When I made these balls for the first time, I was skeptical as my son really likes them or not. Because he is very choosy when it comes to Sweets, his specifications are like the laddu should be very soft, easily bite-able and it should never turn hard for the life time. Do you remember rava laddu? that turned bit hard over a period of time and he straight away refused to eat them.
Moong dal laddu is soft, has the crunch of sugar powder and it just melts in your mouth. The ghee makes the laddu firm while shaping and enhances taste by it's aroma. To sum it up, right now I am drooling to eat them and is there a better way to start new year than a sweet laddu like this??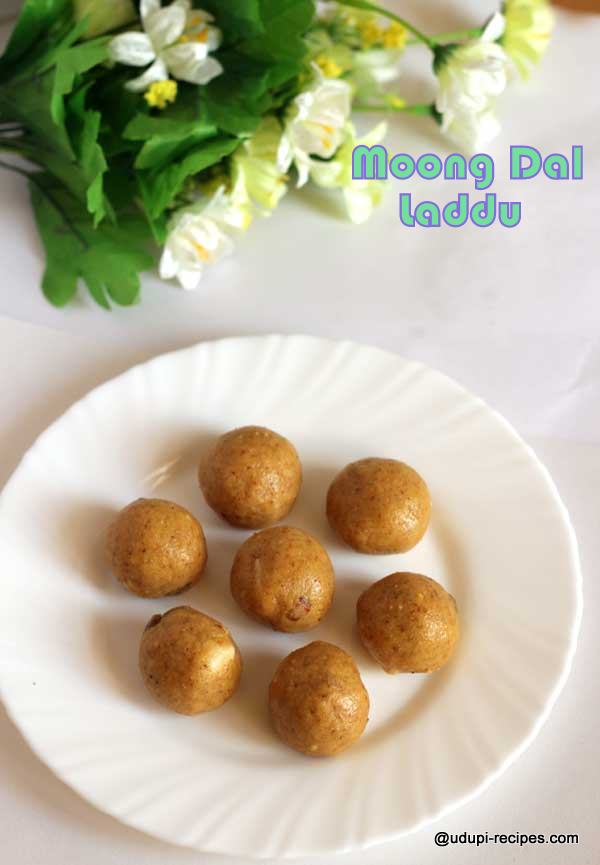 Moong dal laddu | Split green gram lentils ball Recipe
Ingredients
Split green gram lentils(Moong dal)- 1/2 cup
Sugar- 1/4 cup
Ghee- 1/8 cup
Dry fruits (Cashews+raisins+almonds)- Handful
Cardamoms- 4 nos.
Instructions
Preparation

Break the cashews and almonds in to pieces and keep them aside.

Method

In a cooking pan add split green gram lentils(moong dal) and dry roast them in medium heat with constant stirring. The lentils slightly change color and become aromatic, put off the flame then.
Take sugar and de-seeded cardamoms in a mixer / blender and powder them finely. Sieve this powdered sugar in to a wide bowl that removes uneven bites if any.
Similary powder the roasted moong dal too and sieve it in to the same bowl.
Next fry the broken cashews, almonds and raisins in a tea spoon of ghee and transfer this to the bowl containing laddu mix. Combine everything well with your fingers. Meanwhile heat ghee in a seasoning pan till it melts and warms up. Then pour ghee little by little to the laddu mix and roll it in to laddu by pressing firm with your hand.
An easy sweet moong dal laddu is ready to devour.

Notes

Ensure the lentils are evenly roasted and you must be constantly stirring them to avoid getting burnt.
You can powder the sugar coarsely too if you prefer biting nice crunch when eating the laddu.
Ghee should be added in parts and then rolled in to ball instead of pouring all at once.
https://udupi-recipes.com/2016/01/moong-dal-laddu-recipe.html
All the content in this website are © Copyrighted to – Udupi-Recipes