Hello friends, this cozy last month of the year 2015, is just a day away to get hidden in the history and all set to welcome the new one. I wish you all readers a very HAPPY and PROSPEROUS NEW YEAR without whom this space of mine wouldn't have existed.
When I look back at my food life this year, it has witnessed some amazing and wonderful deliciousness to mention. Out of which this sugary sprinkled, pretty Dharwad peda gets the medal to be on top because I never knew it would happen in my own kitchen so successfully.  When new year is around the corner I am looking forward to many such mention-worthy cooking adventures which truly justifies me to be foodie in REAL LIFE.
Here comes simple stuffed tomato, a yummy side dish which never even present in past 11 months of my real life but has been part of dinner for 3 nights in a row last week.  It's because the addictive and ultimate taste, pairs well with chapati and I almost always, always make some new things with chapati.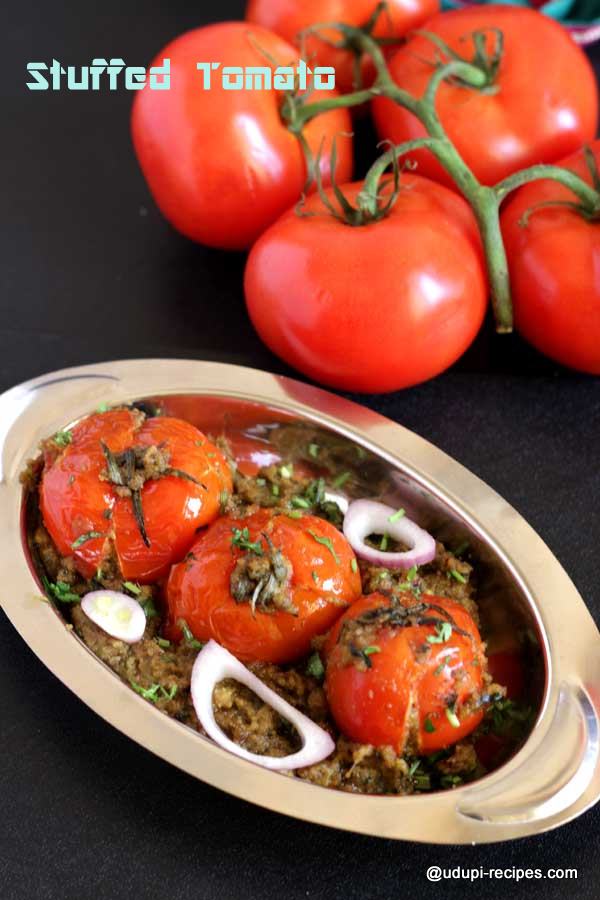 I should give credits to the cookery show that I watch on most week days squeezing in some time in the afternoon. Last month it telecast-ed stuffed ridge gourd recipe which was so inspiring that I genuinely tempted to recreate the same. But I had no ridge gourds in stock, so obviously I used the tomatoes that were in bag full. Simple stuffed tomato has come to my life in this weird way.
Simple stuffed tomato requires tomatoes that are not too ripe but firm enough to hold the stuffing in them. Stuffing is basically made from peanuts and most south Indian spices that are found in your rack. Generous amount of coriander leaves is what makes the stuffing so colorful and can enrich the taste to maximum extent.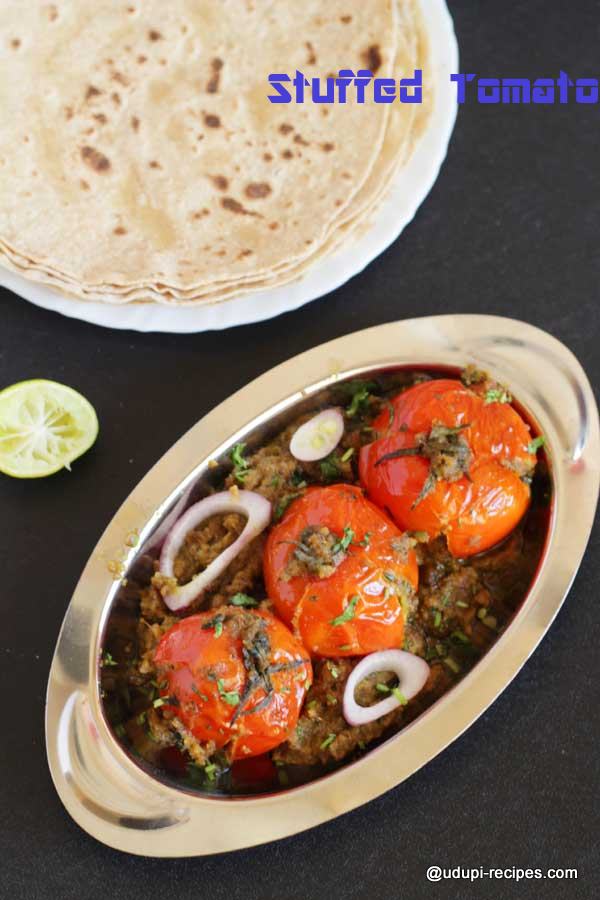 Simple stuffed tomato recipe | Chapati side dish
Ingredients
Tomatoes- 5 no.
Peanuts- 1/2 cup
Green chillies- 2 nos.
Garlic pods- 3 nos.
Jaggery- 3 tsp
Coriander leaves- 1/2 cup
Red chilly powder- 2 tsp
Salt- 1 tsp
Turmeric powder- 1/2 tsp
Coriander powder- 1 tsp
Cumin seeds- 1 tsp
Cooking oil- 6 tsp
Instructions
Preparation

Rinse the tomatoes under running water and wipe it dry. From the base, leaving an inch at the stem end, slit the tomatoes vertically in to half and then in to quarter. Make sure you do no end up splitting them completely, tomatoes should hold together.
Next step is stuffing preparation. Dry roast the peanuts in a cooking pan till you find black spots on them and shed their skin off. When the peanuts are halfway roasted, add cumin seeds and get them roasted too. Let it cool down to room temperature. Put them in a blender / mixer and coarsely powder them, transfer it to a bowl.
Throw in the ginger, green chillies, coriander leaves and garlic pods in to the same mixer and coarsely grind it in to paste. Mix this paste with peanut powder, coriander powder, red chilly powder, turmeric powder, jaggery and salt. Combine this well so that all spices infuse their falvors. Now stuffing for tomatoes is ready.
Next, carefully fill the partially cut tomatoes with this stuffing masala. Ensure the incisions are filled completely with the masala without braking the tomato. Arrange all of them on a plate. Reserve the leftover stuffing masala for use in next step.
Heat a pan with oil and arrange the stuffed tomatoes in a single layer with stuffed part facing up. On medium heat let it cook for about 5 minutes. Next drop the leftover stuffing masala evenly between tomatoes and pour cup of water. Very gently turn the tomatoes upside down and cook for about 10 minutes with lid covered.
Amazingly tasty simple stuffed tomato is ready to serve as side dish with chapati.

Notes

Be careful when cutting the tomatoes partially because there are chances of splitting and braking them in to two.
Generous amount of coriander leaves enhances the flavor and makes the dish taste awesome. So keep them in stock.
You can roast the peanuts and cumin seeds separately, but I have added cumin when the peanuts are halfway done.
You need little more oil than usual to cook the stuffed tomatoes, so do not reduce oil.
When the tomatoes are getting cooked in leftover stuffing, keep checking if they stick to the bottom. If so, add some more water.
If you prefer some tartness, then go ahead and squeeze a lemon juice over the stuffed tomatoes.
https://udupi-recipes.com/2015/12/simple-stuffed-tomato-recipe-chapati-side-dish.html
All the content in this website are © Copyrighted to – Udupi-Recipes