I feel pretty excited to post my ever favorite chaat =>pani puri which is the only snack that I crave to have on all winter plus rainy evenings than any other. When it comes to choosing among a list of available chaats, I would probably vote for my most beloved pani puri though I give credit to all of them equally. It's the only street food I used to have on most weekends when I lived my life in Bangalore.
I was longing to make this crazy chaat in my own kitchen from scratch including the crispy, puffed puri and nylon sev which would seem so easy but it is bit hard to whip everything together.  I had made the pani alone many times but couldn't take the pictures. So this week I decided to get each of them ready and post chaat glory => pani puri  recipe at the end of week.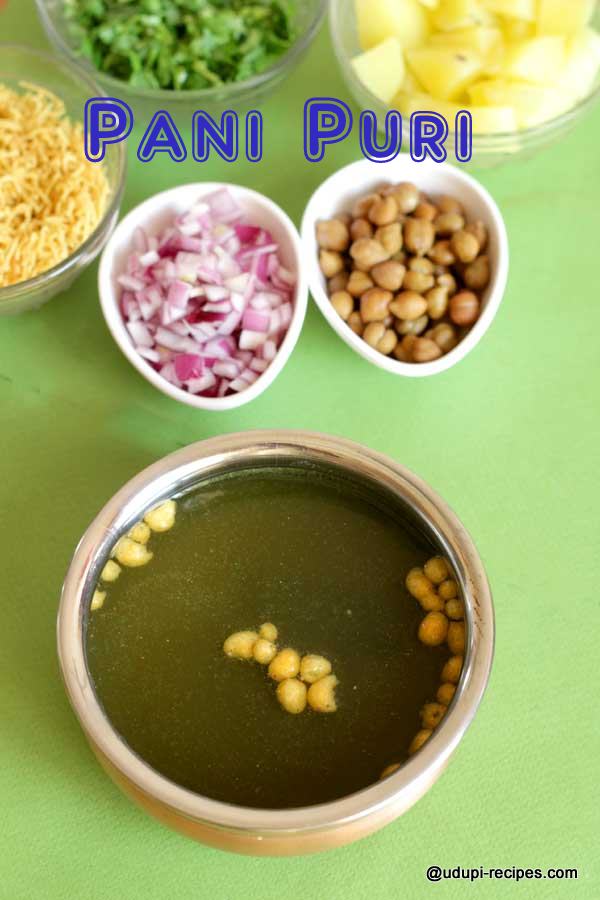 The bonus with these home made pani puri is you don't have to count on the number of puri you ate, you actually go on and on gulping over till you are full but literally it's so addicting that you'll never say NO.
I had made around 90+ puffed puri which turned very crispy and puffed to perfection.  The PANI was really spicy, sweet and tangy with the flavorful chaat masala hint. The puri is poked with fingers to break and then stuffed with  boiled potato, crunchy onions, cooked black chick peas, sev and then immersed in to pani to make it's way to your mouth. Oh my gosh pass me some pani puri right now…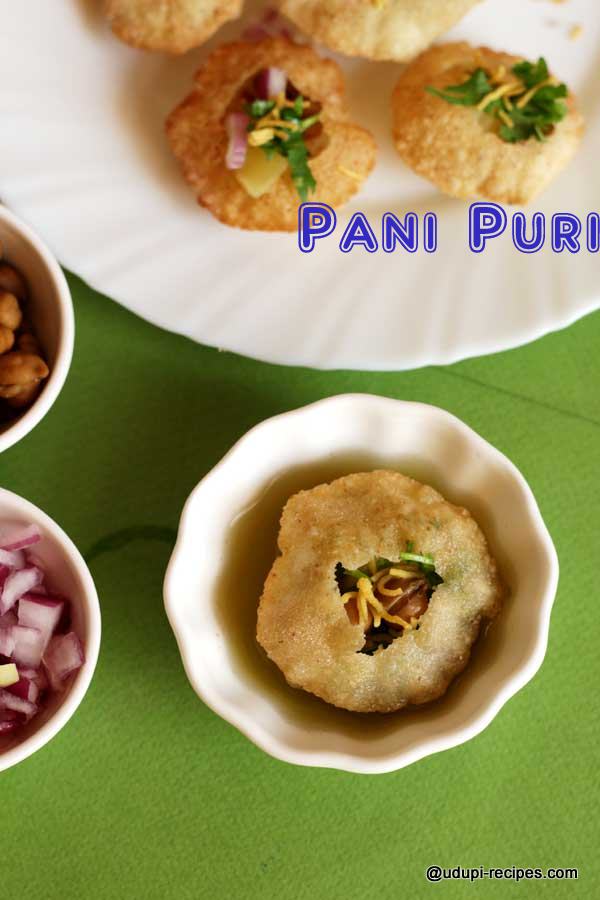 Pani Puri Recipe | Pani for Pani Puri Recipe
Ingredients
Mint leaves (pudina)- 1/2 cup
Coriander leaves- 1/2 cup
Green chillies- 3 nos.
Salt- 1 tsp
Tamarind- Lemon sized
Powdered jaggery- 4 tsp
Chaat masala powder- 6 tsp

To Serve

Boiled potato cubes- 1/4 cup
Cooked black chickpeas- 1/4 cup
Finely chopped coriander leaves- 1/4 cup
Finely chopped onion- 1/4 cup
Aloo bhujia or nylon sev- 1/4 cup
Instructions
Preparation

Rinse the mint and coriander leaves with enough water and discard the thick stems if any.
Soak tamarind in half cup of water for about 15 minutes.

Method

Put the mint, coriander leaves and green chillies in a blender and grind them to fine puree adding some water.
In a wide bowl add powdered jaggery, chaat masala powder and salt. Include tamarind extract to this bowl and combine everything well. Make sure jaggery has melted and integrated completely.
Transfer the mint, coriander leaves puree in to this bowl. Mix and strain using fine strainer. Add around 3 cups of cool water and top it with some boondi while serving.
In a plate arrange 6 puris and poke the thin layer to break it. Stuff boiled potato cubes, chick peas, onion, coriander leaves and nylon sev. Fill pani in it and immediately gulp over the whole puri.

Notes

It's the chaat masala that adds flavor to the pani, so do not skip it.
The pani should taste tangy, spicy and sweet. So adjust them accordingly.
If you have black salt in stock, do add it for extra flavor which I missed in this recipe.
You can make lot of variations in stuffing like you can use sprouted green gram, white chick peas either cooked or raw.
https://udupi-recipes.com/2015/12/pani-puri-recipe-pani-for-pani-puri-recipe.html
All the content in this website are © Copyrighted to – Udupi-Recipes