Crusty bread, this piping hot tomato soup in a large bowl and extra time on your hands.
This is the SEASON for that.
Soups taste way too delicious in this season just because they warm you up from inside and chill in the air can be suppressed to some extent. Tomato soup is a delicious family-friendly fresh meal, full of awesome flavors that can change your food routine for the season. No matter what, tomato soup is always a winner at my home which is licked clean anytime and every-time.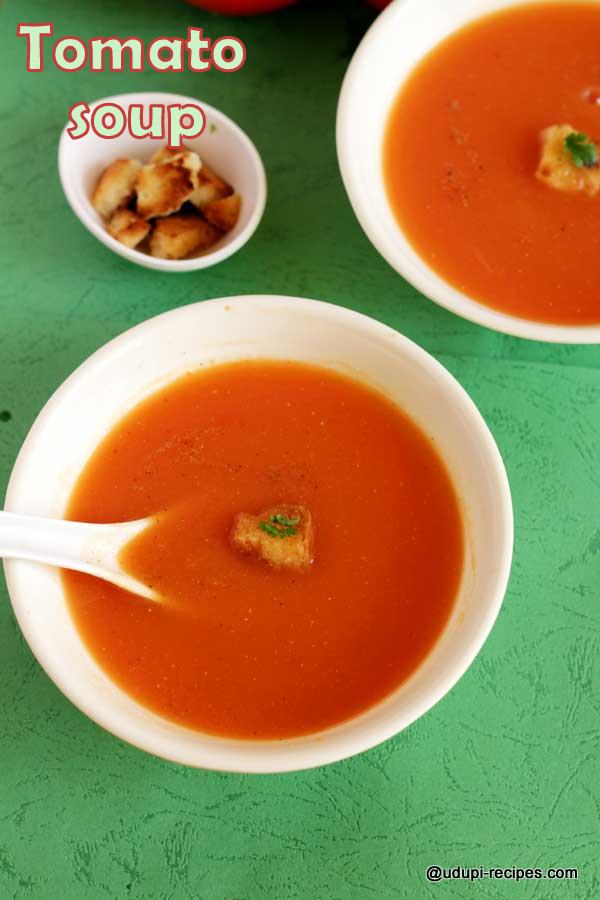 It has begun to get dark earlier and earlier, clock has just struck 6pm and I feel the darkness sort of 8pm which is when I would bring soups in to my real life. Though palak soup and sweet corn soup come and go like guests, tomato soup is a permanent family member in my real life in true sense.
The tomato soup recipe in a nutshell is pressure cooking tomatoes with carrot, onion plus flavorful spices which then finds its way to pureeing, filtering and simmering. It is simple, gets ready in 30 minutes, with most of that time being the part where you gaze lovingly at the pot of simmering tomato puree. The deep smells of carrot, garlic and cinnamon would wrap you up in their loveliness for sure.
Topping the soup with some croutons would really add up to taste and texture which I never miss. So probably you can consider making a toast that can be dunked in to tomato soup which ultimately can warm you to your toes and make you feel like long nap on the couch.
Ingredients
Ripe tomatoes (big sized)- 4 nos.
Carrot- 1 no. (optional)
Onion- 1 no.
Garlic - 3 to 4 pods
Bay leaf- 2 no.
Cinnamon- 1" stick
Cloves- 4 no.
Cardamom- 2 no.
Salt- 1.5 tsp
Sugar- 1 tsp
Corn flour- 2 tsp
Black pepper powder- 1 tsp
Instructions
Preparation

Rinse the tomatoes, carrot with enough water. Chop carrot in to 3 big chunks. Peel off the onion and chop it in to 4 quarters.

Method

In a pressure cooker add tomatoes, carrot, onion, garlic pods, cloves, cinnamon stick, bay leaf, cardamom and 1.5 cup of water. Cook these for at least 3 whistles and let the pressure subside.
Once the pressure subsides, remove the lid. Throw away the cloves, cinnamon, cardamoms and bay-leaf. As the vegetables have already infused their fragrance, just discard them. Let the vegetables cool down to room temperature.
Transfer the cooked and cooled mixture in to a mixer / blender and grind them together in to fine puree. Strain using a fine strainer and discard the residue. Take the filtered tomato soup in a vessel, add 1.5 cups of water and boil it in medium flame.
Meanwhile add 3 tsp of water to corn flour and make a quick paste of running consistency. Pour this corn flour paste to the soup and continue boiling. Finally sprinkle sugar, salt and pepper powder. When soup turns thick put off the flame.
Gorgeous red tomato soup is ready to slurp on this winter season.

Notes

Choose the tomatoes that are deep red and ripe, so that the soup turns in to pretty pleasant color.
Adding carrot is completely optional, but adding them makes the soup thick and pulpy.
Do not grind the whole spices like cloves, cinnamon etc with tomatoes because it will make the soup taste bitter. Just discard them.
You can even cook the tomatoes with all other ingredients on stove top too.
Adjust pepper powder and salt as per your taste.
https://udupi-recipes.com/2016/01/easy-tomato-soup-recipe.html
All the content in this website are © Copyrighted to – Udupi-Recipes