Hellooo November!!
We are in the first month of soup weather in UAE as winter is slowly creeping in and we can feel the cold breeze at dawn now. Residents of Middle-East region always long for such a pleasant and fresh climate of which I am not an exception. I am in love of this climate and the only way I can unveil my feeling in this space is through food. So here comes sweet corn vegetable soup that I can end up eating 12 out of 12 months of the year with the same initial charm.
Sweet corn vegetable soup is simple – ready in just half an hour, with most of that time being the part where you just gaze lovingly at the cooking pan and let the smells of sweet corn and veggies wrap you up in their loveliness.
My most favorite vegetables for this recipe are beans, carrot, peas and of course sweet corn. The golden glowing sweet corn kernels are themselves king of this soup because it can only enrich the taste. Whenever sweet corn makes its appearance and locates itself in the corners of my fridge,  kids raise their demand for sweet corn vegetable soup which I lovingly fulfill till the corn subsides. Soup magic is going to rock my kitchen this winter season which we all await.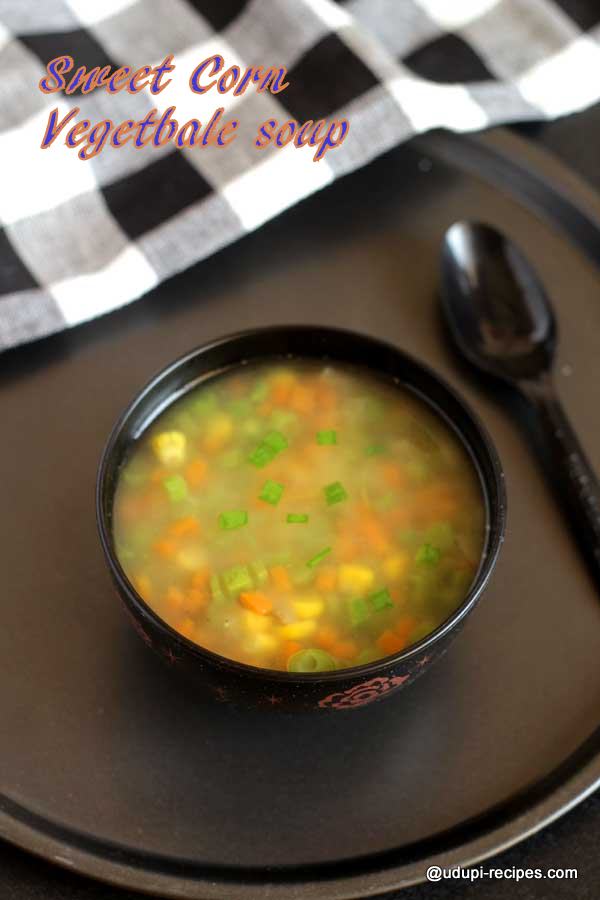 Sweet Corn Vegetable Soup Recipe
Ingredients
Onion (small)- 1 no.
Sweet Corn- 1/2 cup
Finely chopped beans- 1/2 cup
Finely chopped carrot- 1/2 cup
Corn flour- 3 tsp
Finely chopped spring onion- 2 tsp
Salt- 1.5 tsp
Black pepper powder- 1/2 tsp
Instructions
Preparation

Mix up corn flour with water and make a quick paste. Keep it ready.

Method

Take the chopped onion in a cooking pan and saute in medium flame. You can include a tsp of oil too. When onions get sauteed, include chopped carrot and beans and let them cooked for while.
Add 3 cups of water to vegetables in the cooking pan and bring it to boil. As it starts boiling add sweet corn, corn flour paste and combine well. Finally add salt and pepper powder. Let it cook for 3 to 4 minutes. Put off the flame once done.
At the end garnish the soup with spring onions. Healthy and winter treat sweet corn vegetable soup is ready to devour.

Notes

There is no hard and fast rule for the quantity of vegetables to be used. You can adjust them as per your taste.
Finely chopping the vegetables gets them cooked fast. Even if the vegetables are half cooked the soup tastes good.
Adjust black pepper powder as per your liking. I love pepper in generous for this soup.
https://udupi-recipes.com/2015/11/sweet-corn-vegetable-soup-recipe.html
All the content in this website are © Copyrighted to – Udupi-Recipes