Power house nutritious, filling,  absolutely soft and fluffy ragi idli was my breakfast today each bite of which I dipped in to tiffin sambar and chutney to kick start my day.  As winter is all set and we are going through a sort of weird climate here of windy, cold plus rainy all united at once. Such gigantic fluctuation of weather accompanies lot of health disorders with it like cough, cold and fever that seem to be so common but they are surprisingly hard to get through. I had tough time this season as my son had very bad cough that bounced back thrice this month.
It's my constant effort to keep my family immune to all sort of disorders through food that led me to unappealing colored ragi idli. Ragi or finger millet is said to be good source of calcium, iron and protein which is always fed to babies as semi solid food.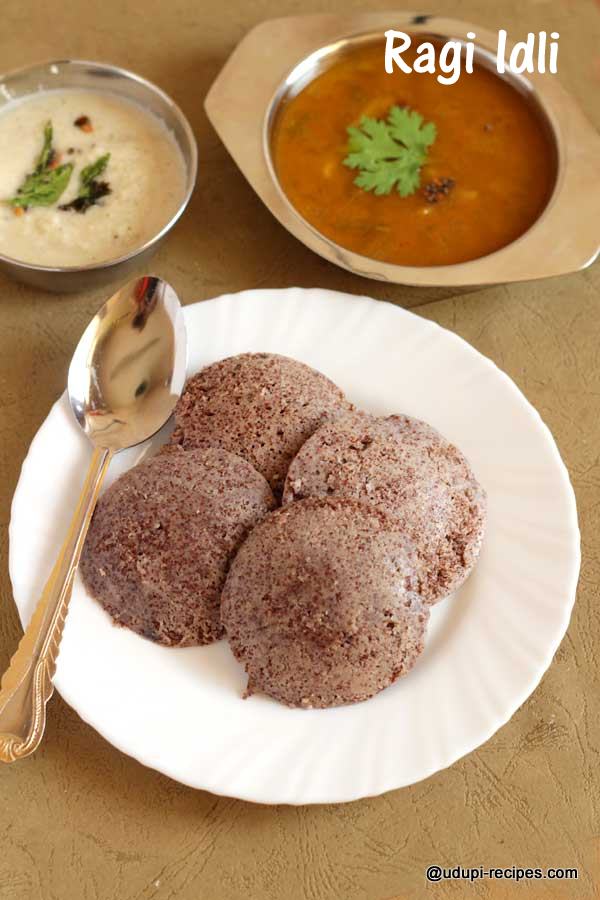 Ragi idli has unappealing, unpleasant color but on the brighter side it has all goodness that our body demands. The preparation of ragi idli is just similar to normal idli except the tiny finger millet has replaced the rice. It too requires reasonable hours of fermentation in a warm temperature to turn fluffy and soft. The spicy chutney and tiffin sambar takes the ragi idli breakfast to next level for sure.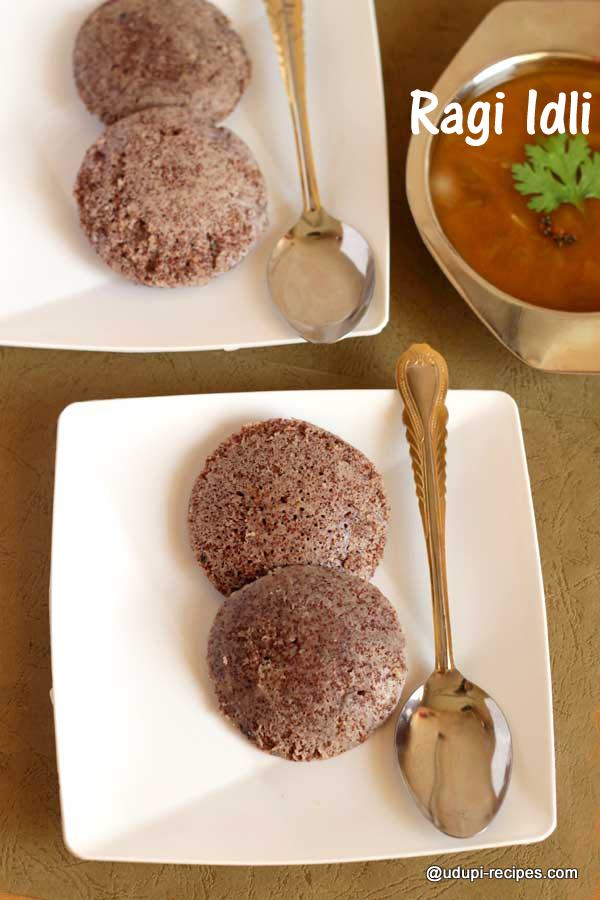 Ragi Idli | Finger Millet Idli Recipe
Ingredients
Finger millet(whole ragi) - 1 cup
Split black gram lentils(urad dal)- 1/2 cup
salt- 1 tsp
Instructions
preparation

Soak ragi and split black gram lentils separately for about 2 hours, then rinse well and drain.

Method

Take drained split black gram lentils in a mixer and grind it to a fine puree. Add water as needed while grinding. Transfer it to a wide vessel. Next add soaked ragi in to the same mixer and grind that as well to fine puree.
Transfer ragi batter to the same vessel that contains black gram lentils batter. Combine both of them together. Ensure the consistency of this batter is thick like the normal idli batter.
Keep it covered for about 8 hours or overnight in a warm place for fermentation. After fermentation the batter would have doubled in volume. Using curved ladle pour it in to oil greased idli molds and steam cook for about 15 minutes or till done.
I have used pressure cooker to steam cook the idli. Insert a toothpick or spoon to check whether idlis are cooked or not. If toothpick comes out clean, then they are cooked well.
Soft and fluffy ragi idli is ready to serve as breakfast along with coconut chutney and tiffin sambar.

Notes

You need to soak the lentils for 2 hours at least, otherwise it will not be fluffy and light after grinding.
To increase health benefit of this ragi idli, you can sprout these ragi seeds and then grind to batter.
Nicely fermented ragi idli batter would yield very soft and fluffy idlis. So ensure the batter is fermented well.
I have used pressure cooker to steam the idli where as you can use idli steamer to cook them too.
https://udupi-recipes.com/2015/11/ragi-idli-finger-millet-idli-recipe.html
All the content in this website are © Copyrighted to – Udupi-Recipes