If you are a TIME SAVING woman who likes to cook a really delicious rice side dish in a speedy flash of 15 minutes, then this hog plum curry is for you. It's the easiest and simplest ever recipe that you can put together  really quickly.
This food blog has introduced a new weird hobby in me which is collecting recipes from all the sources. Like nowadays I collect all the recipes that get published every week in FOOD section of online newspaper. So right now this pile of newspaper recipes has turned like a big, thick cookbook and I always refer it whenever I need to cook something out of the box. The winner recipes always find a space here like this one : hog plum curry without coconut.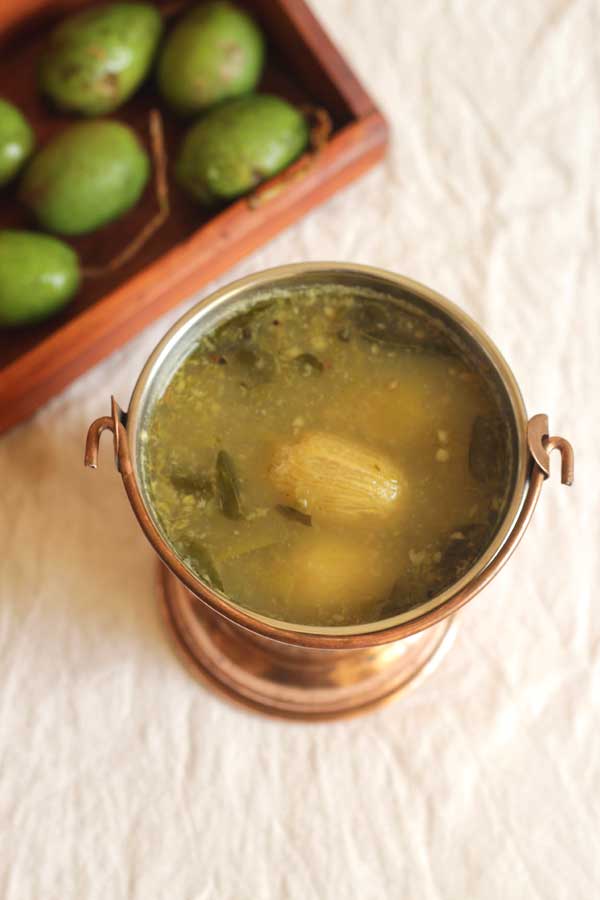 Hog plum looks very similar to tiny mango but when it comes to pulp, hog plum has very less of it. The seed is tooo big and fibrous with thin skin casing. The scraped hog plum simmered in some water turns pale and soft in a jiffy which is then seasoned with some garlic, chilly  like spices. The heat from green chilly and garlic, the sweetness from jaggery and tarty hog plum makes the curry a rocking a side dish.
The ease of cooking hog plum curry is: it has no coconut and no lentils.  But it has the savory taste that lasts  in your mouth for some time.
Also check other variations hog plum gojju and hog plum chutney.
Easy 15 minute Hog Plum Curry without Coconut
Ingredients
Indian Hogplums- 8 nos.
Green chillies- 3 nos.
Garlic pods- 3 nos.
Jaggery- Big lemon sized
Cumin seeds- 1/4 tsp
Salt- 1.5 tsp

Seasoning ingredients

Cooking oil- 1 tsp
Mustard seeds- 1/4 tsp
Split black gram lentils- 1/4 tsp
Curry leaves- Few
Instructions
Method

Wash the hog plums and pat dry them using a kitchen towel. Remove the tip and scrape the hog plum in to thin slices using a sharp knife. Put all these slices and the fibrous seeds in a bowl with minimum water. Cook in medium flame till the slices are soft.
When the slices are well cooked, put off the flame and let it cool down. Then squeeze it using your fingers to get the thick pulp.
Meanwhile add green chillies, cumin seeds and garlic pods in a mixer and make a coarse paste out of it. Heat a seasoning pan with oil, mustard seeds, split black gram lentils followed by curry leaves. When mustard seeds sizzle add the chilly paste from above step and saute.
Next pour the squeezed hog plum pulp, add jaggery and salt along with half cup of water. Bring it to boil and continue boiling for 2 minutes. Then put it off.
Sweet, sour and spiciness is well balanced in this hog plum curry and it is best to pair with hot steamed rice.

Notes

Check the hog plums for sourness first and use accordingly. Mine were not very sour so I have used eight of them.
If you are in a hurry, then do not wait till the cooked hog plum cools down. You can add some cold water and squeeze.
While adding water, ensure the curry doesn't become too runny.
The key is to balance the sourness from hog plum with sweet and spices to end up with tasty curry.
https://udupi-recipes.com/2015/11/easy-10-minute-hog-plum-curry-without-coconut.html
All the content in this website are © Copyrighted to – Udupi-Recipes