The hog plum is baaaaack.
If you are following me on this blog since few months then you must have seen the wonderfulness of typical hog plum in the form of hog plum gojju. Today it's back. These hog plums are fresh, homely grown and flew along with us from India to UAE.
Hog plum whose looks are similar to tender mangoes has a big, fibrous seed that is covered with thin pulp and thin skin. It is known as "ambate kayi" in kannada and used in lots of incredible recipes.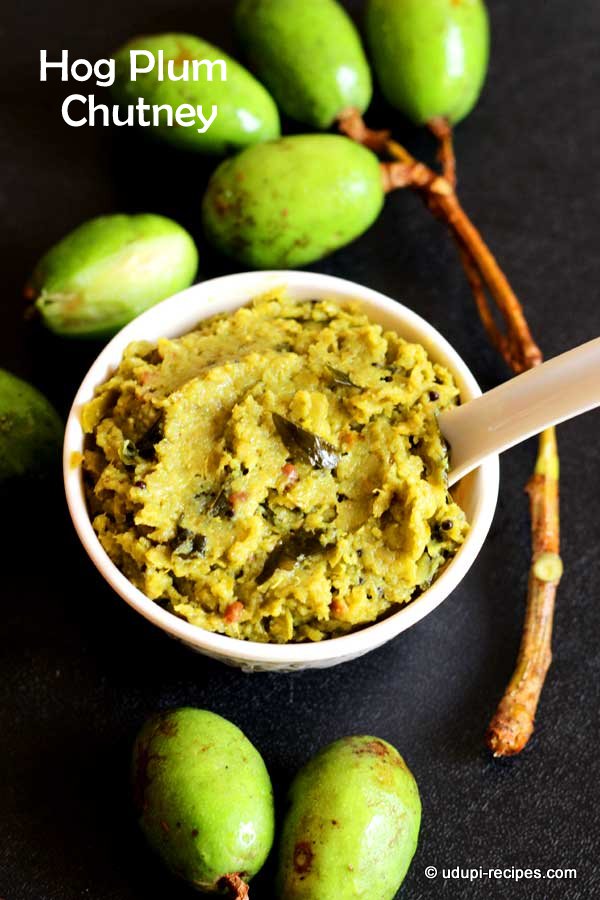 All good food lovers of the world, kindly note this : hog plum chutney can be a best substitute for regular rice side dish. I mean when you come back home and are Hungry with capital H, you have no time to cook an elaborate side dish then this  hog plum chutney can better accompany the rice topped with a dollop of ghee or oil.
When hog plums are in season, try this simple hog plum chutney and stock in fridge that can last more than a fortnight. It comes as a very handy accompaniment. The tangy hog plums with the spice kick of green chillies, seasoned in enough oil and curry leaves give a protective layer plus flavor. What an easy food magic 🙂
Hog Plum Chutney | Ambade Chutney Recipe
Ingredients
Hog plums- 7 to 8 nos.
Green chillies- 5 to 6
Salt- 2 tsp

Seasoning ingredients

Cooking oil- 6 to 7 tsp
Mustard seeds- 1 tsp
Split black gram lentils-1 tsp
Curry leaves- Handful
Instructions
Method

Rinse the hog plums with enough water and pat dry them using a kitchen towel. Scrape the pulp along with skin and discard the fibrous seed from hog plums.
Add all the scraped pulp, green chillies and salt to the mixer jar. Grind them together coarsely without adding any water.
Next heat a pan adding oil, mustard seeds, split black gram lentils and curry leaves. As the mustard seeds start spluttering include the ground hog plum mix. Cook it in medium flame with constant strring. When the mixture turns thick and most moisture evaporates then switch off the flame.
Tangy, spicy hog plum chutney is ready to relish with steamed rice topped with ghee.

Notes

Do not grind the hog plum too finely. The coarse chutney tastes better.
Use enough oil in seasoning and cook till most of the moisture evaporates. This helps in extending the life of chutney.
Hog plum chutney can last for a week at room temperature and more if refrigerated.
https://udupi-recipes.com/2015/09/hog-plum-chutney-recipe-ambate-kayi-chutney.html
All the content in this website are © Copyrighted to – Udupi-Recipes