This sweet thing called karchikai in Karnataka has N no. of variations and N+1 no. of names. When I googled to check how people are searching for this recipe, I came to know that this incredible delicacy is better known as Ghujiya, Somas and Karanji too.
Karanji or karchikai takes me down the memory lane when I and my sisters were helping out my mother in making them during festivals. We were assisting her in filling, sealing and trimming the karanji which she used to deep fry carefully. The filling basically had roasted gram, desiccated coconut and sugar but I swapped some of the ingredients and would be calling this as dry fruits karanji now. You can use almost anything of your choice in the stuffing and I do keep stock of dry-fruits like almonds, cashews, raisins and  naturally sweet dates which I am using them all in this recipe.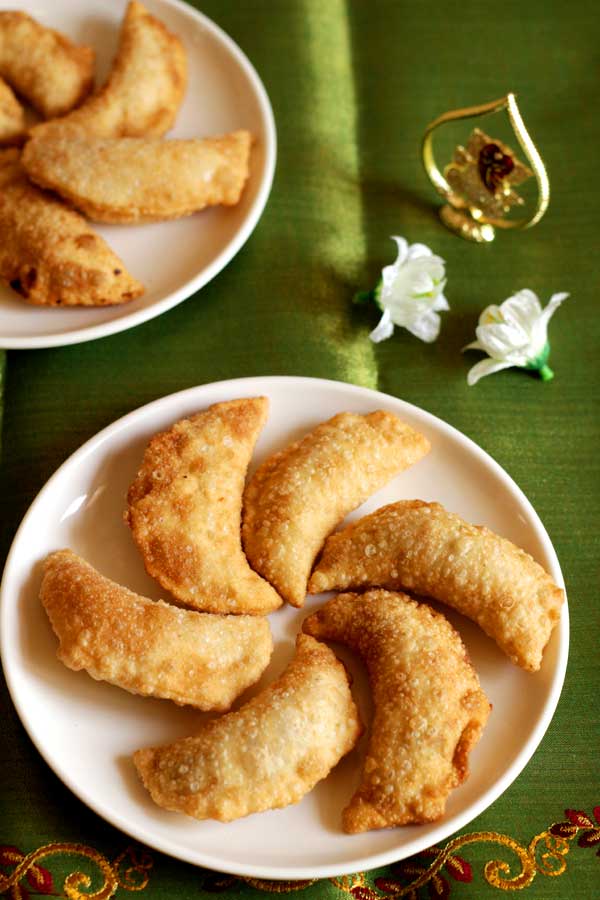 So the dry fruits karanji has all that in the stuffing part which keeps me away from loads of sugar. As the dates and raisins give enough sweetness, I chose not to load it with sugar.
The outer layer of the dry fruits karanji/karchikai is made out of maida plus rava and that gives enough crispiness to it. The uniformly sized karchikai with neat trimmed edges would be great offering to God and to stay blessed. A crispy karanji with hot mug of coffee as the sun comes up would be my dream to start a new day.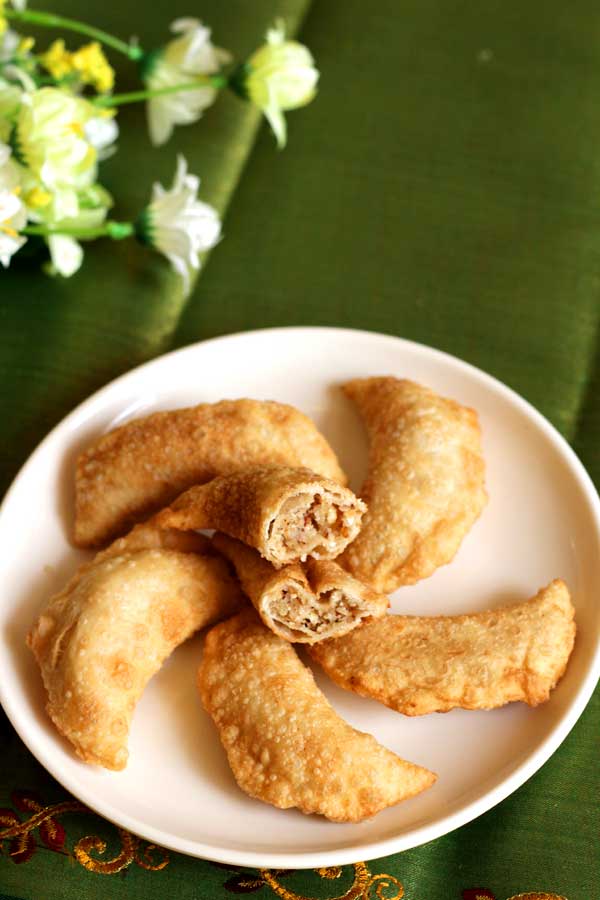 Dry-fruits Karanji | Karchikai Recipe | Ganesh Chaturthi Recipe 2015
Ingredients
For outer layer

Maida - 1 cup
Fine rava / Sooji- 5 tsp
Salt- 1/4 tsp
Melted ghee- 3 tsp
Cooking oil- Enough to deep fry

For inner stuffing

Copra (desiccated coconut)- 1/2 cup
Dry fruits (cashews+almonds+raisins)- 1/4 cup
Sugar- 5 tsp
Dates- 4 to 5
Cardamoms- 3 to 4
Poppy seeds- 1 tsp
Ghee- 1 tsp
Instructions
Preparation

De-seed the dates and chop them in to fine pieces.
De-seed the cardamoms and powder them finely. Keep them aside till use.

Method

Sieve the flour and put it in a bowl. Add rava, salt and melted ghee. Give a quick mix and adding water little by little prepare pliable, stiff dough. Knead it well for few minutes. Let it rest for half an hour.
In a mixer add the cashews plus almonds and powder them coarsely. Transfer it to a plate and in the same mixer add sugar. Make fine powder out of it.
Next heat a wok adding desiccated coconut and roast for a while till it browns slightly. Switch off the flame and transfer it to a bowl. Then include cashew-almond powder, sugar powder, cardamom powder and poppy seeds. Combine everything well. Dry fruits stuffing is ready.
Next knead the maida dough once again and make lemon sized balls. Keep them covered with a damp cloth. Take a maida ball and roll it to thin circle.
Using a circular lid of a box, mark exact circular disc. Remove the extra dough.
On this circular maida disc, add a tea spoon of dry-fruits stuffing at the center. Wet your fingers in water and apply it over the edge of the disc. Then fold it in half circle form, sealing the edges so that stuffing doesn't come out in oil. You can trim the edge using pizza cutter. Get all the karanji(karchikai) ready and keep them covered in a damp cloth.
Heat oil in a wok and as it gets rightly heated, drop prepared karanji in to hot oil and deep fry them till they turn golden brown. Remove from oil using slotted ladle and drain on kitchen tissue.
Amazingly delicious sweet karchikai(karanji) is ready.

Notes

The inner stuffing can be made richer in taste using other dry fruits like pistachio, walnut etc.
Do not over-stuff which causes sealing difficult and stuffing may come out in oil.
While trimming the edge, ensure you have left sealed portion intact.
The maida dough should be kneaded well and should rest at least for 20 minutes.
Prepare the maida dough first and when it is resting, you can prepare stuffing part.
Adding fine rava to the dough keeps it crisp over a period of time.
https://udupi-recipes.com/2015/09/dry-fruits-karanji-karchikai-recipe-ganesh-chaturthi-recipe-2015.html
All the content in this website are © Copyrighted to – Udupi-Recipes