This pre-festival recipe series is like a glory of sweet things happening every day at my home back to back. I usually opt making this simple yet delicious rava payasam on the festival day because it requires very very less time and it doesn't need any fancy grocery that I had to plan in advance. Fine rava or sooji which is most common ingredient stocked in my pantry finds itself in the form of payasa on that big day.
Rava or sooji has few properties like it gets cooked very easily and within less amount of time. Also it has the tendency to thicken with time. So while making rava payasam you need to ensure you have some extra coconut milk with you in case it gets thick while serving.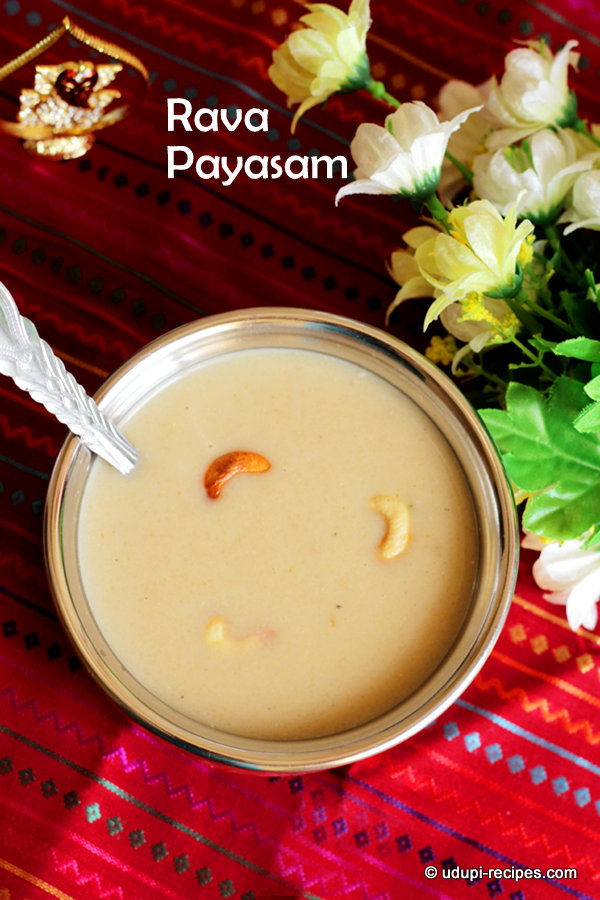 I have used around 3 cups of coconut milk for just 1/4 cup of rava to keep the rava payasam in it's actual spooning consistency till the point of serving. A glass of warm rava payasam topped with lots of cashews, raisins and almonds can take your festival lunch to the next level for sure.
Rava Payasam Recipe | Ganesh Chaturthi Recipes 2015
Ingredients
Medium rava / Fine sooji- 1/4 cup
Fresh grated coconut- 1.5 cups
Powdered or grated jaggery- 1/2 cup
Dry fruits(cashews+raisins+almonds)- Handful
Ghee- 3 tsp
Cardamoms- 3 to 4
Instructions
Method

Heat a wok adding ghee. Roast cashews and raisins one after other and transfer them to a plate.Next add rava and roast it for 2 to 3 minutes till it warms up. Do not over-roast and do not let it change it's color. Switch off the flame.
Take fresh coconut along with 1 cup of water and cardamom in a mixer jar and grind it to fine paste. Strain this paste using a fine strainer and squeeze the coconut mixture so that milk is strained completely. It gives you 3/4 cup to 1 cup of thick coconut milk.
Again put back the squeezed coconut in to mixer jar with a cup of water and grind again for few minutes. Strain it back using same strainer that gives you 2 cup of thin coconut milk(second extract). Keep both extracts separate.
Next include second extract coconut milk to the roasted rava and mix well so that no lumps are not formed. Continue heating this mixture till the rava gets cooked which will take less than 5 minutes. Then include powdered jaggery and keep stirring.
When the jaggery gets completely dissolved and rava payasam starts boiling, include the first extract coconut milk. Bring it to boil and switch off the flame.
Garnish rava payasam with roasted cashews, raisins and chopped almonds. Drool-worthy rava payasam is ready to offer on the festival day.

Notes

Fine rava is recommended for this payasam and texture looks awesome with that rava.
I haven't roasted almonds, instead soaked them in water for few minutes so that chopping them would be easy.
If you are using store bought coconut milk, then use at least 3 to 4 cups of milk.
The rava payasam thickens as it cools down. So let the payasam be of running consistency when you switch off the flame.
https://udupi-recipes.com/2015/09/rava-payasam-recipe-ganesh-chaturthi-recipes-2015.html
All the content in this website are © Copyrighted to – Udupi-Recipes