Oats => This super easy cooking thing had never made it's appearance at my house till last summer when my daughter tempted by the masala oats advertisement on TV. She insisted me to prepare the similar oats recipe at home, so my next trip to Mall included a big pack of Quaker Oats. Believe me, though it's been there in the stock I could play around with my grocery only now and came to know that there are so many good ways to cook these oats.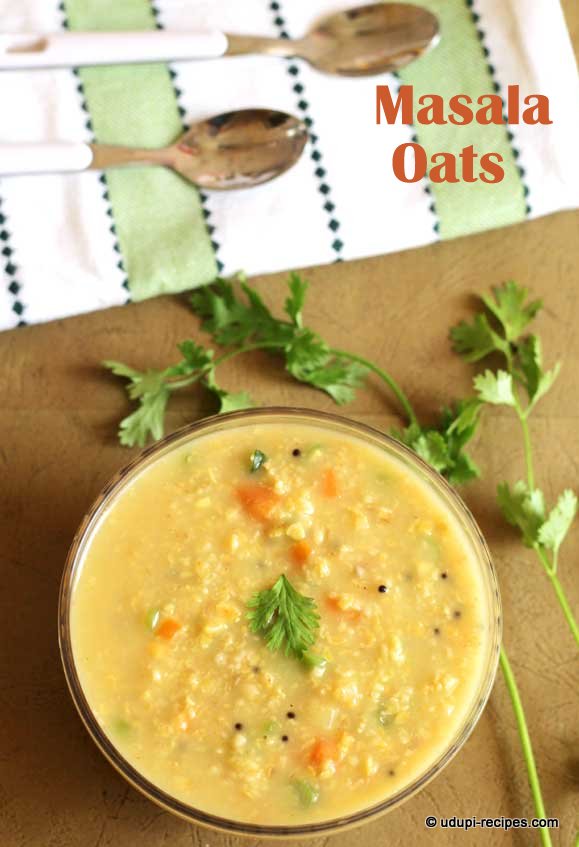 Masala oats or savory oats porridge is so easy and it's going to be new breakfast introduction at my home henceforth. The porridge is surprisingly easy and healthy too as it has vegetables plus few spices with very little oil.
You can top this masala oats with veggies of your choice and can enrich the taste with few more spices.  My advice would be to eat masala oats right directly from stove, I mean the real taste would be relished only when it's hot. As it cools down the porridge thickens and doesn't look appetizing.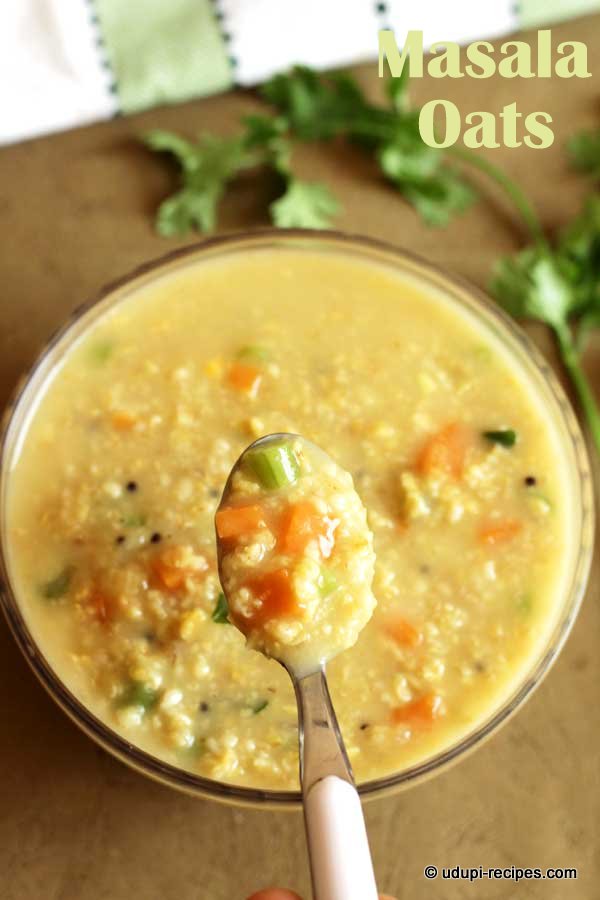 Masala Oats | Savory Oats Porridge Recipe
Ingredients
Oats- 1/2 cup
Chopped vegetables- 1/2 cup
Small onion- 1 no.
Salt- 1/2 tsp
Red chilly powder- 3/4 tsp
Turmeric powder- 1/2 tsp

Seasoning ingredients

Cooking oil- 2 tsp
Mustard seeds- 1/2 tsp
Split black gram lentils- 1/2 tsp
Curry leaves- Few
Instructions
Preparation

Peel off the onion and chop it in to fine pieces. Set aside till use.

Method

Cook the vegetable with little salt and keep aside. Heat a pan with all the seasoning ingredients, as the mustard seeds crackle add chopped onions. Saute them till they turn translucent.
Next include turmeric powder, red chilly powder and salt. Saute for a while and then include oats. Stir till the spice powder coat over the oats.
Add 2 cups of water and cook the oats till soft. Finally add cooked vegetables and bring it to boil. Adjust consistency of porridge by adding some water as per your preference.
Healthy masala oats or savory oats porridge is ready for breakfast.

Notes

As porridge cools down, it tends to thicken, so you can add water and heat before serving.
You can include vegetables like green peas, tomato and potato too.
Include some garam masala powder also to enhance the taste.
https://udupi-recipes.com/2015/09/masala-oats-savory-oats-porridge-recipe.html
All the content in this website are © Copyrighted to – Udupi-Recipes