It's way too long since I made this awesome coconut milk rice porridge in my own kitchen but I have devoured this really comfort food at my mother's place during my visit to India. I definitely have a deep, long time love for such simple and comforting breakfasts that too when temperature is still moderately hot here in UAE.
This coconut milk rice porridge happens to appear for breakfast every fortnight at my mother's house. Because she fasts on the day of Ekadashi (11th lunar day of every fortnight) and the next day this rice porridge well known as Dwadashi Ganji in Udupi is made along with regular dosa. The combo of dosa and Ganji topped with ghee, paired with whole mango pickle is an amazing way to break the fast.  Don't you think so??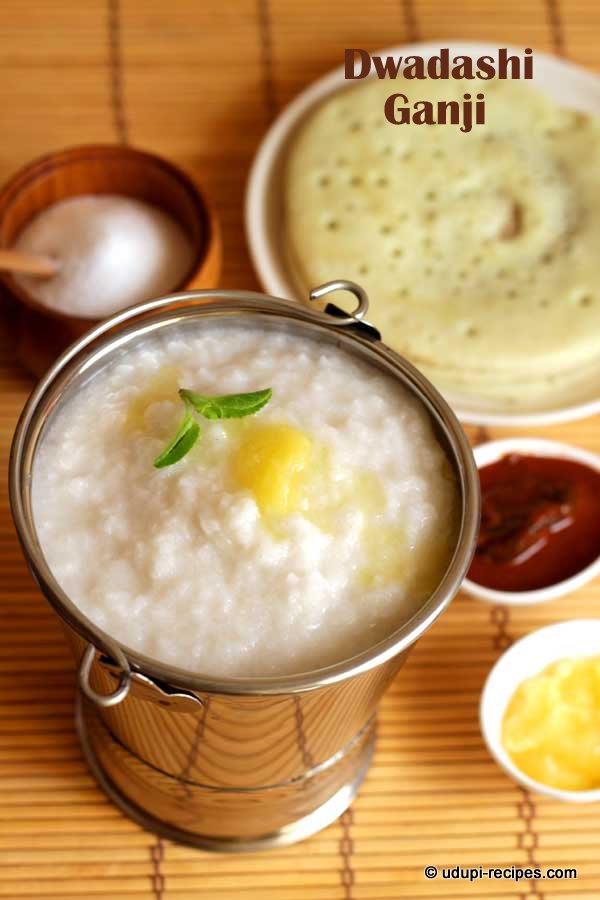 I recreated my mother's food magic here in UAE yesterday as it was Dwadashi (12th lunar day of lunar fortnight) and celebrated the good time of breaking the fast.
Coconut milk rice porridge, all it needs is either plenty of coconut milk or coconut itself. If you have home grown coconut, then you'll surely have to try this rice porridge for it's simplicity with taste. I have the habit of making coconut milk from scratch like grinding fresh grated coconut with water to fine puree then straining it to extract pure, fresh milk of it's kind. Cooking rice to it's perfection in this coconut milk left me with this incredibly awesome ganji=>coconut milk rice porridge.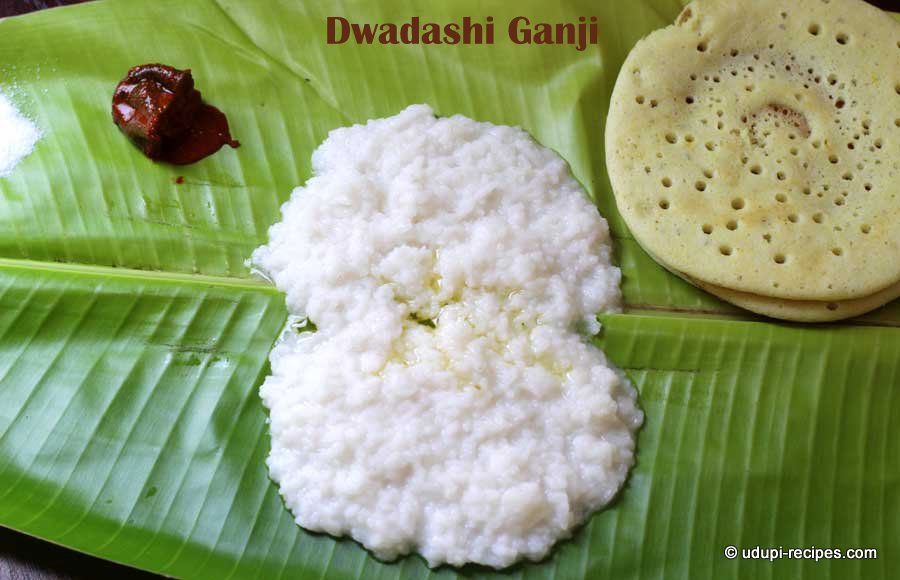 Coconut Milk Rice Porridge | Dwadashi Ganji | Kanji Recipe
Ingredients
Raw rice- 1 cup
Fresh grated coconut- 1.5 cups
Instructions
Method

This rice porridge preparation starts with coconut milk. Add fresh grated coconut and a cup of water in to mixer, grind it to fine puree. Transfer it to a fine strainer. Squeeze completely and extract coconut milk.
Put the squeezed coconut back to the mixer and grind again along with 1/2 cup of water. Strain this as well to extract all possible coconut milk. Now you should be having around 2 to 2.5 cups of fresh coconut milk.
Next rinse the raw rice with some water and drain it off. Then add around 3.5 cups of water and pressure cook it as you normally do to cook rice. I have cooked it for 3 whistles and 5 minutes in simmer. Let the pressure subside by itself.
Next add cooked rice and coconut milk to a big vessel and bring it to boil. Let it be in simmer for 4 minutes. Then switch off the flame.
Coconut milk rice porridge topped with ghee is ready to serve along with pickle and salt.

Notes

It's totally coconut milk that makes ganji a flavorful affair. So fresh coconut and enough coconut milk is recommended.
You can use store bought coconut milk too to cook this rice porridge. I haven't used it though.
The rice should be cooked with little more water than you usually do. Because fluffy, grain seperated rice is not preferable for this porridge.
We relish this rice porridge with whole mango pickle as side dish. If you prefer you can use any vegetable stir fry as side dish.
Serve a bowl of ganji mixed with salt, top it with dollop of ghee and relish with your own home made pickle.
https://udupi-recipes.com/2015/09/coconut-milk-rice-porridge-dwadashi-ganji-kanji-recipe-3.html
All the content in this website are © Copyrighted to – Udupi-Recipes