This beautifully shaped rice dumpling, crumbly soft from inside and perfect textured from outside is an easy and filling breakfast. When I say it's easy, I should admit that  it was not easy for me. Pundi gatti as it is popularly known in Udupi region is a staple food there. Preparing pundi gatti was always a hassle for me as it was not turning the way it should be. Either it would stick to my teeth or it would turn rock-hard. Many a times I tweaked the ingredients and revised the method of cooking…but I failed to obtain the final product as I wished.
My mother….Yes mother has answers for all such traditional dish related queries. In my last vacation trip to India, I watched each and every step of my mother making these wonderfully oval shaped rice balls, right from ingredients selection to grinding and steaming.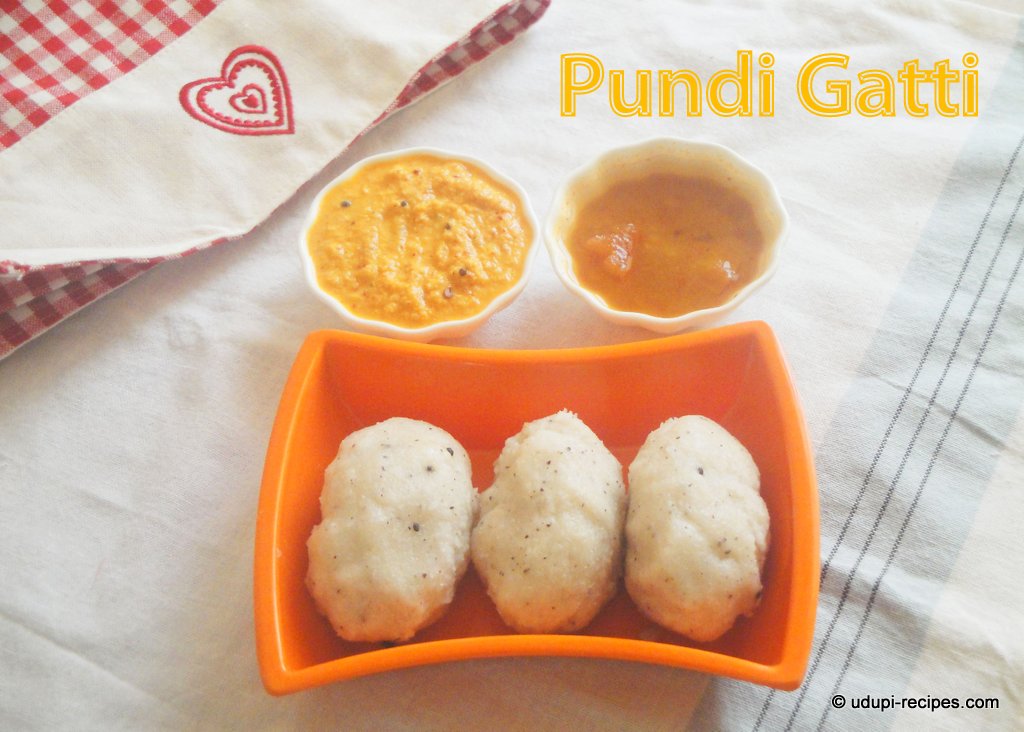 Then I noted down following adaptations in the recipe.
1. Inclusion of normal rice in equal proportion of dosa rice.
2. Coarsely grinding (not finely) rice with coconut and
3. Not making the batter running with more water.
So finally after all these alterations, I made these pundi gatti and rewarded with a soft crumbly perfect shaped rice dumplings. I indulged in to each bite dipping in red coconut chutney and sambar.  What a healthy and filling breakfast it was….Oh…
Pundi Gatti | Rice Dumpling Recipe
Ingredients
Dosa rice- 1/2 cup
Normal rice (Sona Massori)- 1/2 cup
Fresh grated coconut- 1 cup
Salt- 1 tsp

Seasoning ingredients

Coconut oil- 2 tsp
Mustard seeds- 1/2 tsp
Split black gram lentil- 1/2 tsp
Curry leaves- few
Instructions
Preparation

Combine both rice and soak it for around 2 hours.

Method

Wash soaked rice twice and add it to mixer jar after draining. Include grated coconut and 1 cup of water.
Grind rice and coconut together to a coarse batter. Pour the ground paste in to heavy bottom wok, include salt. In a seasoning pan add all the seasoning ingredients in the order mentioned, as the mustard seeds crackle transfer it to the rice batter in the wok.
Now heat this wok and keep stirring till the batter turns to dough. This step will take around 5 to 6 minutes. Switch off flame once done.
Now wet your palm and take handful of dough and make oval shaped balls. Arrange these balls in Idli stand or Idli cooker. Steam cook them for 15 minutes to 20 minutes.
Healthy breakfast pundi gatti or rice dumpling is ready. It can be served with chutney and sambar of your choice.

Note

Dosa rice to normal sona massori rice ratio is 1:1. If you use dosa rice alone, then pundi gatti turns hard.
While grinding rice and coconut, ensure it is ground coarsely. Otherwise the rice dumpling sticks to teeth.
Do not add too much water or too less water. I have added 1.25 cup of water.
When rice batter turns in to dough, do not wait for it to cool down. Immediately start making balls.
Seasoning is optional. You can skip this to make plain rice dumpling.
If you are making it for breakfast then you can soak rice the previous night.
https://udupi-recipes.com/2014/09/pundi-gatti-rice-dumpling-recipe.html
All the content in this website are © Copyrighted to – Udupi-Recipes
Meet you all with one more interesting recipe. Till then bye.