Feast outside with friends and colleagues is always a warm, refreshing affair and we, the people residing away from our motherland always look for such gatherings.  This weekend we are all heading to such a wonderful get together and I am very much excited.
As Navaratri has just begun today, it is a custom and practice to worship Goddess Durga in these nine days and seek her blessings. Even in UAE , we all assemble to celebrate the pooja of Goddess Durgaparameshwari every year.  All Udupi – Mangalore based folks would gather here in an aim to perform Durga Namaskara Pooja, the beautiful  motherland atmosphere is recreated here amidst trendy building structures. How NICE.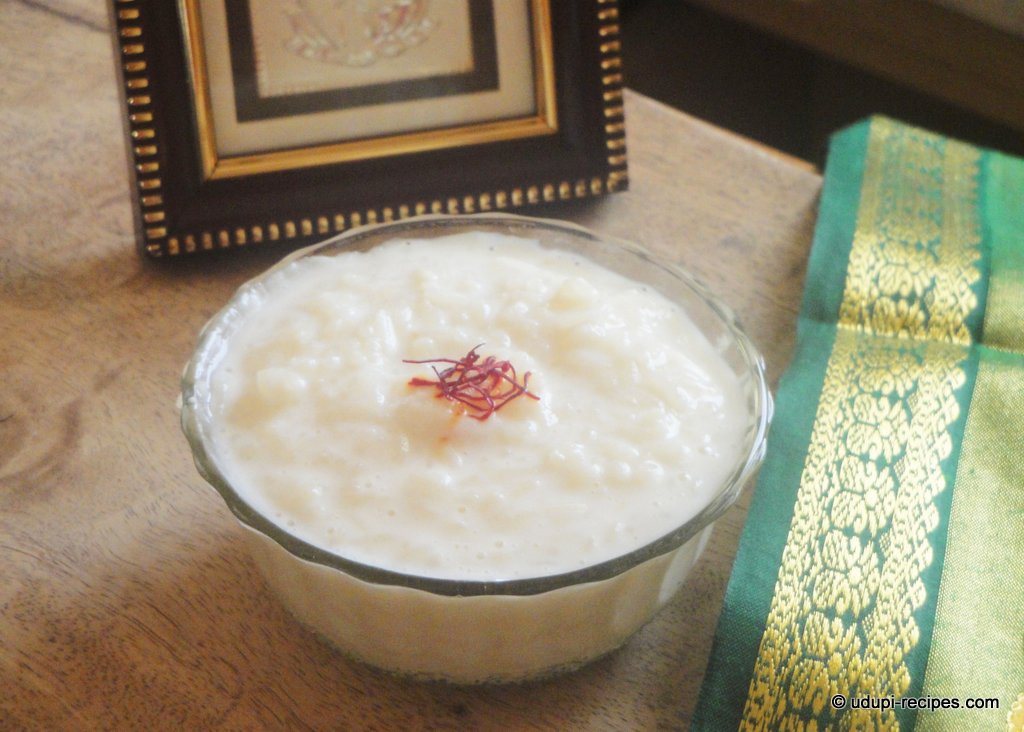 While Mudde payasa or gudanna is one of the unique offering to Goddess,  paal payasam is also said to be  specific on this occasion. Paal payasam is a  rich, creamy milk based kheer prepared with very few ingredients tasting deliciously awesome. Generally sugar based payasam are not of my preference, but on the eve of Navaratri I couldn't resist myself from making this divine tasting paal payasam.
This payasam tastes rich and delicious when cooked in low flame, at the same time you need to take extra care in not to getting it burnt.  Including few saffron strands to this rice-milk pudding will surely enhance flavor and enriches the color. I wanted to take pictures of pure white payasam, so I skipped it. But you don't miss it please.
I wish all my beloved readers a very HAPPY NAVARATRI  and hope you all are empowered to face the obstacles of life with the blessings of Goddess.
Paal Payasam | Milk Payasam Recipe
Ingredients
Raw rice- 1/4 cup
Sugar- 1/2 cup
Full fat Milk- 3+1 cup
Cashew+Raisins- Handful
Ghee- 2 tsp
Instructions
Method

Put in 2 cups of milk in a cooking pan and bring it to boil.
Wash and drain rice in enough water and add it to the milk. Simmer the flame and let rice cook in milk till soft. Keep stirring to avoid the rice getting burnt.
Once the rice is soft enough, include sugar. Mix well. As the sugar gets diluted,include rest of the milk. Bring to boil and switch off.
In a seasoning pan add ghee, and roast cashews and raisins one after the other. Add these roasted dryfruits to the paal payasam and mix well.
Divine tasting paal payasam is ready.

Note

Tendency of rice sticking to bottom and getting burnt is more, so keep stirring as it cooks. Also you can grease the pan with little ghee beforehand.
You can pressure cook rice too which is the best option to avoid burning. But make sure you cook rice in milk not in water.
You can add cardamom powder and saffron for flavor and color. I wanted the milky white paal payasam for photo, so I did not add them.
The paal payasam thickens with time, so keep an extra cup of milk for the right consistency of payasam.
Once rice gets cooked, you can mash it too so that the rice breaks and payasam thickens.
Adjust sugar as per your preferences.
https://udupi-recipes.com/2014/09/paal-payasam-milk-payasam-recipe.html
All the content in this website are © Copyrighted to – Udupi-Recipes
Meet you all with one more interesting recipe. Till then bye.