You come to my kitchen at any point of time in any day, you will certainly find these sprouted cute black chickpeas in a polythene bag stuffed somewhere in the refrigerator.  Don't get me wrong…..I don't soak and sprout these black chickpeas every day…I really don't do it??? You must be raising your eyebrows right now….Scroll down…
It is a custom to soak few chickpeas as an offering to Lord Ganesha in everyday morning pooja. Chickpeas soften and double their size by evening which I just stuff in a bag or box. These pretty black legumes collected like this over a week would sprout and ready for cooking. But my family is not so fond of these tiny sins. So basically I just include them in a curry along with any veggie like pumpkin or elephant yam.
But today I thought of making this chickpea sundal which can either be relished as snack or as accompaniment with rice-rasam. I was deeply skeptical about how the kids would accept them…they love to munch or not. But I was overjoyed to see the empty chickpea sundal bowl at tea time. 🙂 My daughter loved to have them as snack. I cooked the chickpeas in seasoning itself, but you can alternatively pressure cook them with little salt. It is very easy this way. The only spice used in chickpea sundal is cumin seeds which is coarsely ground with coconut and mixed with chickpeas. Cumin flavored, spicy sundal thus ended up being delicious and kids favorite.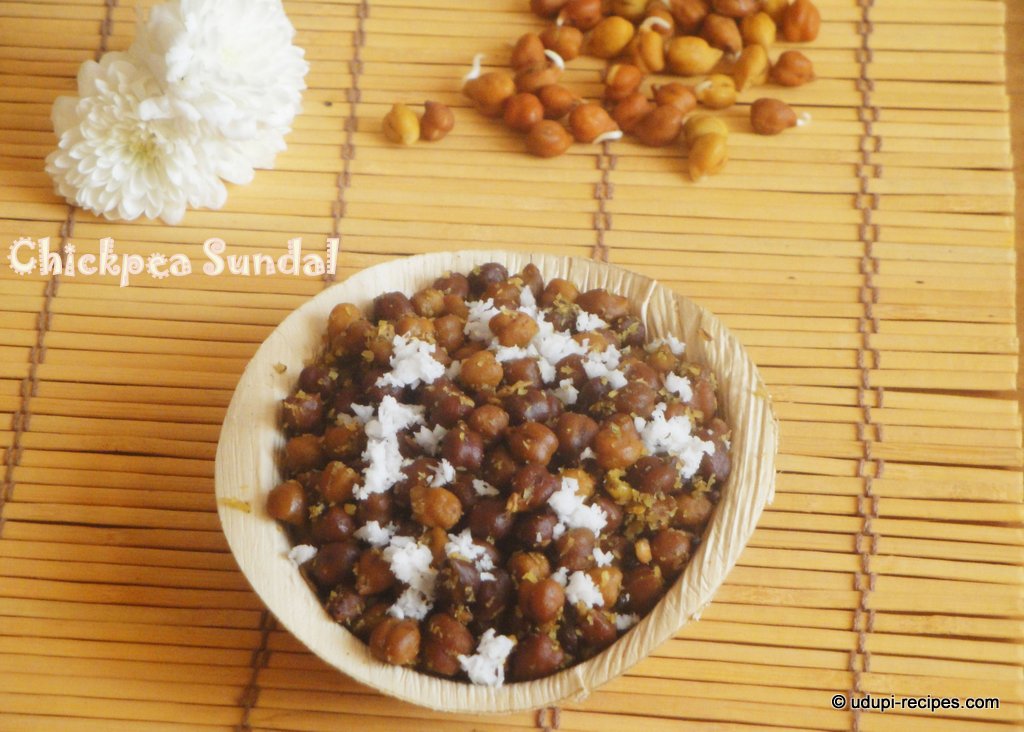 Chickpea Sundal | Idi Kadale Oggarane Recipe
Ingredients
Sprouted Chickpea- 1 cup
Fresh grated coconut- 2 fistful
Green chillies- 2 no.
Cumin seeds- 1/4 tsp
Jaggery- Gooseberry sized
Salt- 1 tsp

Seasoning ingredients

Coconut oil- 3 tsp
Mustard seeds- 1/2 tsp
Split black gram lentil- 1/2 tsp
Broken red chilly- 1 no.
Curry leaves- few
Instructions
Method

Heat a wok adding all the seasoning ingredients one after other in the order mentioned. As the mustard seeds start cracking, include sprouted chick peas. Give a quick stir.
Add jaggery, salt and half cup of water. Cover with lid and let it cook till chickpeas are soft. In between give a quick stir to avoid sticking to the bottom. Add some more water if needed.
Meanwhile in a mixer add grated coconut, cumin seeds and green chillies. Blend them together coarsely without adding water.
As the chickpeas get cooked, include the coconut-cumin-green chilly masala to the sundal. Stir well for a minute and switch off.
Idi Kadale Oggarane, chickpea sundal is ready. You can serve it as tea time snack or as side dish with rice-rasam.

Note

Alternatively, you can pressure cook sprouted chickpeas and then season.
Instead of grinding green chillies, you can also slit it and include.
I recommend cumin seeds flavor in chickpea sundal, so do not skip it.
https://udupi-recipes.com/2014/09/black-chickpea-sundal-idi-kadale-oggarane-recipe.html
All the content in this website are © Copyrighted to – Udupi-Recipes
Meet you all with one more interesting recipe. Till then bye.