Navaratri is a festival of Shakti and nine form of Shakti are worshiped during these days. Literally "nava" means nine. Durga pooja and durga namaskara is  popular in Udupi region which is a prayer to Goddess Shakti to lift us from the shackles that limit us on our path of progress- spiritual and material. The Goddess is invoked in the lamp and worshiped. Mudde Payasa/Gudanna is a special naivedyam offered to Goddess. Today let us learn Mudde Payasa/gudanna/jaggery rice recipe.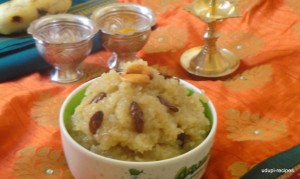 Mudde Payasa/Mudde Paramanna/Gudanna Recipe
Ingredients
Raw rice- 1/2 cup
Jaggery- 1.25 cup or heaped 1 cup
Melted ghee- 1/2 cup
Ripe banana- 2 no.s
Honey- 1/4 cup
Cardamom- 3 pods
Cashew- Few
Raisins- few
Instructions
Preparation

Peel and chop bananas in to small pieces. Finely powder the cardamoms.
Fry cashew nuts and raisins in ghee one after the other and keep them aside.

Method

Add 1.5 cups of water in a pan and let it boil. When water gets boiled, add washed rice in to it. Stir and let it cook in medium flame till rice is soft.
Now add jaggery to the rice and stir well. Add little water at this stage if needed. Jaggery gets dissolved and rice should be cooked in the jaggery syrup for at least 5 to 10 minutes.
At this stage add ghee and chopped banana pieces. Mix well.
When gudanna/mudde payasa leaves the pan and forms a lump, add honey, cardamom powder and ghee fried dry fruits(raisins+cashew nuts).
Gudanna/Mudde Payasa/Gatti paramanna is ready to be served. This is a mandatory naivedyam offered to Goddess Durga. Wish you Happy Vijaya Dashami. God bless you all.

Note:

This mudde payasa should be thick, so do not add much water.
Be generous in adding ghee and honey that gives nice texture and aroma to gudanna/mudde payasa.
https://udupi-recipes.com/2013/10/mudde-payasamudde-paramannagudanna-recipe.html
All the content in this website are © Copyrighted to – Udupi-Recipes
Meet you all with one more interesting Udupi recipe. Till then bye.