Raw jackfruit, it tastes heavenly. A natural, home garden veggie with no dangerous pesticides taste absolutely delicious as curry. I know I know. It's uncommon to use jackfruit as a veggie in most part of India. But in the coastal regions like Udupi-Mangalore it's the most loving and wanted veggie for cooking. If you haven't tasted the raw jackfruit curry in life, then it's high time to prepare.
When the season of jackfruit begins which is normally the summer season,  tender, unripe jackfruits happen to take entry to the kitchen. The mature raw jackfruit with soft pods and tender seeds is best to be chosen for cooking. Though it's a daunting task to peel and make bite sized pieces out of jackfruit but believe me it's worth the effort. The outer skin with spikes and thick, fibrous inner core have to be completely removed and discarded. Rest of the veggie is chopped in to bite sized pieces and they all get in to curry.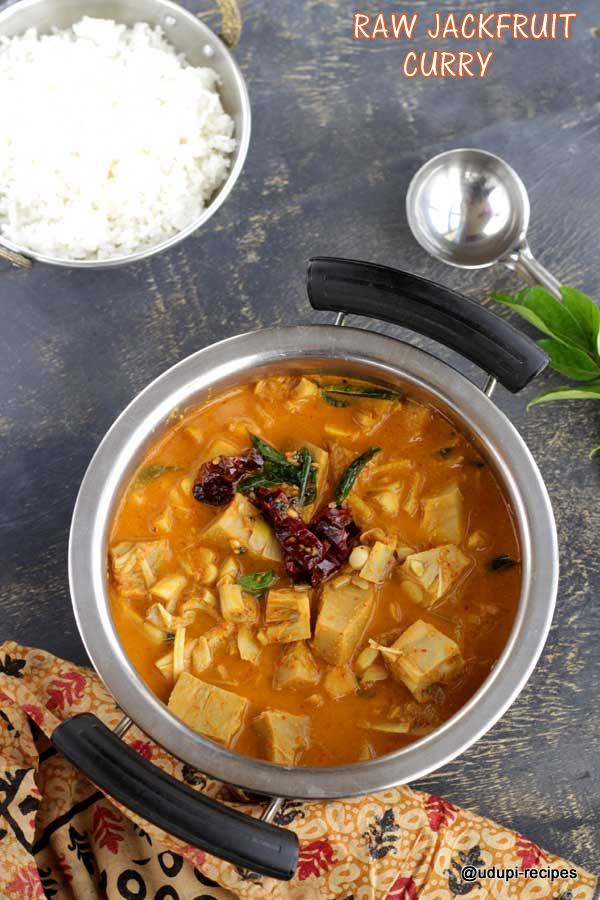 The most fascinating aspect of raw jackfruit curry is how the masala gets prepared. The spices like coriander, cumin seeds and red chillies are used in the curry in raw form. Fresh coconut is ground to fine paste along with these raw spices and roasted lentils. You got my point right? Only black gram lentils are roasted to perfect brown and all other spices are used in raw form. This is how raw jackfruit curry stands out in preparation. When the cubed veggie is cooked in tamarind water, jaggery and salt, the raw jackfruit pieces taste all delicious. The coconut masala enriches the curry with all delectable flavors.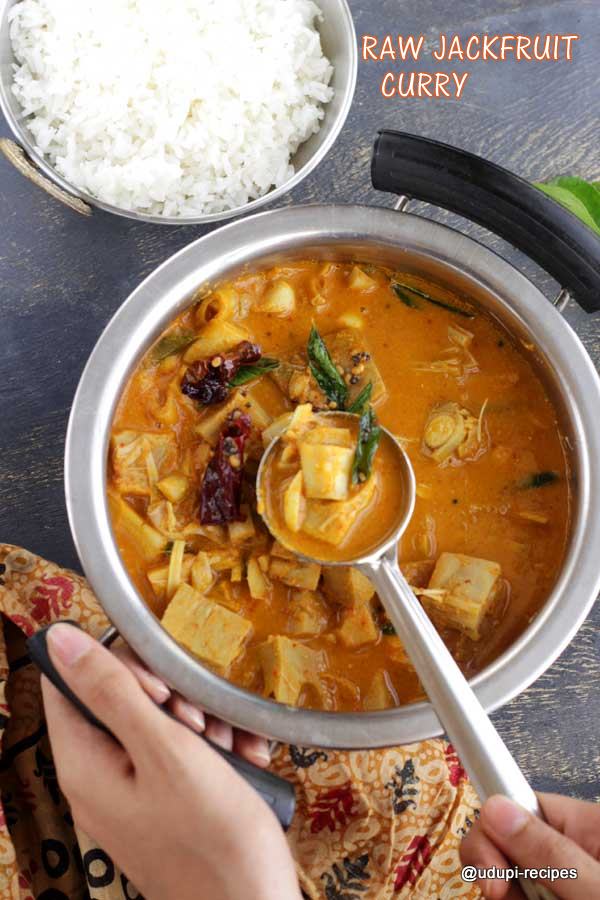 Watch video:
Raw Jackfruit Curry | Unripe Jackfruit Curry
Ingredients
Raw jackfruit (unripe)- Small piece
Tamarind - Lemon sized
Jaggery- 1 tbsp
Salt- 1 tbsp
Turmeric powder- 1/4 tsp
Curry leaves- Few

To grind

Split black gram lentils - 1.5 tbsp
Coriander seeds- 1 tbsp
Cumin seeds- 1/2 tbsp
Red chillies - 3 nos.
Fresh grated coconut- 1 cup

To temper

Coconut oil- 2 tsp
Mustard seeds- 1/2 tsp
Split black gram lentils- 1/2 tsp
Red chillies- few
Curry leaves- few
Instructions
Preparation

Soak tamarind in a 1/2 cup of warm water for 15 minutes. Extract it's juice and discard the residues.
Peel the spiky skin of jackfruit and remove it's thick stalk. Greasing enough oil over the palms, chop jackfruit in to small cubes. Keep them immersed in water. I got around 3 cups of veggie cubes.

Method

In a wide cooking vessel add the veggie cubes and some water. Add tamarind water and curry leaves to it.
Next add jaggery, turmeric powder and salt. Let it cook in medium flame till the jackfruit pieces turn soft.
Meanwhile, heat a pan adding blackgram lentils (urad dal). Roast it till it turns little brown. Take it in mixer.
Add coriander seeds, cumin seeds, red chillies and coconut to the same mixer.
Adding enough water, grind them together to fine puree. This is the coconut masala for the curry. Add this to cooked veggie.
Combine everything well. Adjust salt. Adjust consistency by adding required water. Bring it to nice boil.
Finally heat a tempering pan adding all the ingredients under "To temper" list. When the mustard seeds splutter, pour it to jackfruit curry. Very delicious jackfruit curry is ready to serve to steamed rice.

Notes

The jackfruit should be unripe and mature. Before chopping the veggie ensure the hands and knife is well greased with oil.
All the spices are ground raw except lentils which are roasted before adding.
Adjust the red chillies according to the spice level desired.
https://udupi-recipes.com/2019/01/raw-jackfruit-curry.html
All the content in this website are © Copyrighted to – Udupi-Recipes