It's breakfast bonanza  today. Who doesn't fall in love with this extremely porous textured, soft and spongy curd dosa? There must no one. If there is any one, he/she must be a food allergic. I am not exaggerating, trust me. This week we had this magical curd dosa for 3 days in a row and today as I am writing this post, craving for the same deliciousness. Amazing taste indeed!
There is a unique name given to this fluffy pancake as "SURNOLI" which has basically raw rice, fenugreek seeds and rice flakes. All these are soaked in whisked curds/yogurt or buttermilk for 3 to 4 long hours. Which is then ground to fine batter along with some fresh grated coconut. So here you go: the prefect thick, fluffy batter for the surnoli. A word of caution here, avoid using  any water  for grinding. Because it will turn the batter thin and dosa wouldn't be as expected.
The next word of caution is to ferment the batter for 12 to 14 long hours in order to end up with the best pancake. If the fermentation fails, the texture of dosa becomes plain and soggy.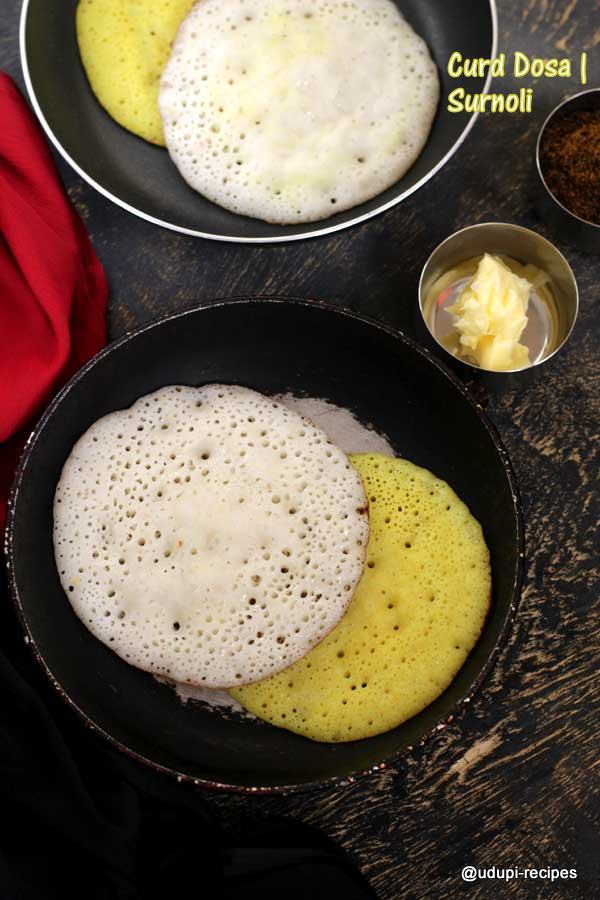 The best thing which I admire about surnoli is you can eat sweet and savory version of sponge dosa. After fermentation, you can divide the batter and add necessary sweetener that is jaggery to one portion and salt to the other. Those of you who have sweet teeth, would love to eat sweet surnoli for breakfast for sure. It's mildly sweet and spongy in mouth, and you are in food heaven. If you don't care about calorie intake, then go ahead and relish it with dollop of butter. Otherwise any coconut chutney or sambar would be paired with curd dosa which tastes super fantastic.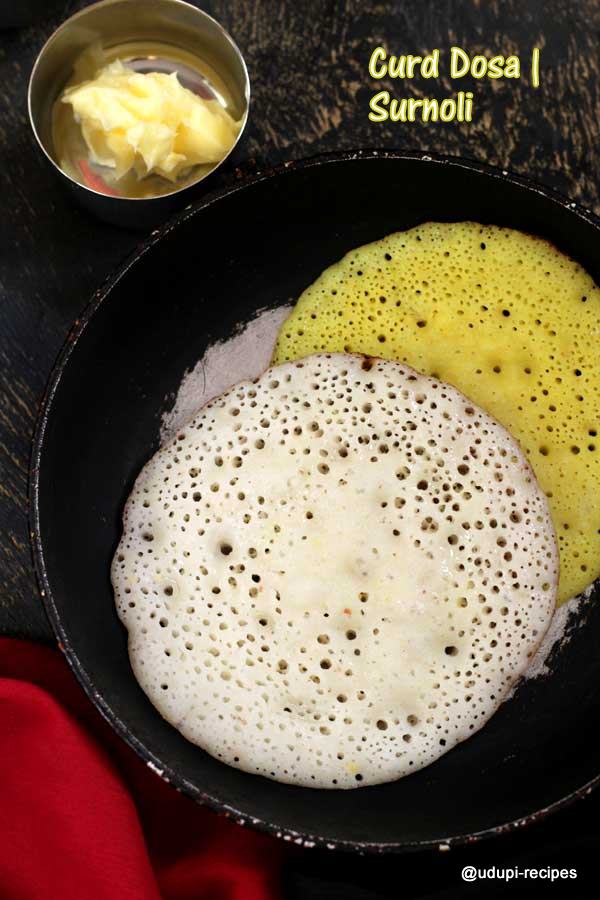 Watch video:
Curd Dosa | Surnoli | Sponge Dosa Recipe
Ingredients
Raw rice- 1.5 cups
Rice flakes- 3/4 cup
Fenugreek seeds - 1 tsp
Whisked curds(yogurt)- 3/4 cup
Fresh grated coconut- 1/2 cup
Salt- 1 tsp

For sweet version

Jaggery- 2 tbsp
Turmeric powder- 1/4 tsp
Instructions
Preparation

Rinse rice, rice flakes and fenugreek seeds separately. Take all these three ingredients in a wide bowl.
Soak them together in whisked yogurt for about 3 to 4 hours. Do not use water. After 4 hours, curd would have been absorbed completely.
Next add the soaked ingredients and coconut in a mixer and grind together finely. The batter should be thicker in consistency than normal dosa batter.
Transfer the batter in to a bowl and keep it covered for 12-15 hours for fermentation. The fermented batter would have raised in volume.
Next divide the batter in to two bowls. Add jaggery and turmeric powder to one, and salt to the other. So we can make sweet and savory version of curd dosa.
Next heat a dosa griddle smearing some oil over. Pour a ladle full of sweet dosa batter and do not spread. Cook it covered in medium flame. You can see porous texture of dosa. Once done remove from griddle. Don't flip to cook the other side.
Similarly pour a ladle full of savory batter and cook covered. Repeat the process with rest of the batter.
Curd dosa with appealing spongy texture is ready. Serve with butter and coconut chutney. Yummy..yum

Notes

The batter should be ground to thicker consistency. So add very little water if at all needed.
Proper fermentation is necessary for spongy, porous textured dosa. So keep the batter in warm place for at least 12-14 hours.
This dosa doesn't require lentils (urad dal).
You can either use whisked yogurt and buttermilk. Ensure it is not too much sour.
https://udupi-recipes.com/2019/01/curd-dosa-surnoli-sponge-dosa-recipe.html
All the content in this website are © Copyrighted to – Udupi-Recipes