Lets get right down to it. This is something you should make if you love extremely soft and porous textured dosa. Let me make it very clear, if you are a person who love something filling and wholesome stuff for breakfast, then this sponge dosa is for you.  If you are a home maker who likes to save some grocery expenses, then this dosa is for you too. On top of all this it is 100% healthy with lots of carbohydrates and little of proteins. So guys, lets head on deep down the recipe.
For this recipe, we are using Rice and two varieties of it. One being the normal dosa rice and other one matta rice which is alternatively known as Kerala Red Rice. The matta rice has vital role in making sponge dosa literally spongy. Like the one that is pillow-soft, dense, airy and porous. You actually have to separately soak and grind this matta rice, which would otherwise make the grinding process difficult.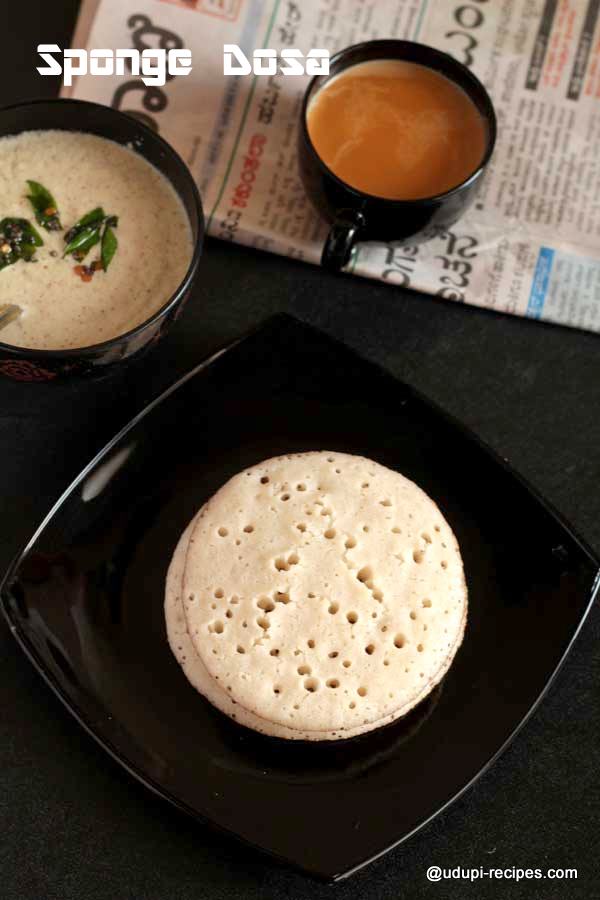 I made a statement above about cutting down grocery expenses which is directly connected with the lentils. Let me make that point more explanatory here. Unlike normal dosa recipes, sponge dosa has lentils in very very minimal amount. I have used only 3 teaspoon of split blackgram lentils but to my surprise, dosa has turned amazingly soft. Sounds exciting isn't it?? This is the only factor which would absolutely touch the hearts of my dear friends to try out the sponge dosa in their own home I guess.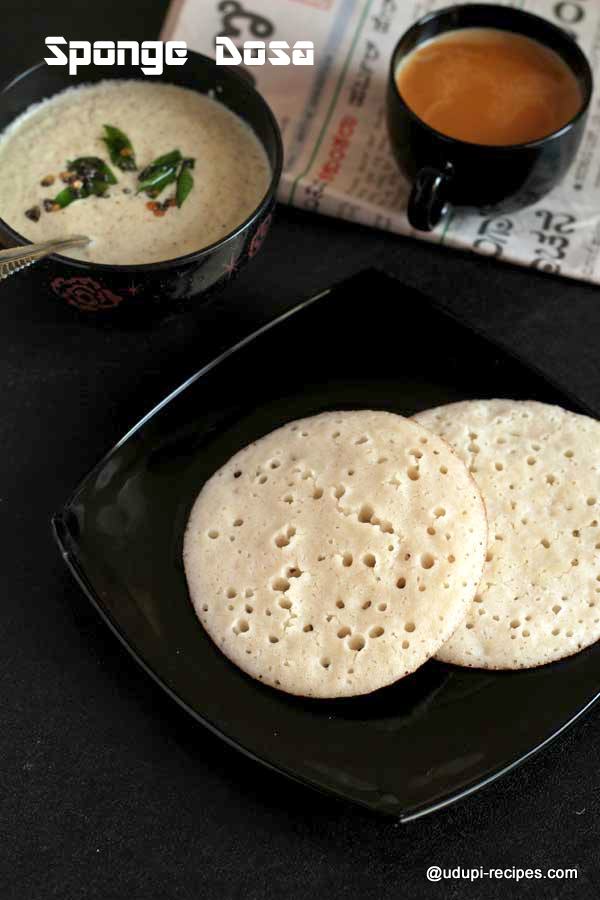 Sponge Dosa | Sponge Set Dosa Recipe
Ingredients
Dosa rice- 1 cup
Puffed rice- 1 cup
Matta rice (kerala red rice)- 1/4 cup
Rice flakes- 1/4 cup
Split blackgram lentils- 3 tsp
Split chickpea lentils- 3 tsp
Instructions
Preparation

Keep all the ingredients ready in exact proportions.
Soak dosa rice and both lentils together in enough water. Also soak matta rice and rice flakes separately in ample amount of water. Let them get soaked for about 4 hours.

Method

Rinse the dosa rice and lentils well with water, drain and add them to mixer jar. Include soaked rice flakes and puffed rice too. Grind all of them together to fine puree adding water as needed. Transfer it to a wide bowl and next grind soaked matta rice with little water to fine puree.
Pour this matta rice batter also to the same bowl. Mix both of them and let it ferment for about 8 to 10 hours in warm place.
After good hours of fermentation, the batter would have raised now. Add salt and mix thoroughly. Heat a dosa griddle and smear some oil over it. When the griddle is hot enough, pour a ladle full of sponge dosa batter at the center. Do not spread.
Let it cook for few minutes covered with lid. Keep the flame medium and when you find cooked dosa with poriferous texture, remove from griddle using flat spatula.
Pillow-soft sponge dosa is ready to serve as breakfast with chutney and tiffin sambar.

Notes

Good 10 to 12 hours of fermentation is mandatory for this dosa to be spongy. So do not ferment less than that.
Sponge dosa batter shouldn't be too thick or thin in consistency. It should be just like normal dosa batter.
Do not spread this dosa over griddle, just pour and let it spread by itself.
Do not flip and cook the other side of sponge dosa.
https://udupi-recipes.com/2016/11/sponge-dosa-sponge-set-dosa-recipe.html
All the content in this website are © Copyrighted to – Udupi-Recipes