Let me start this post with a question. How you guys bond yourself with something like fenugreek seeds in your food life? Meaning, does a food with fenugreek as the main ingredient falls in your favorites list? I think, I can read most of your minds who are facing my little space of the internet right now. It's probably NO. Am I right? I understand, the most under rated taste of the crowd happen to be BITTER, and the fenugreek seed happily owns the crown BITTERNESS in it. Never mind, let's make this bitter thing little interesting, sweet and palatable like this sprouted fenugreek gojju.
The tiny fenugreek seed is a natural wonder of health which has been embraced in our Indian cooking since ages. To make the seed further healthy, I have sprouted it in this sweet, spicy and sour gojju. So sprouted fenugreek gojju has many sweeteners like dates, raisins and jaggery. The inherited and signature taste of fenugreek seed has been suppressed and you can never even make out the hint of bitterness. I promise.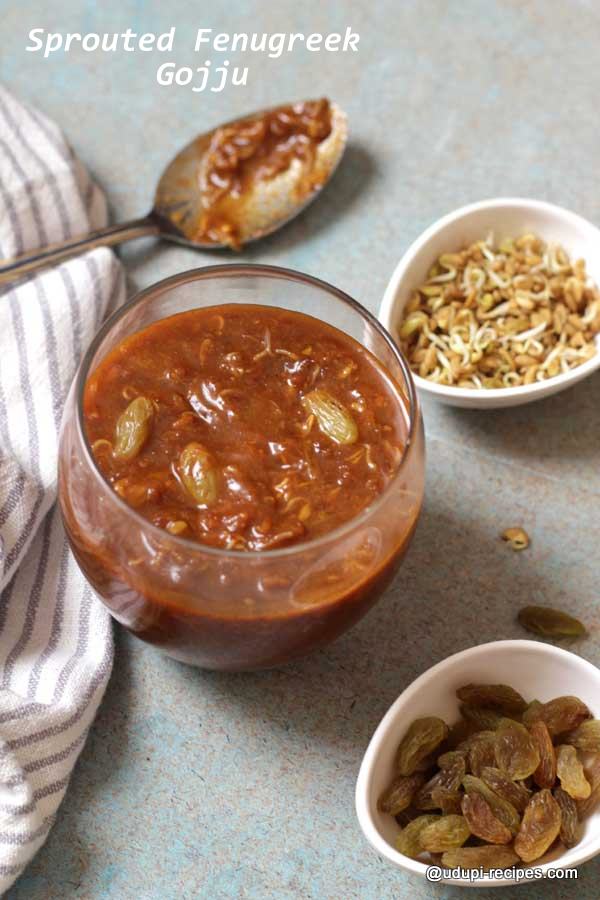 After the sweeteners, it's the red chilly powder and mango powder which contribute towards other major tastes like sourness and spice in gojju. So when the sprouted fenugreek gojju comes together as a thick sauce perfection with all the spices, dates and raisins,  it's a total bliss. I loved the chunks of dates and raisins here and there with my dosa. I have a jar full of gojju in refrigerator which I will enjoy with poori, chapati side dish for couple of weeks from now and you can get ready to drive to the nearest grocery store.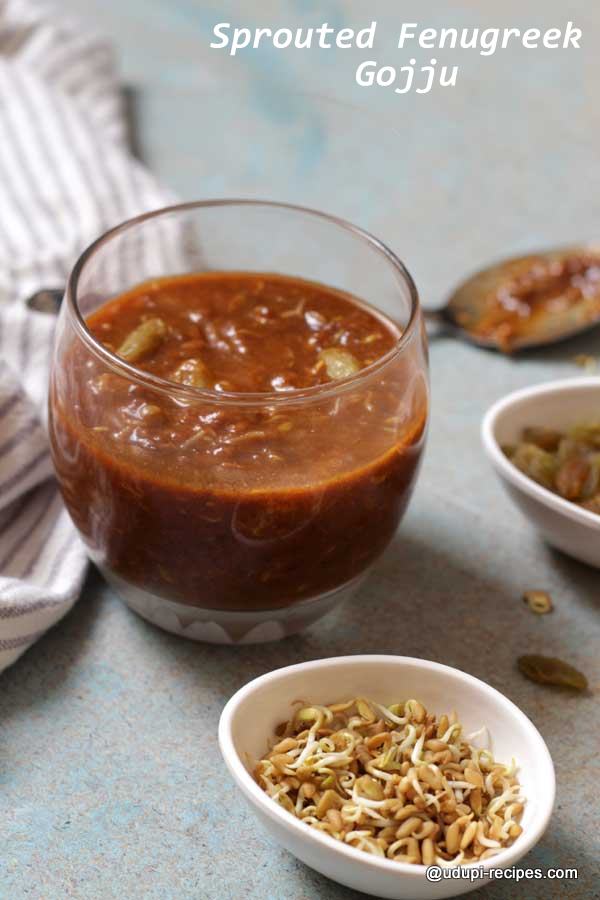 Sprouted Fenugreek Gojju | Spicy, Sour and Sweet
Ingredients
Sprouted fenugreek seeds- 1/2 cup
Raisins- 1/4 cup
Dates- 6 nos.
Jaggery- 1/3 cup
Dry mango powder- 3 tsp
Salt- 1.5 tsp
Red chilli powder- 1 tsp
Coriander powder- 1 tsp
Cumin powder- 1 tsp
Turmeric powder- 1/2 tsp

Seasoning ingredients

Cooking oil- 2 tsp
Fenugreek seeds- 2 tsp
Instructions
Preparation

Take sprouted fenugreek seeds in a container, add a cup of water and pressure cook it for 4 whistles. Let the pressure suibside naturally.

Method

Next soak raisins and pitted dates in a cup of water for about 30 minutes. Meanwhile, drain off water from cooked fenugreek seeds using a colander or strainer.
Heat a pan with oil and cumin seeds, as they crackle add the sprouted fenugreek seeds and saute for 5 minutes. Include red chilly powder, salt, coriander powder and cumin powder. Mix well.
Add a cup of water and let it cook for few minutes so that the spice flavors infuse into the fenugreek. Get the dates chopped in to fine pieces and keep it ready.
Throw in raisins, chopped dates, mango powder and jaggery. Include half cup of water if needed. Combine everyhting well and cook till it thickens.
Sweet, sour and spicy sprouted fenugreek gojju is ready to serve with poori, chapati and dosa as side dish.

Notes

If you soak 3 tsp of fenugreek seeds, it will yield 1/2 cup of sprouted ones. So soak them accordingly.
It should taste sweet, sour and spicy. So adjust these taskmasters as per your taste buds.
You can keep it refrigerated for more than 15 days.
https://udupi-recipes.com/2016/12/sprouted-fenugreek-gojju.html
All the content in this website are © Copyrighted to – Udupi-Recipes