Hello and welcome. Please just know upfront that I have been in love with this potato tomato curry lately. Who knew that potato cubes in tomato puree with some spices would taste so good and delicious? Who knew such an awesomeness can be whipped up in just 20 minutes? Now I can confidently declare this.  Chapati or poori with this potato tomato curry can be your breakfast or lunch or dinner but it surely makes you feel full, happy and satisfied.
Potato is most loving vegetable ever. Be it curry or bhaji or raita or in whatever food it gets in, that food becomes palatable. So it's the basic vegetable which is stocked in most households for some random, unexpected curry requirements.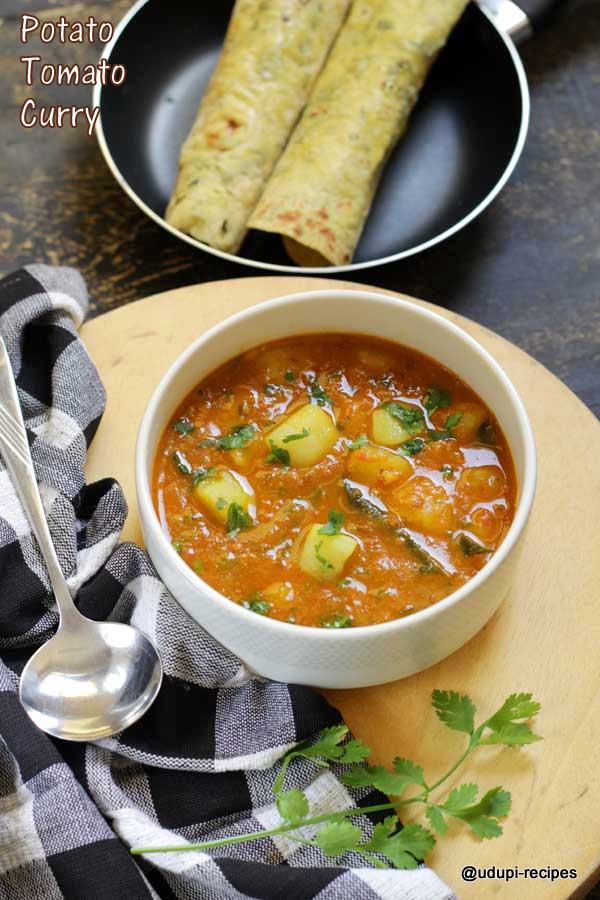 Once potatoes are cooked to perfection like in shape and soft to eat kind, then preparing this potato tomato curry is easy. Pureeing the tomatoes and cooking it with some good spices like turmeric, chilly and coriander powders makes the base of this curry. When this puree turns thick and colorful, golden potato cubes are included. Potato absorbs all flavors and turns in to tasty curry with chapati.
If you are a potato lover then you should definitely try this. You would love to make it often!
Watch Video:
Potato Tomato Curry | Easy Chapati Side dish
Ingredients
Potatoes (medium sized) - 2 nos.
Tomatoes (medium sized) - 2 nos.
Grated ginger - 1 tsp
Turmeric powder- 1/2 sp
Red chilly powder- 1 tsp
Garam masala - 1 tsp
Coriander powder- 1 tsp
Salt- 1 tsp
Coriander leaves- handful to garnish

To temper

Oil- 1 tbsp
Cumin seeds- 1/2 tsp
Curry leaves- Few
Asafoetida - 1/4 tsp
Instructions
Method

Pressure cook potatoes until soft without adding water. Peel the skin off from potatoes. Chop them in to big chunks of pieces. Keep aside.
Next chop the tomatoes in to bite sized pieces and puree them in mixer.
Next, heat a pan adding oil and cumin seeds. As the cumin splutter, throw in curry leaves, grated ginger and asafoetida. Saute for few seconds and then add tomato puree.
Let tomato puree get cooked. It thickens and color changes towards brighter side. Now add turmeric powder, red chilly powder, garam masala and coriander powder. Let it cook for few minutes.
Now include potato chunks. Mix well to coat the potato chunks with puree.
Now, add water and cook covered in simmer for 2 to 3 minutes.
Finally add salt, chopped coriander leaves and give a stir.
Very easy potato tomato curry is ready to serve as a side dish with chapati.

Notes

Do not overcook potatoes. It shouldn't be mushy.
You can use store bought tomato puree for ease.
Adjust the spice according to your taste. You can include chopped green chillies of you prefer more hot curry.
Pairs well with poori too.
https://udupi-recipes.com/2019/01/potato-tomato-curry-chapati-side-dish.html
All the content in this website are © Copyrighted to – Udupi-Recipes