Let's welcome this winter season with some healthy, filling kind of lunch. What say? In this season, the dropping temperature in the environment makes us eat little more than ever.  Instead of  having rice accompanied by many curries for lunch, today I thought of making this healthy flatbread. It's tapioca paratha day. The ample heaps of tapioca in the vegetable market look so much fresh and eye catching. After making cassava pakora, the leftover tapioca is turned in to paratha today. And trust me it's amazingly delicious.
Tapioca, a fiber rich veggie is so good to be stuffed in the flatbread and makes every bite tasty and mouthful. The most common problem while making paratha is rolling it in to thin disc. Because the stuffing tends to ooze out  from the edges making the entire process a hassle. It's due to the consistency of stuffing. Some times cooked veggie turns so much moist and soggy that it cannot hold shape and  you cannot easily stuff it in the flatbread.  You would never face this kind of issues if you make this tapioca paratha, I assure you that for sure.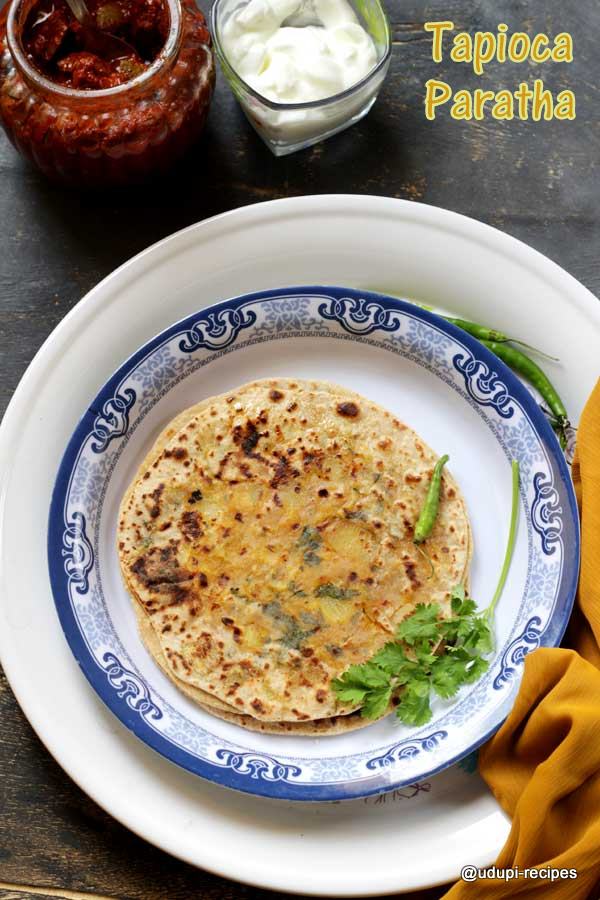 Tapioca is one such veggie which makes your rolling process a breeze. When it is cooked to perfection and you mash it to remove lumps, it doesn't become pulpy and soggy. Which is what all paratha makers of the world want. Isn't it? When the stuffing balls are of perfect consistency, you can get the lunch prepared for your family within minutes. And they will be impressed to praise your cooking skills and interest. So lets set forth for an amazing paratha of the day friendz.
Tapioca Paratha | Maragensasina Paratha Recipe
Ingredients
Wheat flour- 1.5 cup
Salt- 3/4 tsp
Water- 1/2 cup

For stuffing

Tapioca - 1 medium sized
Red chilly powder- 1 tsp
Turmeric powder- 1/2 tsp
Garam masala- 1 tsp
Salt- 3/4 tsp
Coriander powder- 1 tsp
Cumin powder- 1/2 tsp
Chopped coriander leaves- 1/4 cup
Chopped curry leaves- 3 tsp
Lemon juice- 1 tsp
Cooking oil- 1 tsp
Cumin seeds- 1 tsp
Instructions
Preparation

In a wide bowl add in wheat flour, salt and give a quick mix. Then adding water incrementally prepare a pliable, soft dough.
The dough shouldn't have any cracks which indicates lack of water. In that case sprinkle some more water and knead well. Keep the dough covered with damp cloth for about 15 minutes or till the stuffing is ready.

Method

Peel off the tapioca, chop it in to medium sized pieces. Pressure cook them till soft. I cooked for 3 whistles and in simmer 10 minutes.
Once the pressure subsides, drain off moisture if any and mash it well such that no chunks are left. Keep it ready.
Next heat a pan adding oil and cumin seeds. As it sizzles, add mashed tapioca, saute for a while. Next add spices like red chilly powder, turmeric powder, salt, cumin, coriander powder and garam masala. Finally add chopped coriander leaves.
Mix everything together. Add a dash of lemon juice now, give a mix. Switch off and let it cool down to room temperature. Divide both stuffing and wheat dough in to 9 equal parts and roll them as balls between your palms.
Dusting enough wheat flour roll a dough ball in to 2" disc and keep a stuffing ball at the center. Bring the sides up and cover the stuffing and then seal it on top. Dust some flour over it.
Keeping the sealed side on top roll the paratha carefully to medium thick disc.
Then transfer it over a hot skillet. Smear some ghee or oil over the paratha and cook till some brown spots appear on both sides. Continue the process with rest of the dough.
Delicious tapioca paratha is ready to serve along with yogurt and pickle.

Notes

The water quantity required to prepare the dough differs with quality of wheat flour. So adjust accordingly
The dough should be given minimum 15 to 30 minutes of resting time for better results.
Do not add water while pressure cooking tapioca, let the mashed tapioca be moisture free and dry.
This is mild in spice, as per your taste buds you can increase it by adding some finely chopped green chillies.
The consistency of stuffing and dough should be same, otherwise the stuffing comes out while rolling.
While rolling the stuffed paratha, be extra careful and apply pressure evenly.
https://udupi-recipes.com/2018/12/tapioca-paratha-maragensasina-paratha.html
All the content in this website are © Copyrighted to – Udupi-Recipes