Hog plum, a sour and tangy small version of raw mango is back here in the form of pickle. Yes, beautifully green, firm and sour hog plums have been found in the vegetable market last week. Which made me quite a happy girl for a moment. Because I never get hold of these little beauties here in UAE. So obviously a big bunch of fresh hog plums got in to my vegetable cart. It was quite a long since I had the palate tickling hog plum pickle, so my mind was lingering around that pickle. I set forth to prepare the same.
Making a pickle isn't a single day process. It takes some time, like the veggie or fruit used needs to be in brine for few days. Here the cut hog plum is kept in brine (salt) for three to four days. During this time the sour hog plum absorbs salt, becoming tender and soft. This is when we can proceed to make actual pickle.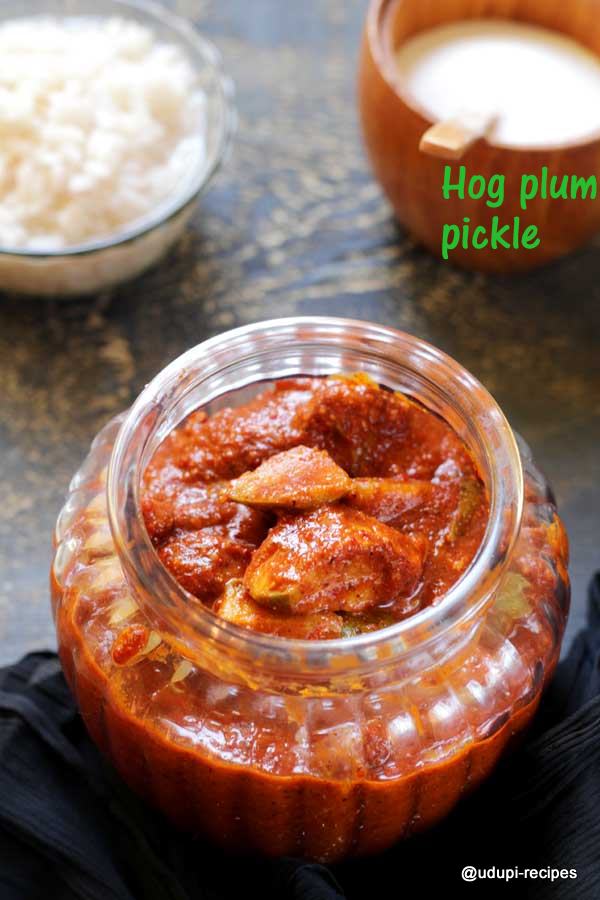 As soon as I bought these hog plums, same day I chopped and put them in brine. Because after a day or two the hog plum may get brown spots and become soggy. So it  is always advisable to use veggie or fruit as fresh as possible for pickling process. As the cut hog plum absorbs salt, we can make thick spice plus red chillies sauce and mix with them.
This hog plum pickle is popular in Udupi as " Ambade Adangayi" and if properly handled it can last more than a month. I have used mustard, cumin, fenugreek seeds and red chillies as primary spices in this pickle which are roasted and ground with salt water. This pickle is a perfect combo with curd rice and we love it to pair with almost everything.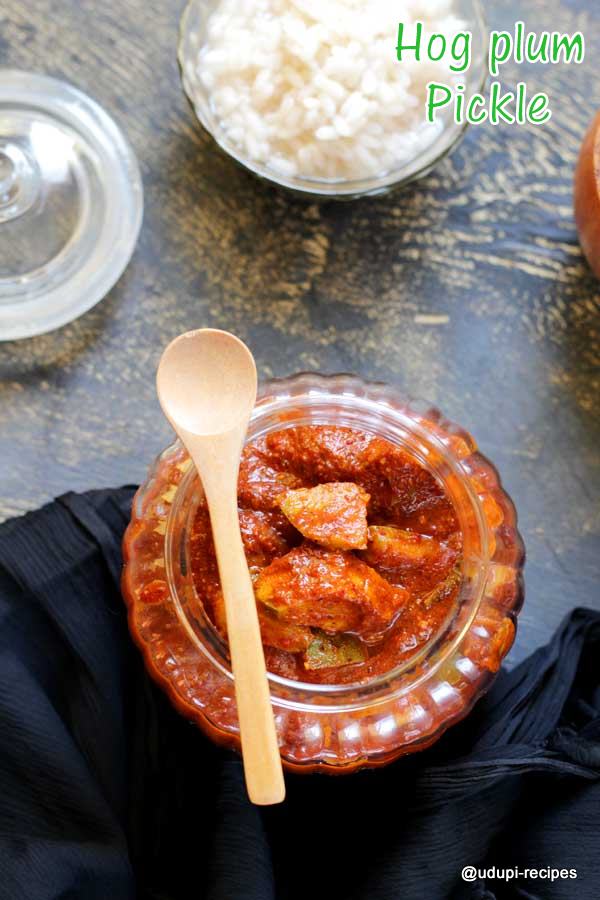 Hog plum Pickle | Amtekayi Uppinakayi
Ingredients
Hog plums- 10-12 nos.
Crystal salt- 1/4 cup + 1/4 cup
Mustard seeds- 1 tbsp
Cumin seeds- 1 tsp
Fenugreek seeds- 1 tsp
Red chillies (Byadagi)- 10 nos.
Red chillies (Guntoor)- 15 nos.
Asafoetida- 1/2 tsp
Water- 1.5 cups
Cooking oil- 3 tsp
Instructions
Preparation

Wash the hog plums under running water, wipe them using a dry kitchen towel. Spread them under fan and let them dry. Once done, trim the edge and make pieces. You can include the seed too.
Next add a layer of hog plum pieces followed by crystal salt in to a glass jar. Continue this process till all the pieces are over. Keep this jar covered for about 3 to 4 days.

Method

When you find the hog plum pieces soft, you can begin the process of pickling. So on the day of pickling, boil 1.5 cups of water adding 1/4 cup of salt. Let boil and reduce 1 cup. Let this salt water cool down.
Next in a pan add mustard, fenugreek and cumin seeds. In medium flame roast these spices with constant stirring.
Transfer these roasted spice and add red chillies to the same pan. Add 3 tsp of oil and roast them too. The chillies would puff up. Switch off the flame and let the roasted spices cool down.
Include all these roasted spices in a mixer jar, add asafoetida and powder them together.
Add the salt water prepared in step 1 little by little to the spice powder and grind to thick sauce consistency.
Finally transfer the hog plum pices in salt to a wide bowl. Include the spice sauce prepared in above step and give a nice mix. Adjust consistency by including salt water.
Palate tickling hog plum pickle is ready to serve with curd rice or matta rice ganji.

Notes

If the hog plums are tender, you can pickle whole hog plum. No need of cutting them in to pieces.
There should be no trace of water on hog plums. So ensure they are dry before pickling.
Choose the sour, tangy hog plums for pickling. They taste better in pickle.
Before roasting the spices, ensure the salt water has cooled down to room temperature.
You can start using the pickle immediately. This pickle lasts for more than a month outside refrigerator.
The golden rule while pickling is to avoid water. Always use dry spoon, bowl and pan in the process.
https://udupi-recipes.com/2018/12/hog-plum-pickle-amtekayi-uppinakayi.html
All the content in this website are © Copyrighted to – Udupi-Recipes