Winter vibes are here with all the greens and heaps of fresh veggies. When I look around the vegetable market I can see the freshness and colorfulness of veggies inviting everyone towards them. Be it fenugreek leaves or mint, they seem  crisp and firm straight from the field. The moist, mature veggies like cassava roots and gourds inspire me to cook. And it is this season in which my refrigerator is full of greens and veggies. I end up making too many varieties for lunch and dinner in order to empty the fridge. This cassava pakora or cassava bajji which I prepared yesterday happened to be part of elaborated lunch menu.
The cassava root or maragensasu which I bought last week was absolutely matured and perfect for cooking. I remembered cassava sticks, it was super crisp snack to munch while lazying around. This cassava pakora also is a delicious snack which pairs very well with rice-rasam or you can have it as such along with tea/coffee.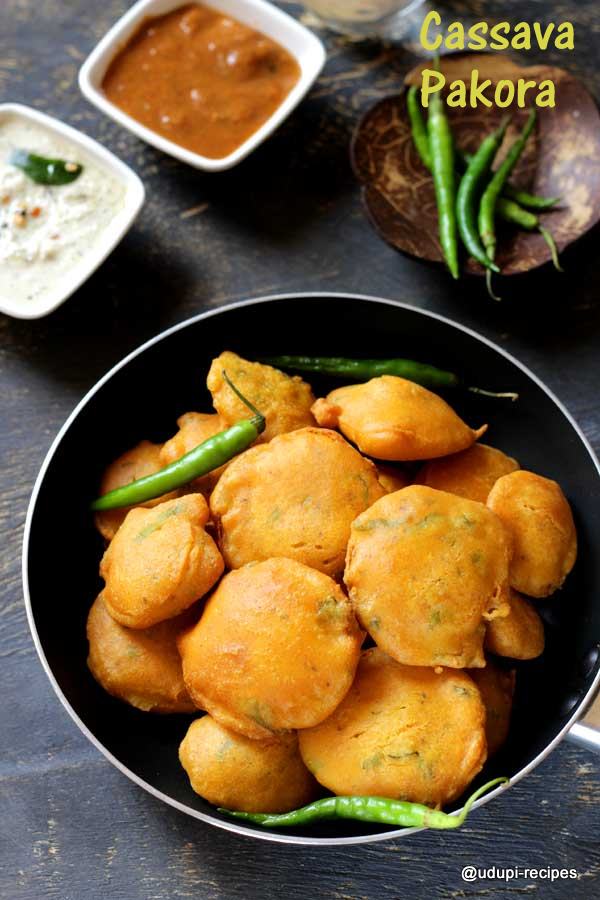 Some times  here in UAE, winter follows drizzles of rain. And I tempt to make such pakora or fritter as a snack to satisfy weather specific cravings. Coconut chutney or tomato ketchup both can be served as a dip with it. The slices of cassava root taste amazingly delicious with the spices and gram flour coating. Love them.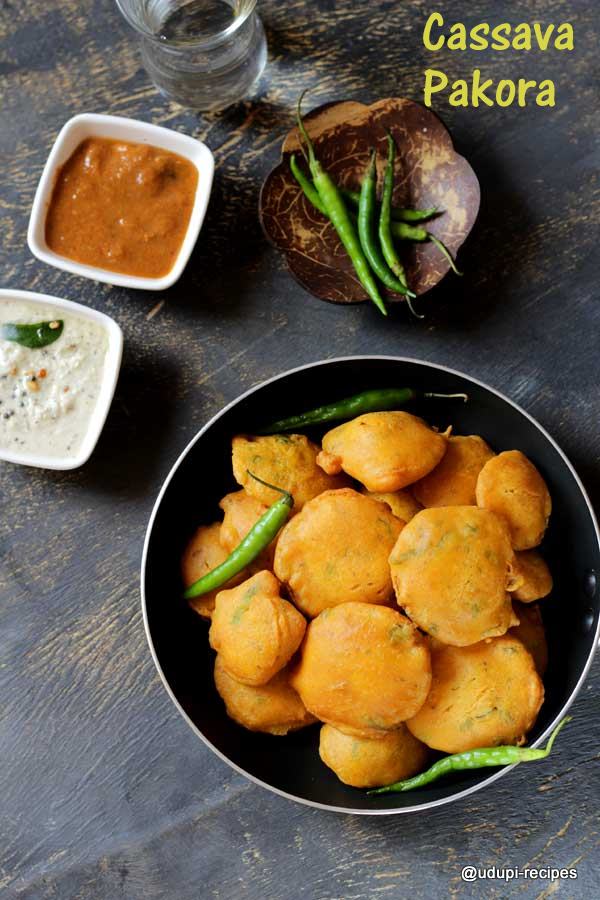 Cassava Pakora | Maragenasina bajji
Ingredients
Cassava root- 1 big
Gram flour- 1 cup
Rice flour - 3 tsp
Turmeric powder- 1/4 tsp
Red chilly powder- 1 tsp
Carom seeds- 1/4 tsp
Salt- 1 tsp
Coriander leaves- Handful(optional)
Water- As required
Cooking soda- A pinch
Cooking- To deep fry
Instructions
Preparation

Peel off skin from the cassava root and cut it in to thin slices (roundels). Keep them immersed water.

Method

Sieve the gram flour and take it in a wide bowl.
Include rice flour, turmeric powder and red chilly powder.
Add carom seeds, salt, baking soda. Mix all these together.
Next add chopped coriander leaves and proceed to make batter by adding water in steps.
The consistency should be like dosa batter. Include water accordingly.
Heat oil in a heavy bottom wok, when it heats up, dip a cassava slice in gram flour batter and drop it in oil. Repeat the process using few more slices.Fry a batch of cassava pakora till then turn little brown. Once done, using slotted ladle remove from oil and drain over a kitchen tissue paper.
A yummy tea time snack cassava pakora is ready to serve with coconut chutney.

Notes

The cassava slices should not be too thick as they won't get cooked inside.
The gram flour batter shouldn't be watery. When you dip a slice, batter should coat both sides.
The rice flour gives bit crisp texture to the pakora, so do not skip it.
https://udupi-recipes.com/2018/11/cassava-pakora-maragenasina-bajji.html
All the content in this website are © Copyrighted to – Udupi-Recipes