It's quick, guilt free snack cum sweet today. My ever loving condiment that can satisfy random sweet cravings is nothing but chikki. It can be of peanut or sesame or cashews, all taste too delicious. Sometimes when we are on travel, when eating meals on our usual timings isn't feasible then such energy bites would help a lot. Moreover, peanut chikki or sesame chikki aren't something fancy, they are common condiments and easily accessible in any petty shop. For me these are incredible things for snacking than chocolates. I am not a chocolate person at all.
And today I set forth for a home made version of my favorite sesame chikki  and it was all successful. This recipe doesn't take much of your time though it requires some syrup expertise. Like, you should know how to check the consistency of jaggery syrup for chikki. The syrup should attain a consistency where it is crisp and break-able. Once you get this, chikki making is all easy and simple.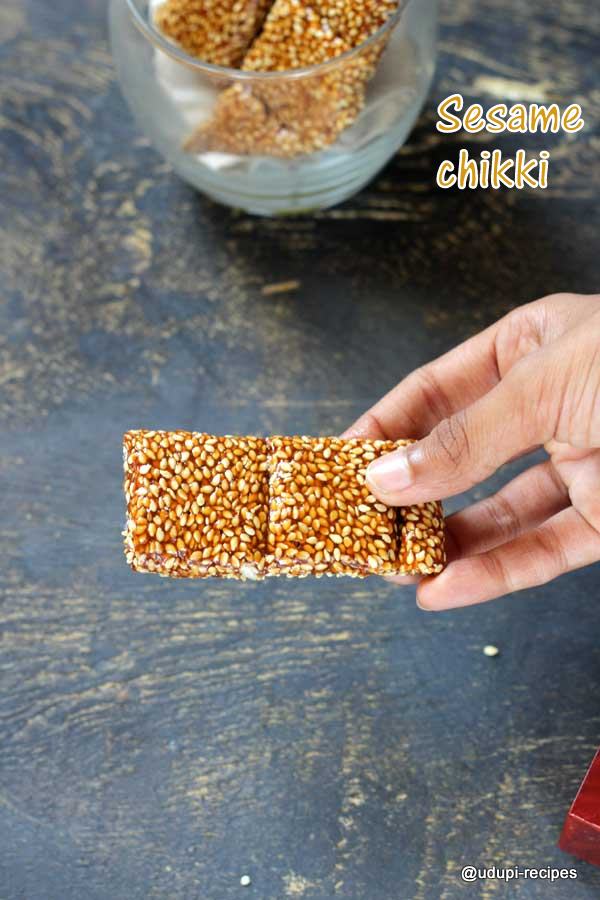 Sesame seeds are good in this winter season which help to keep our body warm, so I thought of using it in sweet cum snack. So that kids can relish the condiment keeping their health in check. My batch of  sesame chikki just cleared off within couple of days and I am set to do it again. Thought of sharing it with you. How is it looking?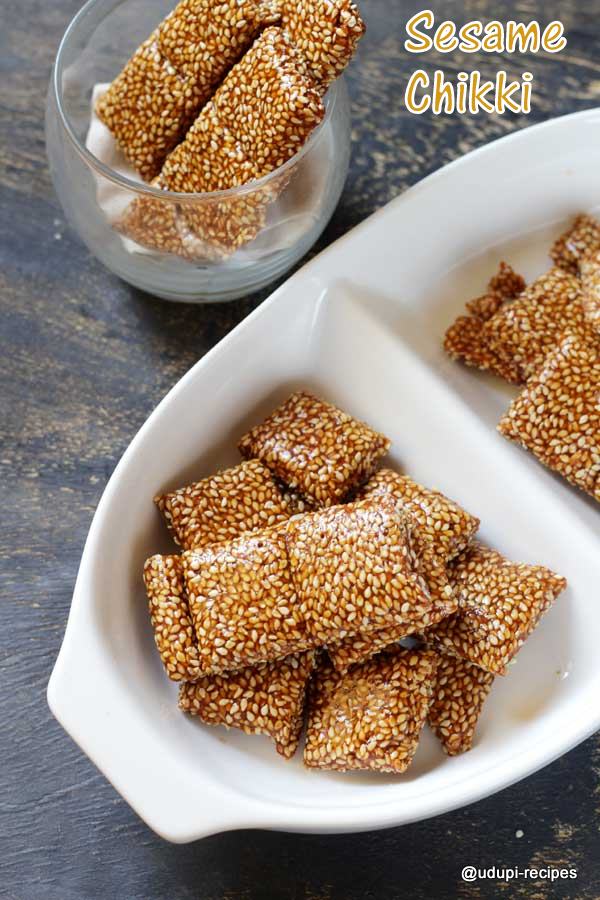 Sesame Chikki | Til Chikki | Ellina Chikki
Ingredients
White sesame seeds- 1 Cup
Jaggery- 1 Cup
Ghee- 1.5 tsp
Instructions
Method

Take sesame seeds in a pan and dry roast them through constantly stirring. The sesame seeds turn little brown in color and waft out aroma. Switch off once done.
Next, add ghee to the same pan. As ghee melts, add jaggery. In medium flame, cook the jaggery till it melts.
Continue cooking the jaggery till it attains the perfect consistency.
Here is how you can check the consistency of the syrup. In a bowl of water, drop a half teaspoon of syrup. If the syrup in water is crispy and breaks in to two between your fingers then the syrup has reached perfect consistency.
Next add roasted sesame seeds and mix well. Switch it off and transfer the mixture over a greased parchment paper.
Immediately flatten it using a flat bottom cup. And mark pieces when it is still warm. Let it cool down and separate the pieces.
Crispy sesame seeds chikki is ready to munch on.

Notes

The sesame seeds need to be roasted well. But ensure it's not burnt.
Choose bright colored jaggery for bright looking chikki.
The jaggery syrup consistency should be perfect.
Use ghee greased plate or parchment paper to transfer the mixture.
You should be very quick to flatten the mixture otherwise it turns hard.
https://udupi-recipes.com/2018/12/sesame-chikki-til-chikki-ellina-chikki.html
All the content in this website are © Copyrighted to – Udupi-Recipes