It's a throw back post today!!  Other day when I was scrutinizing all the old posts, I felt some of these need a revise.  I seriously found some old recipes (Year 2012) lacking in good content, picture quality and recipe procedure. So it's wise to give a new look and feel to the old recipe which is classic and delicious. And here I am with the well known akki shavige recipe which is traditional and elaborated one too.
In Udupi-Mangalore region, akki shavige is a remarkable breakfast which is not staple. Some special occasions and auspicious days call for such labour intensive food. Because our ancestors who used to live in joint family with 10-15 members, this ottu shavige seemed to be tedious breakfast to whip up. Then, every house hold used to have a large "Shavige mane" meant for making mammoth shavige on certain days of the year.
Now since joint families are obsolete and nuclear families with 3 or 4 in a home is most common, making akki shavige isn't a tedious task. And I usually make it using "chakkuli press"  for my small family.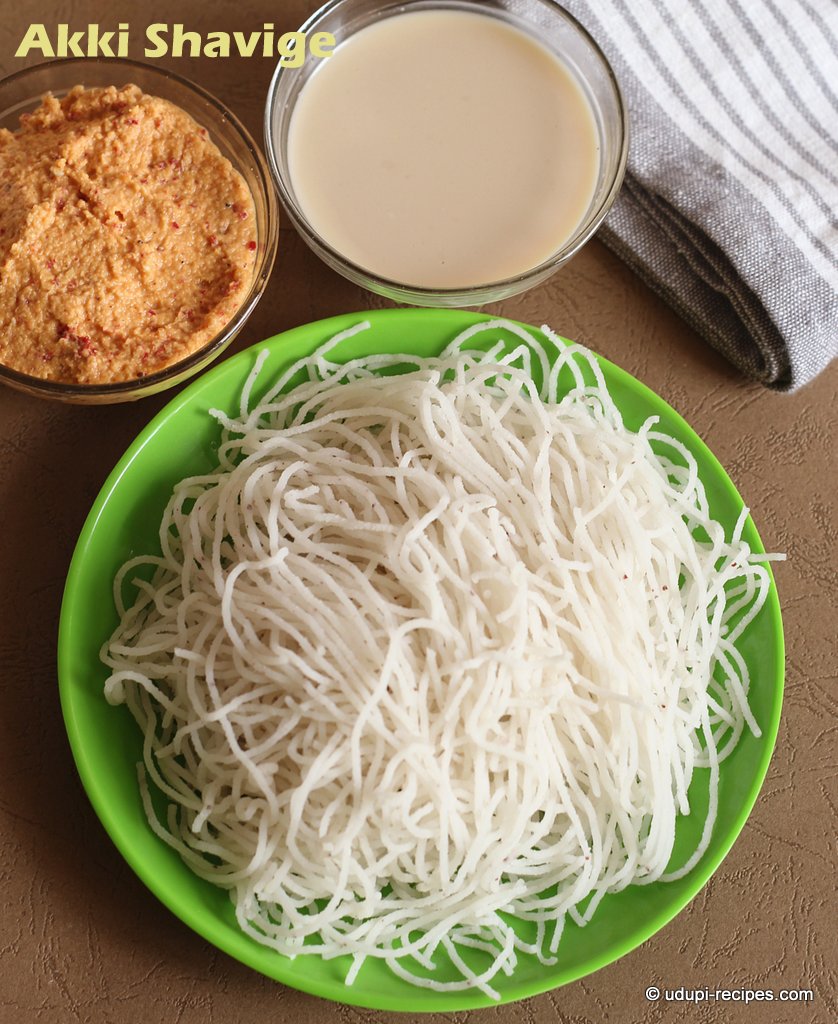 And it is wise to make note of few things before making this classic ottu shavige:
1. Grinding rice with right amount of water to a fine batter consistency is very important. If the water is more, the shavige may become too very soft and stick to your teeth. If  you have wet grinder, better to use instead of a mixer grinder.
2. Cook the batter in medium flame with constant stirring. You cannot rest from stirring till you obtain a dough.
     There are too many serving options for akki shavige. If you love sweet taste, then sweetened coconut milk or banana rasayana would be the best one to pair. Otherwise you can make  shavige
chitranna
or simply pair with coconut chutney.  Majjige huli or yogurt based curries are best side dishes with shavige. Right now my mouth is watering…
Watch video:
Akki Shavige/Ottu Shavige Recipe/(Idiyappam String Hopper Recipe)
Ingredients
Uncooked rice- 2 cups
Fresh grated coconut- 1/2 cup
Salt- 2 tsp
Water- 1/2 cup + as needed
Instructions
Preparation

Rinse and soak rice for about 2 to 3 hours or overnight.

Method

Drian all the water from soaked rice and add it to a mixer or wet grinder. Add coconut and water as well.
Grind them together to very fine puree. The consistency should be little more running than normal dosa batter.
Pour this batter to a wide pan and add required salt. Cook it in medium flame with continuous stirring. As you stir the batter thickens.
After 10 minutes of stirring the batter comes together like a dough. Turn off the flame. Next damp your palm and make balls from the dough.
In a idli steamer arrange these balls and cook for 10 minutes or till done.
You can insert a toothpick to check for doneness. Now fill this dough ball in to shavige press.
Press it in the form of concentric circles on a plate. Repeat the process with rest of the dough.
Tasty ottu shavige is ready to serve with coconut milk or banana rasayana or any curry.

Notes

If you have wet grinder, use the same insteand of mixer grinder.
Rice should be ground very finely with right amount water.
The consistency of the dough should be thinner than dosa batter. Adjust consistency by adding water if needed.
As you begin cooking the batter, you should keep stirring till the batter turns to dough.
Do not wait this dough to cool down, be quick and make balls.
The softness of shavige depends on the batter consistency. If it's thick, shavige turns hard and chewy.
Till you finish pressing the last dough ball in to shavige, let the balls steaming in low flame. Because once it cools you cannot press it in to shevige.
https://udupi-recipes.com/2018/11/akki-shavige-ottu-shavige-recipe.html
All the content in this website are © Copyrighted to – Udupi-Recipes