It's vermicelli bisbele bhath, a food combination that always works. Because if you are a person who follow me through my blog, then you must have noticed bisibele bhath using rice, broken wheat and even rice flakes. That is because bisibele bhath is such a wonderful meal that fits in deliciously with most major cereals. Love you BBB for that.
A packet of vermicelli lying in my pantry had to be emptied out. Because, hm.. you know why right? This time of the year I usually talk about my vacation and cleaning out pantry ingredients. Remember? You are so very intelligent to guess that. I appreciate you all. As I dig deep in my pantry I am finding groceries that are out of my mind since many days. So need of the hour is to cook the same groceries in a unique and innovative way. And this compels me to prepare vermicelli bisbele bhath for today.
If you have bisibele bhath powder in stock, then whipping up this meal is actually a quick fix. Basically it needs pigeon pea lentils and few veggies along with the main spice powder. When you assemble these things, vermicelli bisbele bhath is  just a breeze to make. You can pair it with some crunchy khara boondi  or with simple cucumber raita. Both ways it tastes great.
Be it a picnic or a last minute party or the inevitable guests at the end of day, I would choose to make bisibele bhath. It's a real-life-able, convenient and quick recipe for me. Foolproof , delicious and scrumptious meal ever in my life.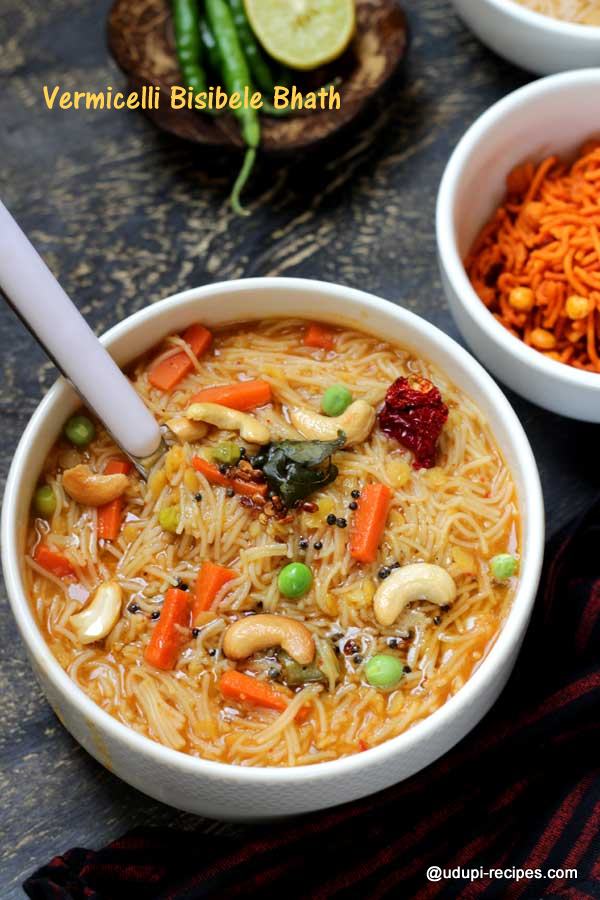 Vermicelli Bisibele Bhath | Shavige Bisibele Bhath
Ingredients
Vermicelli- 1 cup
Pigeon pea lentils(toor dal)- 1/4 cup
Beans- 5 to 6 nos.
Carrot- Half piece
Fresh peas- Handful
Tamarind- Marble sized
Jaggery powder- 1 tsp
Bisibele bhath powder- 3 tsp
Salt- 1.5 tsp
Cooking oil- 1 tsp
Water- As needed

To temper

Ghee- 2 tsp
Mustard seeds- 1/2 tsp
Split blackgram lentils- 1/2 tsp
Broken red chillies- 1 no.
Curry leaves- Few
Instructions
Preparation

Cleanly wash all the veggies with enough water. Chop beans and carrot in to small pieces. Peel off the fresh peas and keep it ready.
Soak tamarind in 1/4 cup of water for about 15 minutes. Extract it's thick juice discarding the residue.
Pressure cook pigeon pea lentils with enough water till it is soft. I cooked for 3 whistles and in simmer 5 minutes.

Method

Heat a pan with 2 cups of water and a tsp of oil. Bring it to boil, then include vermicelli. Cook till vermicelli is soft(not mushy), switch off once done.
Ensure the vermicelli is not sticky. Strain all the water using a fine strainer. Next cook all the veggies in a cup of water and little salt.
Next include tamarind water, jaggery and bisibele bhath powder. Let the veggies cook for some time.
Next include cooked pigeon pea lentils and mix well. When it cooks to thick curry like consistency, add salt and cooked vermicelli from step 1.
Let vermiclli cook for sometime. Adjust water as needed. As bisibele bhath thickens with time, let it be watery initially. Switch off.
Heat a tempering pan adding all the ingredients under "To temper" list. When mustard seeds sizzle pour it over bisibele bhath. Delicious vermicelli bisibele bhath is ready to serve with boondi.

Notes

Vermicelli shouldn't be cooked to sticky. Adding oil to water helps the grains to be separate.
You can include the veggies like potato and turnip also.
Let bisibele bhath be little watery in consistency initially. Because it thickens with time.
https://udupi-recipes.com/2018/07/vermicelli-bisbele-bhath.html
All the content in this website are © Copyrighted to – Udupi-Recipes