This pineapple gojju could be something that my rice loving self wants in the month of July. Because Monsoon season and my vacation both happen at the same time. When it's raining outside, me sitting at the balcony of  my mother's house inhale the aroma of Matta rice cooking on the traditional mud stove. However advanced we are in technology, cooking food on traditional stove adds deliciousness. It's heavenly my friends, heavenly delicious. You can bet on this. So there is no surprise that I turn to be a rice lover at my mother's place.
Hot steaming rice is obviously a major portion of my platter along with yummy, scrumptious curries, chutney, stir fries and what not! It's a food heaven for me. Pineapple gojju or menaskai, an authentic curry from Udupi goes perfectly well with rice. Trust me a big vessel full of menaskai gets cleared off in no time.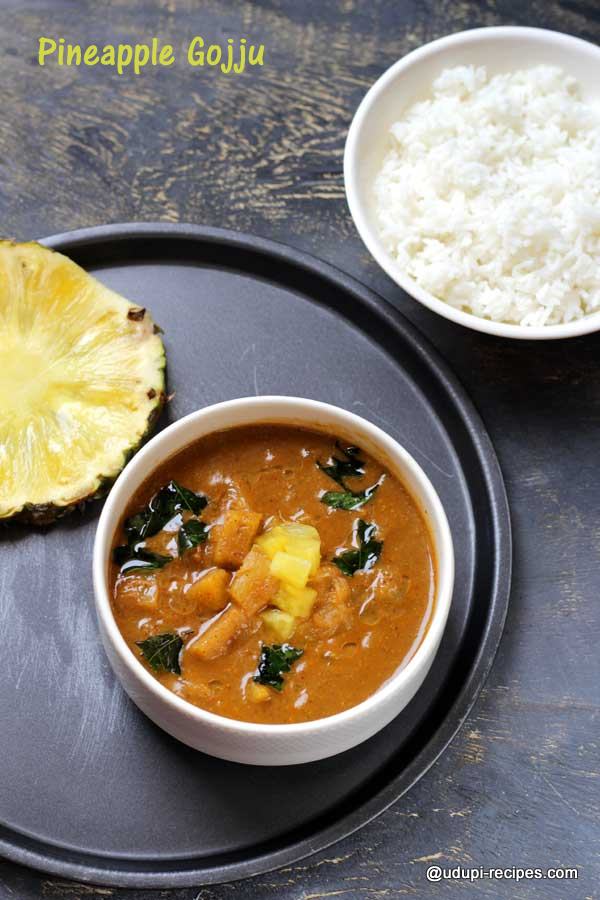 Pineapple is one such fruit that has both sweet and tang taste, and  is ideal for making gojju. The bites of fruit cook too early and all you have to make is a masala from scratch. Black sesame seeds is one spice that is mandatory to bring authentic taste to pineapple menaskai. Along with it, few lentils and fenugreek go into it. Perfectly roasted spices along with coconut is what makes pineapple gojju a palate tickling curry.
If you remember bitter gourd gojju that we did it together last November? This one is also in similar line guys. Check it out.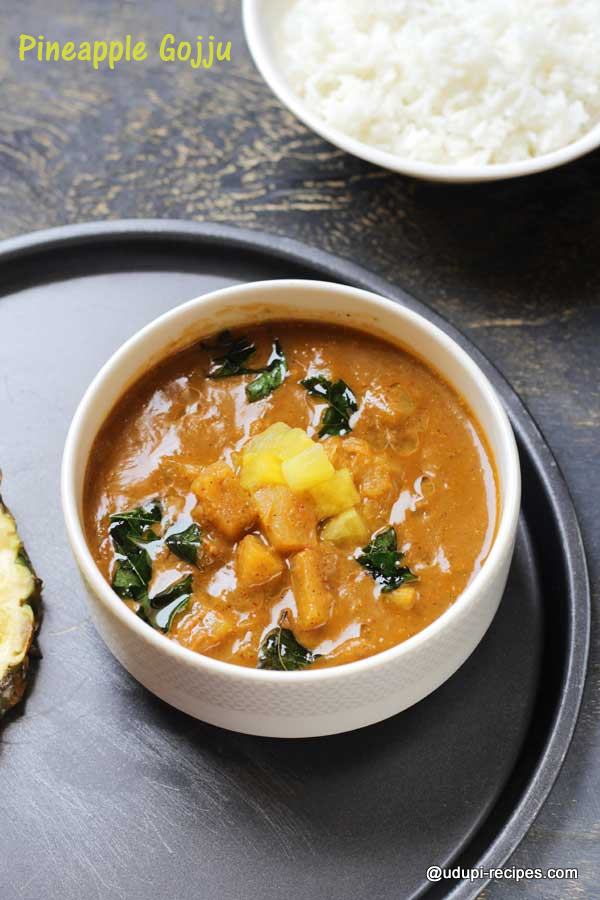 Pineapple Gojju | Pineapple Menaskai Recipe
Ingredients
Chopped pineapple pieces- 1 cup
Jaggery- Lemon sized
Salt- 1.5 tsp

To roast and grind

Split blackgram lentils- 2 tsp
Chickpea lentils- 2 tsp
Black sesame seeds- 3 tsp
Red chillies- 2 nos.
Fenugreek seeds- 1/4 tsp
Fresh grated coconut- 1/4 cup
Oil- 1 tsp
Instructions
Method

Take chopped pineapple pieces in a cooking pan, add a cup of water, jaggery and salt. Let it cook till jaggery dissolves and pineapple cubes become soft.
Meanwhile, heat a pan adding sesame seeds. Dry roast them till they splutter and transfer the seeds to a plate. Next add oil, lentils, red chilly, fenugreek seeds followed by curry leaves to the pan. Roast them together till the lentils turn brown. Switch off.
Add grated coconut to the same pan. Coconut gets warmed up heat of the pan. Grind all the roasted ingredients along with sesame seeds to fine paste. Add water as needed.
Next pour the ground masala to the cooked pineapple. Add water according to the consistency desired. Adjust salt and bring it to boil. Switch off once done.
With all the tastes blended hormoniously, pineapple gojju/menaskai is amazingly delicious.

Notes

Choose a pineapple that has both sour and sweeter taste in it.
Gojju usually tastes sweet and sour. So adjust jaggery according to how your fruit tastes.
If pineapple is all sweet with no hint of tang, then you can add little tamarind water too.
You can use white sesame seeds also substituting black one, but color would be lighter.
https://udupi-recipes.com/2018/07/pineapple-gojju-pineapple-menaskai-recipe.html
All the content in this website are © Copyrighted to – Udupi-Recipes