Monsoon month of July has the beauty of Rain and pleasing scenery of greens plus water. When I look around out of the window, a soul loving atmosphere is what I happen to see. Birds chirping, insects buzzing and rain drops chitter chattering brings in cozy monsoon feeling. And when mom gives a plate full of onion bonda with a cup of hot steaming tea, this joy doubles up several manifolds. So this is what my summer vacation has it all. A mesmerizing, rainy atmosphere comprised with healthy, homemade mom's food  and lots of good books reading. So heaven on earth friends.
In reality onion bonda which I mentioned above isn't a Udupi recipe. It's a North Karnataka special snack in which my father has 100% expertise. He makes wonderful bonda with perfect texture, softness and taste. I can never master the recipe like him but tried it to the extent possible.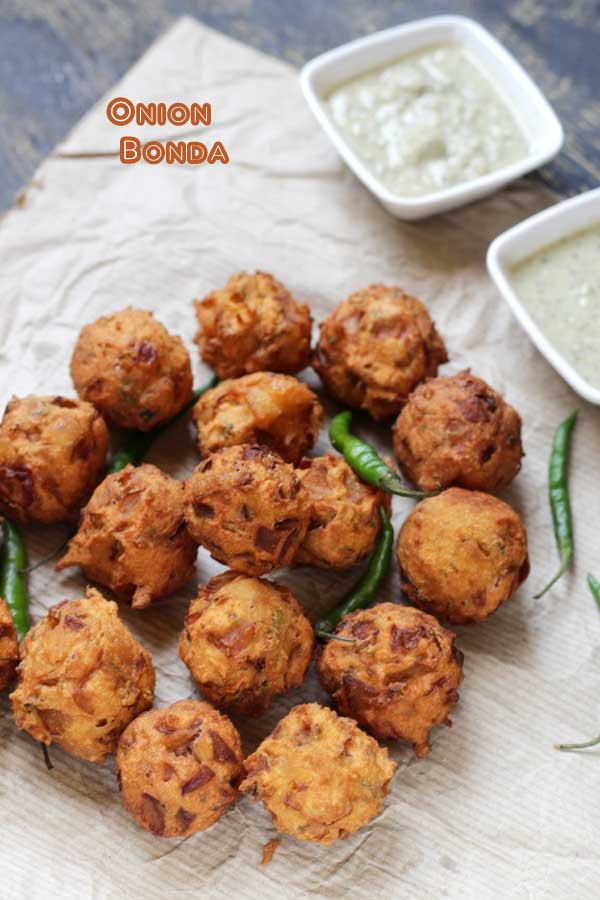 Unlike onion pakoda, bonda tends to be soft from inside with crispy exterior. The crunchy onions, spicy chillies with gram flour give a palatable taste in your mouth. If you could pair the snack with coconut chutney it's just mind blowing. Spice lovers always love this kind of snack.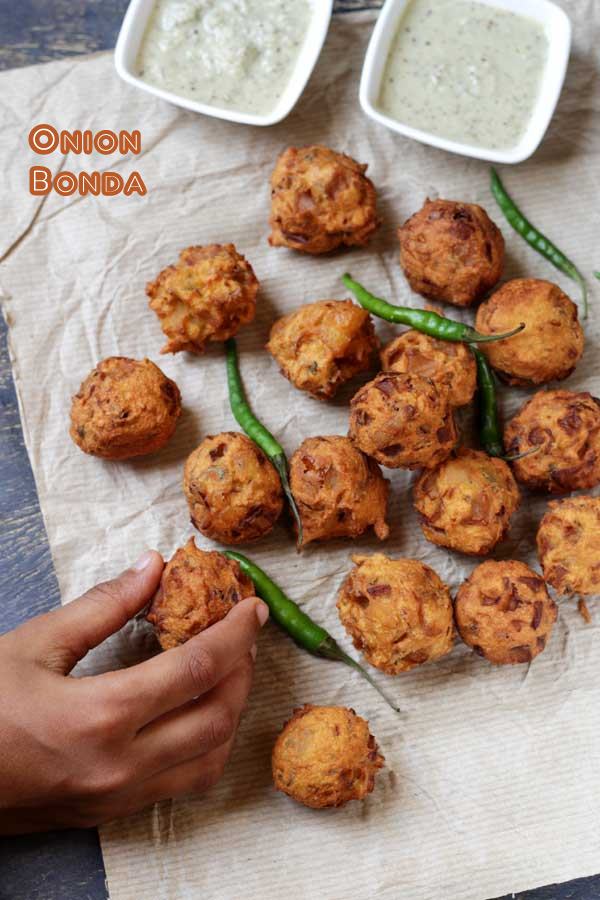 Onion Bonda Recipe | North Karnataka Special
Ingredients
Gram flour- 2.5 cups
Onion Medium sized- 4 nos.
Green chillies- 3 to 4
Curry leaves- Handful
Coriander leaves- Handful
Salt- 2 tsp
Turmeric powder- 1 tsp
Cooking soda- 1/2 tsp
Cooking oil- Enough to deep fry
Instructions
Preparation

Peel off the onions and chop them in to fine pieces or thin slices. Finely chop green chillies, curry leavesa and coriander leaves too. Keep them aside.

Method

In a wide bowl add chopped onions, green chillies, curry leaves and coriander leaves. Next add turmeric powder, salt and cooking soda. Mix well without adding any water.
Next add gram flour and mix again. Onions have lots of moisture, you will end up with kind of thick dough.
Heat oil in a heavy bottom pan, when it is warm, add 1/4 cup of oil to the dough and mix again. This dough shoudn't be loose. Adjust with additional flour or few tsp of water to get thick consistency dough.
Next make lemon sized balls and carefully drop a batch in to hot oil. In medium flame fry them till they turn brown and crisp.
Yummy snack onion bonda is ready to serve with tea in the evening.

Notes

Since the onion bonda is shaped in ball shape, it is better to chop onion finely.
Use curry and coriander leaves generously.
The hot oil makes the bonda soft inside with crispy exterior. So do not skip it.
Use very little water as oil and moisture in onions is enough to get the proper dough consistency.
To check the oil temperature, drop a pinch of dough in to oil. If it raises to the surface immediately, the oil is ready for deep frying.
https://udupi-recipes.com/2018/07/onion-bonda-north-karnataka-special.html
All the content in this website are © Copyrighted to – Udupi-Recipes