This chutney powder has a vegetable in disguise. That is bitter tasting bitter gourd!  Have you ever thought that you can make a spice powder out of this veggie? Trust me, even I never thought it. But today as I was turning the pages of a weekly news magazine, this thing caught me. Bitter gourd chutney powder! Sounds unique and interesting. Isn't it? Since I had few bitter gourds in the fridge, I thought to give the recipe a try. It's quite successful as the chutney powder doesn't have the traces of bitterness.
The idea of making chutney powder using a veggie itself is awesome. Since the vegetable is hidden and minced to fine powder, feeding it isn't a issue. Those who dislikes bitter gourd for it's bitterness, can  also eat this chutney powder with no guilt. My kids who doesn't eat this veggie in the form of curry or stir fry loved it in the form of chutney powder.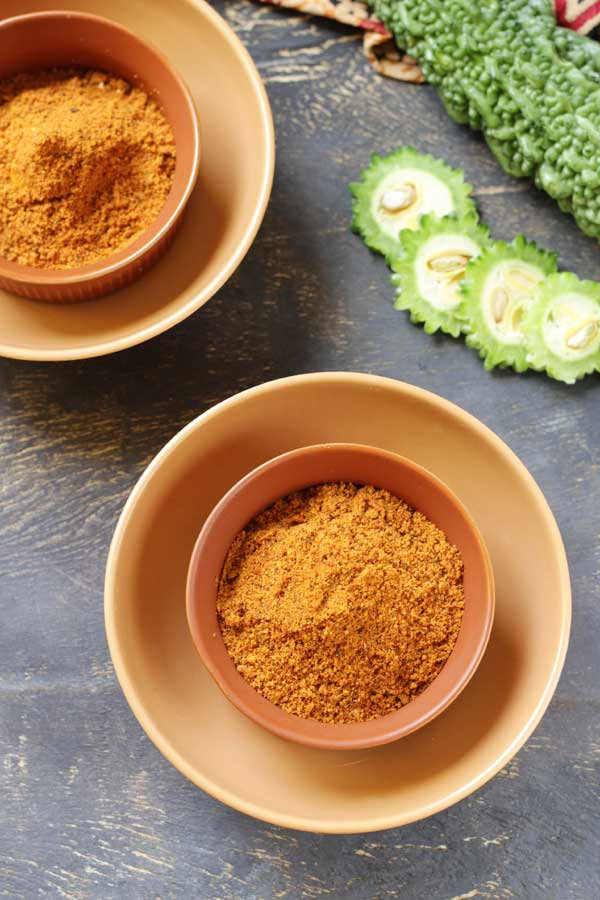 Bitter gourd chutney powder needs the slices of veggie in Sun dried form. So the recipe isn't instant one. You need to initially make thin slices of bitter gourd and spread outdoors for Sun drying. It would take a day or two to be completely moisture free. Then it's all roasting a handful of spices and sun dried slices in medium flame with constant stirring. Finally powdering them together yields the BEST powder ever.
I relished pairing it with dosa and idli. Try yourself to know the taste.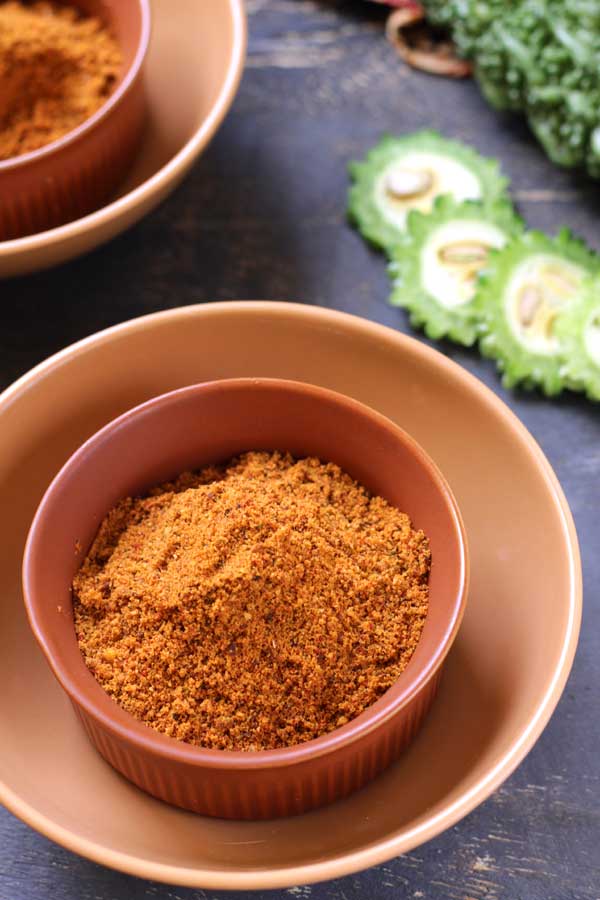 Bitter Gourd Chutney Powder
Ingredients
Bittergourd- 1 small
Split blackgram lentils- 1/8 cup
Split chickpea lentils- 1/8 cup
White sesame seeds- 1/8 cup
Red chillies- 7 to 8 nos.
Salt- 1 tsp
Tamarind- Marble sized
Jaggery - 1 tbsp
Cooking oil- 1 tbsp
Instructions
Preparation

Wash and slice the bittergourd in to very thin slices. Spread on a tray and sun-dry them till crisp. I got 1/2 cup of dry bittergourd slices.

Method

Heat a heavy bottom pan adding some oil and sundried bittergourd slices. Roast them in medium flame till they turn little brown. Transfer them over a plate.
Next roast the blackgram lentils followed by chickpea lentils, sesame seeds and red chillies. The lentils would turn brown and chillies would puff up when they get roasted. Transfer all the roasted ingredients and let them cool down. You can add tamarind with red chillies while roasting.
Take roasted ingredients in a mixer/blender. Include salt and jaggery. Powder them together bit coarsely. After cooling it down, store it in airtight container.
Healthy and unique bittergourd cchutney powder is ready. Serve it with dosa and idli.

Notes

Ensure bittergourd slices are dried completely and moisture free before roasting.
If you don't prefer jaggery, you can skip it. But little sweetness balances the taste very well. So I would encourage to add.
It pairs well with dosa and idli.
https://udupi-recipes.com/2018/07/bitter-gourd-chutney-powder-recipe.html
All the content in this website are © Copyrighted to – Udupi-Recipes